Counting down to the Auckland On Water Boat Show 2015
---
From 24-27 September the Auckland On Water Boat Show will take over Auckland's Viaduct Harbour. Here are a few of the things you can look forward to.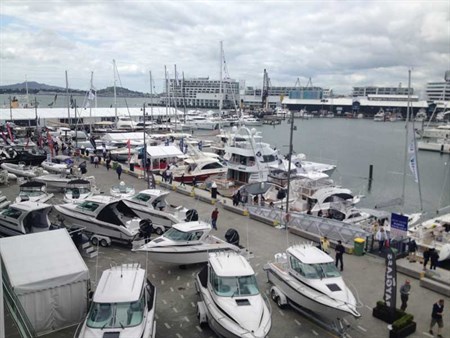 Those looking for product information and advice for their boat refurbishment project will be well-served by a range of suppliers happy to talk inboard or outboard engines, pumps, hoses, anchors, sails, decking, fridges, freezers and toilets.
Among the marine paint and sealant specialists, the team from Altex Yacht and Boat Paint will showcase a new labelling system designed for easy recognition of the formulation type across their product range, and the new labels incorporate simple-to-follow directions and guidelines.
At this year's Auckland On Water Boat Show there will also be an emphasis on the latest top-of-the-line fishing tackle. Pure Fishing, the biggest fishing tackle company in the world, will be releasing the 2016 Penn range of reels and rods seen for the first time in public exclusively for show patrons.
The latest micro jigs from Catch will be demonstrated in a tank, along with the famous Catch inchiku jigs and the best-selling free style Kabura. Rob Fort will be displaying the very latest models from Ocean Kayak, with a full range of accessories for successful kayak fishing.
On the education front, the Coastguard Boating Education crew will be happy to discuss the many course options available.
The following companies will be doing on-water demonstrations: Sealegs, Yamaha – Wave Runner, Black Dog Cat – Marine North, White Pointer and Pinnacle Boats.
Feeling lucky? See the Skyline Charters crew at the show and go into the draw to win a full day's fishing aboard Skyline for you and a mate. Plus you can win a seven-day charter in Tonga for two simply by completing the visitor survey.
Auckland On Water Boat Show chief executive Michelle Khan commented: "Whether you're on an information hunt to refurbish your current boat, researching the best fishing equipment to use on your boat, kayak or jet ski or simply looking forward to an entertaining marine-oriented day out with friends or family, you'll want to mark the Auckland On Water Boat Show dates on your calendar."
Tickets are on sale now or can be purchased at the gate.
Keep up to date with news from Trade-A-boat or like us on Facebook!