Jack Lupton wins 91st Masport Cup
---
Lake Karapiro was a roar over the weekend with the spectacular 300 metre rooster tails of the 1800 horse power Grand Prix Hydroplanes producing speeds in excess of 280kph.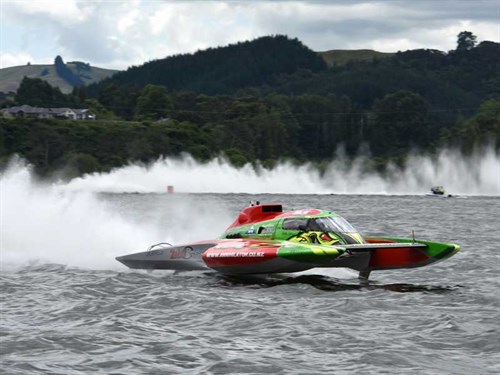 Acceleration on Water at is best for the running of the 91st Masport Cup saw the youngest Grand Prix Driver win his second Masport Cup. Jack Lupton 'Rural Fuels GP57' first won the cup in 2014 at the age of 18 and on Sunday won the title by taking out both heats.
Young Lupton didn't have it all his own way in the first heat he had to battle for first place with The Boss, Raymond Hart and brother Ken Lupton ' Lucas Oils' , for the four lap race only taking just 2 mins 47 seconds to complete saw Jack take the first heat honours. The best Grand Prix Hydroplane racing we have seen for a while, the second heat was another exciting battle with Fair Warning- Scott Coker from Otorohanga charging hard through the field to finish only seconds behind GP57. Overall placings went to Rural Fuels GP47 Jack Lupton, Fair Warning Scott Coker in second and The Steeler 777 David Alexander finishing in third.
The North Island Unlimited Unrestricted Championship was also another exciting two heats of Grand Prix Hydroplane racing , Rural Fuels GP57 won the first heat and the second saw young Lupton beaten over the line but The Steeler 777 David Alexander who crossed the line only half a boat length in front. With the points taken over both heats the overall placing went to Rural Fuels GP57, The Steeler 777 in second and Annihilator Race boats Warwick Lupton in third.
Two days of great racing for the support classes, juniors and Clubmans with 25 and 30 hp powered boats, close racing with the turbine powered jet boats of several times crowned world champion Mark Cromie and his son Nigel.
The next round of the 2016 NZ Grand Prix Hydroplane Series will be at Lake Rotoiti, Nelson Lakes 27-28th February for the AE Baker Trophy an Australasian hydroplane championship. Several teams are considering heading across the Tasman to compete in the EC Griffith Cup which is to be held 29-30th April on Lake Mulawala Yarrawonga out of Melbourne.
For the latest boat reviews, subscribe to Trade-A-Boat magazine here.
Keep up to date with news from Trade-A-boat or like us on Facebook!