Tow Vehicle: Jeep Grand Cherokee
---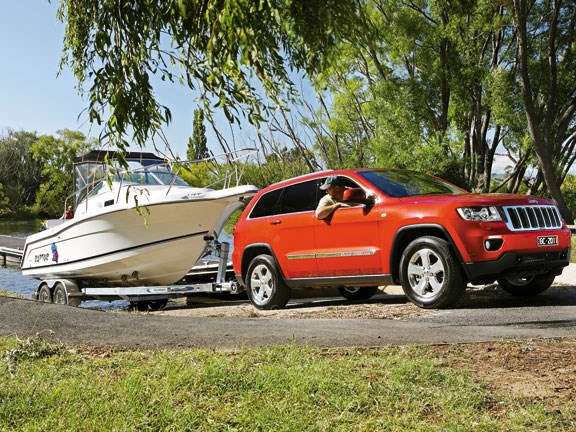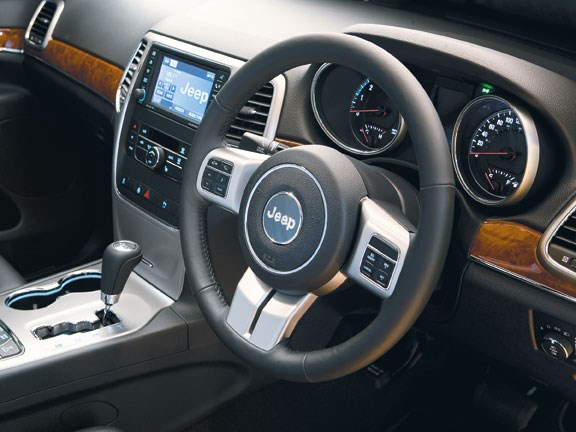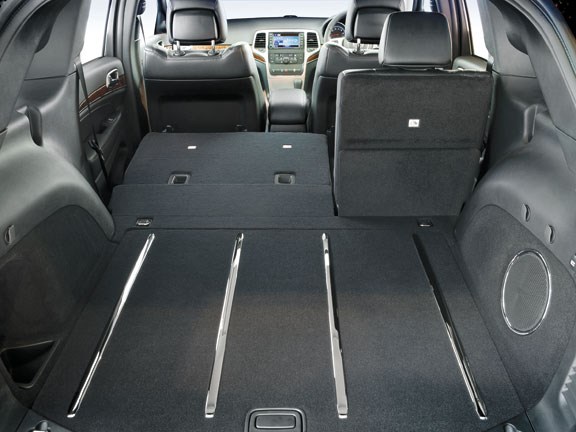 Jeep's latest Grand Cherokee stays true to the marque's glorious history but makes huge steps towards banishing the bad memories of cheap plastic and cabin rattles
Vastly improved interior fit and finish
Offroad capability that's there if you want it
Excellent stability control system
Tow rating of 3500kg
The first new Chrysler vehicle to be wholly developed under what the company calls its "all-new approach to quality", the new Grand is generations ahead of the model it replaces – still macho and rugged, but genuinely impressive in terms of the cabin experience and standard equipment.
Design
While Jeep is fond of comparing its new Grand Cherokee to luxury oriented crossover vehicles, in truth it's still a heavy-duty offroader at heart. The 5.7L Hemi V8 is carried over from the previous model, the five-speed automatic transmission retains low-range but is one, two or even three cogs short compared with some rivals, and the unibody chassis construction still features integrated frame members for extra strength in the rough stuff.
Nonetheless, there have been engineering concessions towards more comfort and enjoyment on the road. The rear suspension is an independent multi-link arrangement and the combination of the Land Rover-inspired Selec-Trac controller and Quadra-Lift air suspension system, each with five different settings, makes it much easier for the driver to tailor the behaviour of this new Jeep to the application at the time – at the mere flick of a switch.
On the road
Don't expect the sports car-like handling of a BMW X5: true-to-brand offroad abilities mean the Grand Cherokee is a notch down from most rivals in terms on on-road handling and ride. That's not to say it's uncomfortable or unstable: it's a massive improvement on the previous model and still very competent on the blacktop, with a predictable cornering attitude and an excellent stability control system as an active safety back-up.
Being a bit tougher underneath also has huge advantages for a tow vehicle: the Grand Cherokee is rated for 3500kg, which will make it a very attractive proposition for those who want to haul big caravans and/or boats and still travel with plenty of style and luxury.
Interior
Prepare for a shock: inside the Grand Cherokee, the finish of the plastics is consistent, the panel gaps are tight and the switchgear clicks with authority. No more wobbly buttons and rattles, which means the Grand offers a cabin ambience that actually justifies its $90k price tag.
The Kiwi distributor has avoided some of America's more questionable decor-taste in restricting the upholstery to dark leather only for our market, although one thing could not be avoided: the prominent wood grain trim inserts that surround you and your passengers. Oh well: baby steps, Chrysler.
At least if you're in the back you can keep your eyes otherwise occupied with the impressive roof-mounted DVD system, which can be listened to in private on headphones (supplied) or through the vehicle's own sound system. You can also watch on the front information screen, although only when the transmission is in Park.
Grand choice
A surprisingly good vehicle this, although we'd argue potential buyers might want to look at the powertrain alternatives. The Hemi powerplant is not particularly responsive for a big V8 and not especially economical for an engine with cylinder deactivation technology. We'd venture the 3.0L CRD (167kW/540Nm) will be a much better bet as it offers identical specification and towing abilities to the Hemi V8 version. It's great value. Or even consider the all-new Pentastar 3.6L V6 petrol (213kW/347Nm), which is an outstanding new powerplant by all accounts. This V6 petrol is also $7000 cheaper than the V8/CRD; it wears a Limited badge but misses out on some of the luxury equipment like air suspension, satellite navigation, rear-seat DVD entertainment system and the powered tailgate. Oh, and be aware that the Pentastar is down on tow rating: you're limited to 2300kg.
Specifications
Towing capacity 3500kg braked
Power 262kW @ 5150rpm
Torque 520nm @ 4250rpm
Transmission Five-speed automatic
Fuel economy 14.1L per 100km
Length 4822mm
Width 1943mm
Height 1776mm
Seating capacity Five
Keep up to date with news from Trade-A-boat or like us on Facebook!