Kayak Chaos
---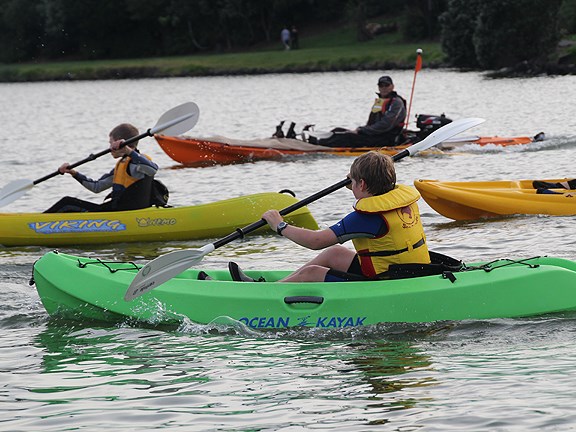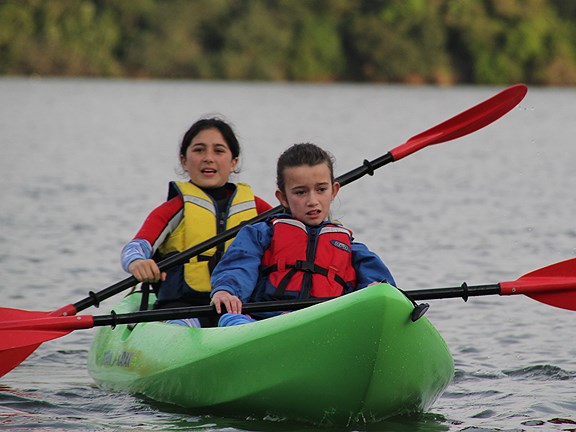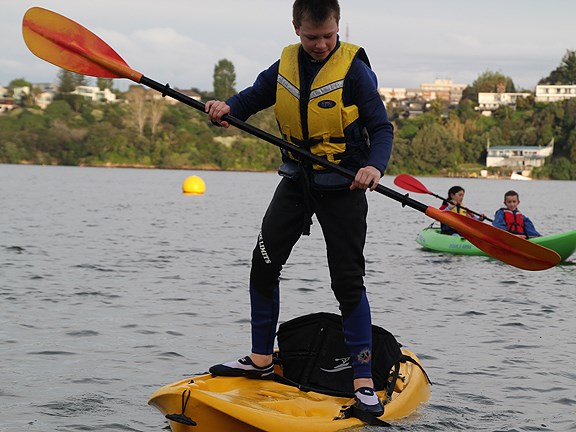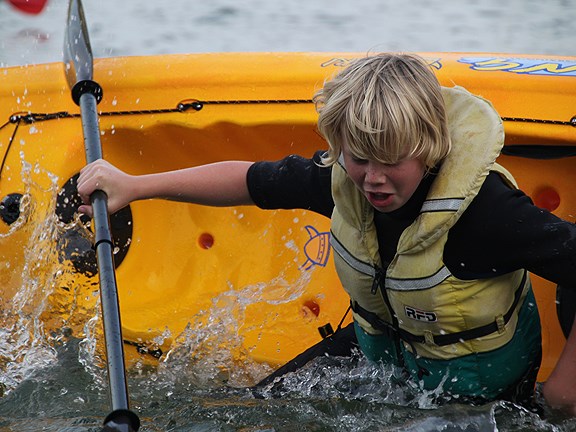 There are dozens of models available, each with different characteristics and features. So how does one choose between them?




The editor's brief was simple: summer is here, and people will be considering purchasing a kayak for the beach or bach. But there are dozens of models available, each with different characteristics and features. So how does one choose between them? Sit in or sit on? What difference does a keel make? What are the pros and cons of extra length or a wider beam?

The best way to test out the various options available was to get a bunch of teenagers to try them out for us, and the Orakei Sea Scouts were happy to oblige. As the kayaks were to be primarily tested for family fun, we put the word out to Ocean Kayaks and Viking Kayaks, and both manufacturers each brought over a range of their sit-on models designed for family use. Models for fishing, touring or making extended trips have different features and requirements, and, unfortunately, we didn't have time to test the complete range of nearly 100 models available in New Zealand.

These recreational kayaks are virtually indestructible and totally unsinkable. The polyethylene material is UV-stabilised and has an expected life in excess of 30 years. The models are all fully self-draining, which means you will get a wet bottom when paddling them but they cannot sink and do not need to be bailed out.

Viking presented its three most popular models: the Ozzie, Nemo and Espri. And Ocean Kayaks brought its ever-popular Frenzy, Scrambler and Mysto versions, along with two slightly more specialist models: the double-seater Malibu Two and the surf-capable Yak Board.

A need for speed

The first test for the scouts was simply to compare the models, having a play on as many different ones as they could. Isaac decided he liked the Scrambler II from Ocean Kayaks, as it was one of the fastest. This is because the Scrambler is the longest of the models tested, at 3.6m (11ft), and most boaties will be aware that long, narrow boats are more efficient (and therefore faster) than shorter models.

The Scrambler has lots of deck space both fore and aft, with bungee cords to hold everything in place. An optional sealed interior storage compartment can keep things completely dry. At 23kg, it was one of the heavier models tested, and it was still easy to get back on to in the unlikely event of a capsize, despite being slightly less stable than some of the other models.

The equivalent kayak from Viking is their Espri model: similar in length and capacity, but fractionally lighter at 21kg. Both models are capable of accommodating a seated child in the rear well, so they are well suited to families with small children. The Espri has a larger foredeck area, giving it additional buoyancy should it take a wave over the bow, hence it is more suited to use in the surf or in rough conditions. That extra volume also allows for additional sealed storage hatches, and the versatility of the Espri has made it Viking's most popular model.

Don't rock the boat

However, Matthew preferred the Ozzie from Viking because, at 17kg, it was the lightest model on test and easy to manoeuvre. A grab line all around this kayak provides a convenient handhold for pulling oneself back on-board, and the broad beam means it is stable enough to get back onto from the side. The Nemo from Viking is a slightly extended version of the Ozzie, with additional load capacity and extra length that allows a shallow storage well to be located behind the seat. Both models also have watertight hatches for internal storage.

The Frenzy from Ocean Kayaks is its most popular model, aided by the competitive price and excellent stability. The Frenzy model is also a stackable design, meaning that a bunch of these can be piled up on top of each other without the risk of warping. The Frenzy has a strong keel line, making it easier to paddle in a straight line, and a large volume for increased carrying capacity.

Surf's up

Ocean Kayak's Yak Board is designed for playing in the waves, and was the only model with no discernible keel line. This makes it considerably more manoeuvrable but also more difficult to track in a straight line. Once the scouts had finished racing the boats, Hamish decided the Yak Board was his boat of choice as he could twist and turn around to his buddies while splashing them with his paddle! This model also has optional knee straps, assisting in staying on-board when doing tricks in the surf.

Friends who play together

Of course, most fun activities are best enjoyed when they are shared, and it was for that reason that Kiriana stated her favorite as the Malibu Two XL. This model allowed her and a friend to paddle together, ensuring uninterrupted conversation. There are a number of models suitable for two paddlers, and some of the single kayaks will also accommodate two juniors. At 33kg, the Mailbu Two XL was the heaviest model tested, but being social while kayaking is definitely something to consider. It can also be paddled singly, and its keel and wide beam make it suitable for beginners.

The last model to be tested was the Mysto from Ocean Kayaks. Featuring a sharper bow profile and a moulded keel with replaceable wear strip, this is the perfect choice for surf action. The keel helps to cut straight through a wave, while the wear strip means the effect of repeated beaching is easily rectified. This model also has a more rounded style, something which will appeal to some.

Safe as houses

After a while, the scouts discovered that the easiest way to get from one kayak to another was to simply flop into the water and climb onto the next one. We tried to get them to compare different models in terms of a) how hard they were to capsize and b) the degree of difficulty of getting back on. However, in practice, all the models tested were virtually impossible to accidentally capsize and it took deliberate effort to get off them. They were also all very easy to get back onto, and one can re-mount any of them from the side with care. This revealed how stable these modern kayaks are. Indeed, at times, four or five juniors were on a single kayak.

The hulls are thick and tough, and there is nothing the scouts could do to harm them. About the only thing to watch out for is not to store any weight on top of the kayak as extended pressure over a long period could cause the plastic to warp slightly.

So what was the recommendation of the scouts regarding what model is best? This is impossible to say since the decision on which model is best for you need depends on specific, individual requirements. However, here are some guidelines:

Long, thin kayaks are easier to paddle and therefore faster (or needing less effort to go the same speed).

Short, wide kayaks are more stable and easier to get back onto from the water. The models with additional grab handles and ropes around the edge were the easiest to re-mount.

Choose a kayak with a strong keel line for general usage when you are not playing in the surf.

Choose a kayak with little or no keel for doing tricks in the surf.

If storage space at home is an issue, take a look at models that can be stacked on top of each other.

Our thanks to Grant Montague from Viking Kayaks and Jessica Reyland from Johnson Outdoors for giving the scouts an evening to remember!

For more information or to find a dealer near you, visit www.oceankayak.co.nz and www.vikingkayaks.co.nz.