Second-hand boats
---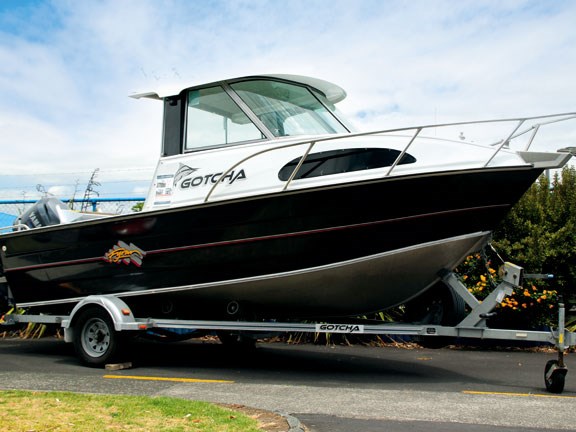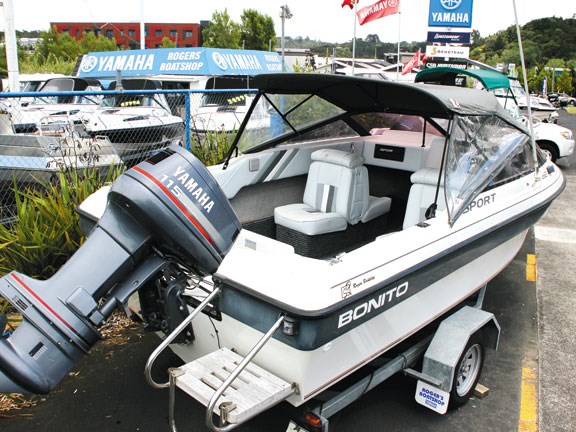 2005 Fyran 580 Pursuit and 1996 Bonito 522 Euro Sport
East Tamaki-based Fyran Boats have been building aluminium boats since 1953, with nearly 30 different models. Its Pursuit range featured a generous hardtop cabin, and the 580 was the 'baby' of the range. Finished off in Fyran's distinctive black hull and white topsides, this is a neat package with a hull that looks nearly as good as new.
The forward cabin has two bunks, plus a zip-up privacy curtain for overnighting. The main seating is two king and queen setups on either side, with upholstered, plastic-moulded seats for those forward facing. There are also two padded seats in the stern. The hardtop cabin has plenty of head height, and Fyran's distinctive curved windscreen gives excellent visibility.
The hull is, of course, built to the CPC unsinkable rating (standard for Fyran) and the Yamaha 115hp four-stroke motor is just as solid and reliable. Fyran hulls are renowned for their efficiency, and the 115hp will be more than adequate to push this through the water.
This is clearly a serious fishing machine, with burley bucket welded to the boarding platform and 14 rod holders in total. Trim tabs are fitted, as well as anchor winch, fishfinder, stereo system, and VHF radio.
For more details or to arrange a test drive, contact Gary at Rogers Boat Shop in Albany, or visit rogersboatshop.co.nz.
Bonito Boats has been in almost continuous production in New Zealand for over 50 years, so this is a brand with an excellent pedigree that has also achieved success over in Australia. The 522 was one of its most popular models, and although it has been superseded by a new model, this hull gained a reputation for being soft-riding and easy to manage.
The 522 came in a couple of models, and the Euro Sport version features a walk-through windscreen and twin back-to-back seat configuration. There is no forward cabin as such, but two further upholstered seats in the stern provide a total capacity of six.
The Yamaha 115hp two-stroke has a reputation for rock-solid reliability, and has more than enough grunt to turn this boat into a pocket rocket. The Bonito has an underfloor fuel tank, leaving the cockpit clean and uncluttered. The carpet is in very good condition, but the upholstery is showing its age.
The boat includes a Humminbird fishfinder and VHF radio, plus Yamaha digital gauges. A low-profile bimini top contributes to the Euro styling while providing wind and rain shelter for the seated occupants. This boat is best suited to driving while seated, and the bimini is of a height that reflects this.
Included in the package is a boarding ladder, lifejackets, fire extinguisher, and oars.
Overall, it's a compact and reasonably-priced package that should give many more years of good service.
For more details or to arrange a test drive, contact Gary at Rogers Boat Shop in Albany, or visit rogersboatshop.co.nz.
Feel free to make a comment or ask us a question about this story on the Trade A Boat
page.
For the latest reviews, subscribe to our Trade A Boat magazine here.
Keep up to date with news from Trade-A-boat or like us on Facebook!