Fishing: The good fight
---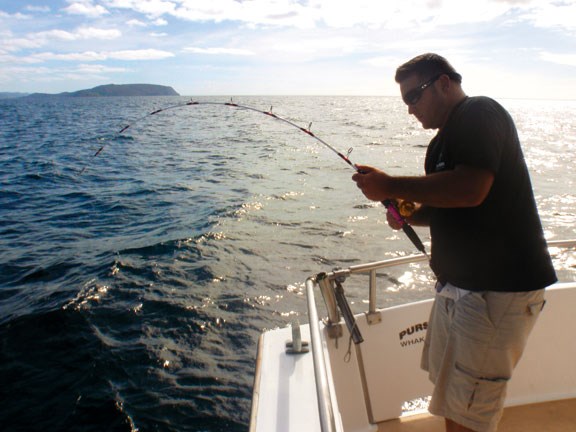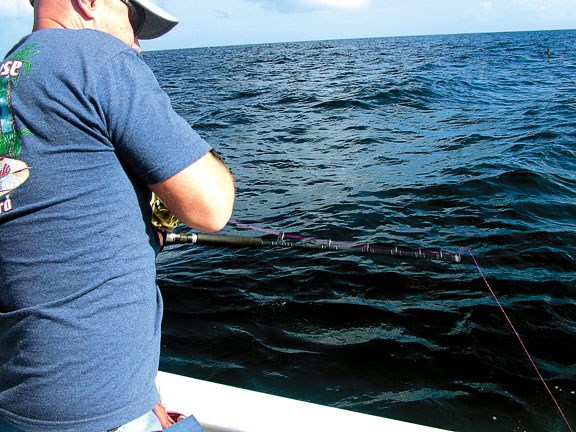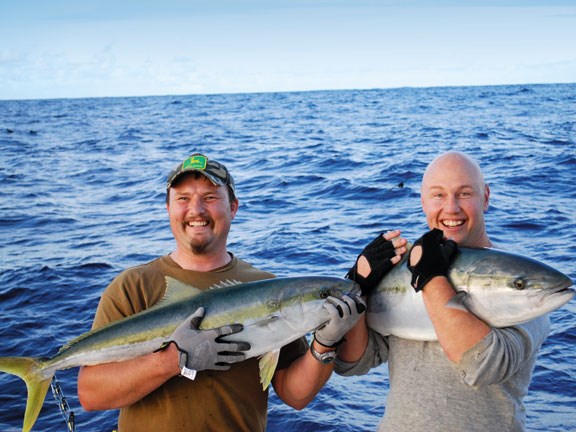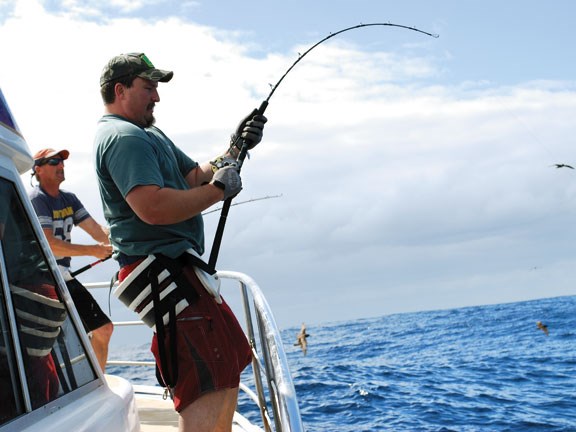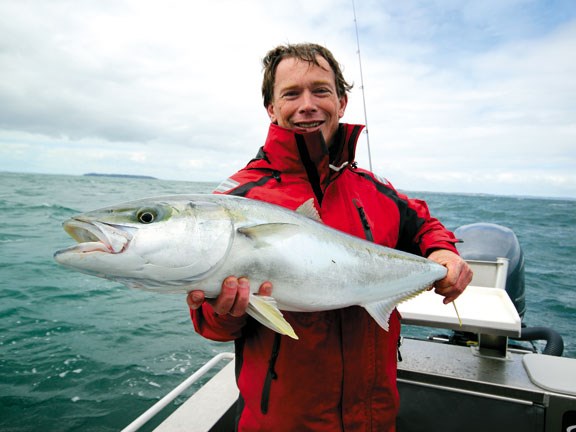 They fight hard, they fight long and they fight dirty — this month Terry Williams King looks at how to catch monster kingfish that could be heading for the 50kg mark.
I often wonder what an angler's attraction is to kingfish. What makes them go all warm and fuzzy inside when talking about being harassed or hooked to one of these bullies of the sea? It was not until recently that my love/hate relationship with these green torpedoes got me thinking about why anglers are so excited when recollecting the tussling with, or their pride in landing, one of these fish.
Early into my summer holiday up north, I encountered a brute of a specimen, with one hell of a tussle. At first I was a little annoyed to have hooked a kingfish as the light was fading and I was desperate for snapper for the table, but as the battle wore on I became more and more determined to land this fish. It turned out to be a good fish of around 25kg, and I happily let it go to fight another day, feeling it had earned it after giving me the heave-ho for a good 50 minutes or so. Unfortunately, I did bear the wrath of my father-in-law who is a big fan of kingie steak on the BBQ!
It was during this scrap that I realised why a lot of anglers are mesmerised by these fish, why many love to pick your brain on tactics, how to, where to etc… Over the last few years the kingfish fishery really has improved, with stories of monster fish up to 50kg chasing stick baits, monster kings taking metal jigs fired up and down deep reefs or harassing live baits. I have been very spoilt fishing for them in some of New Zealand's hottest fishing locations, on some of the best boats with the best local knowledge around. I do take this for granted and do not chase them as hard as I once did, but boy has that fire been stoked again after my last encounter.
Over the next few issues I want to discuss some of the tactics and the gear used to find, lure and catch these wonderful sport fish. The one thing a kingfish can do, and will do, is test both angler and tackle. They fight hard, they fight dirty and they fight until the very end. Give them an inch and they'll take a mile, go hard and they'll go harder. These are just very tough fighting fish.
It would be close to ten years ago that I was first introduced to mechanical jigging. Early jig fishing in our waters consisted of a heavy, 200-300gram, fish-shaped lure that was retrieved at speed through the water columns and schools of bait. This generally occurred on a long, 6'6"-plus rod and a high speed spooled with heavy, thirty pound mono line. It's a very effective method and still very much used today. The significant change in metal lures and rods, reels and line have seen a new lethal technique employed. First off, it's not for the faint hearted. The action requires a bit of getting used to and the workout is tiring, but the end result is breathtaking; no matter how pooped you are, you keep at it.
The most significant change to the jigging style came about with the lure - longer and weighted in a variety of areas to offer a variety of action on both descent and ascent, assisting with descent speed depending on depth and current. The hooks were replaced from the more typical treble to an assist hook swinging loosely next to the body of the lure.
Next the action was changed and with this the rods and reels were designed to counter this new and very successful jigging lure technique. With the huge success Asian anglers (who developed this) had fishing for dog tooth tuna, amberjack GT's etc, it was only a matter of time before this technique and style would hit our prime jigging waters.
Most mechanical jigging outfits consist of a short 5'-5'6" fast action rod, a quality reel that has the ability to output high amounts of drag on the multi-coloured braid line. The options are endless and can be sourced in either spin or overhead combos. Talk to your local tackle shop about options as prices will vary with a starting combo retailing at around $300.
Be prepared once you've had a go at mechanical jigging to be hooked and spend a lot more dollars than cents on some of the extremely high quality sets on the market.
The action required can be rather hard to explain and can look totally clumsy when attempting. Basically, you drop your jig, start bobbing it up and down and work on the technique once you are underway.
The goal of the action is to drop the jig to the bottom, depending on how good you or your skipper are at locating kingfish on your sounder, or marking bait schools that could have these bullies harassing them. You can then use the multi-colour braid to drop your lure to the required depth. The multi-colour braid will generally change colour every 10 metres, enabling the angler to count the colours on descent to determine the depth they're required to fish at. I'd generally suggest you do go below marks by some way. You will work your lure back through the strike zone, get the jig working through the water columns and create more attention as it moves through. While lifting and dropping the rod, you're retrieving line, so on both the up and down stroke the handle is being rotated. Start off slowly, increasing your speed. If you aim to work the rod tip between 7-11o'clock, this should be sufficient. Once you have the retrieval aspect of this, increase your speed. This varied action will create speed and a varied action on the lure stimulates the prey.
The bite is quite intense; they hit hard and fast, making for the nearest obstruction to break you off. Have your drag set tight. The big metal jig cracking them on the side of the head will drive them a bit nuts. Be prepared to see lots of line melt at speed from the spool. Keep your rod at a reasonable angle and retrieve line whenever possible. Unfortunately, unlike many other species of fish, they don't rest when you rest, so you need to retrieve line at every opportunity, and you can rest when the fish is on ice or being released.
Things to watch out for
If fishing with multiple anglers, watch for crossed lines. If this occurs put the tips together and unweave - multiple hooked fish will often cross paths.
Kingies fight till the end so in the dying stages of battle be aware of fish charging under the boat, a catastrophic way to bust fish off and often break rods.
This very exciting style can be employed while utilising many of the other techniques available to lure kingfish. Next issue, we will look at live baits…
Feel free to make a comment or ask us a question about this story on the Trade A Boat
page.
For the latest reviews, subscribe to our Trade A Boat magazine here .
Keep up to date with news from Trade-A-boat or like us on Facebook!