Fishing the Hokianga
---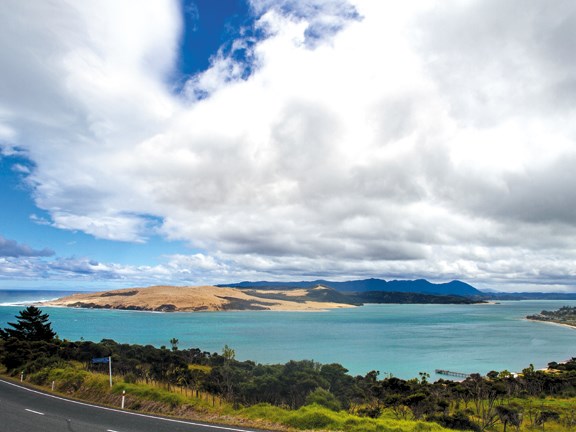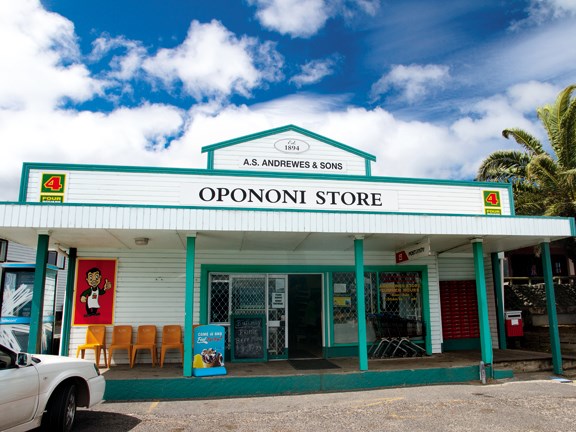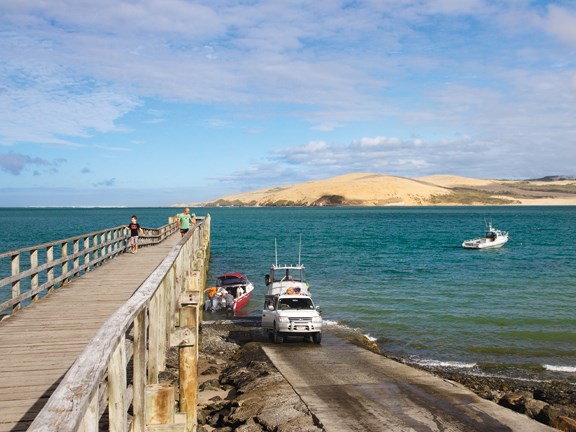 Two main concrete ramps at Omapere and Opononi, which also has a floating pontoon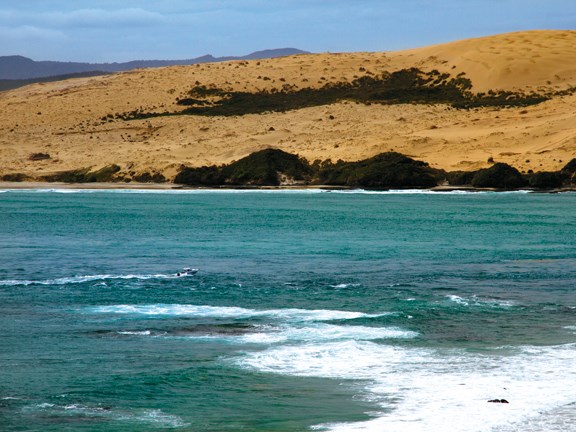 Getting in and out of the harbour over the bar can be daunting — be sure to seek local knowledge and contact Coastguard on VHF 82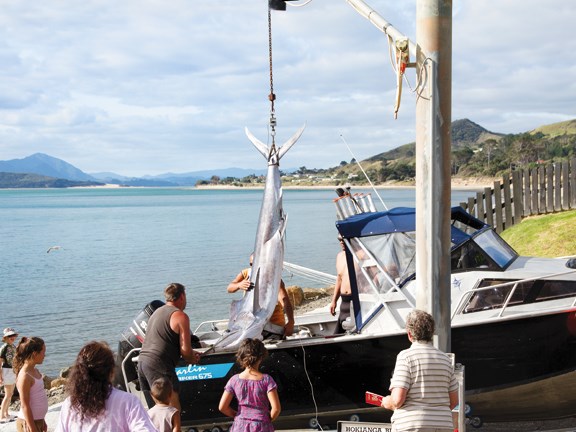 Fifty marlin in the first three months of 2013, plus loads of other species in a seafood smorgasbord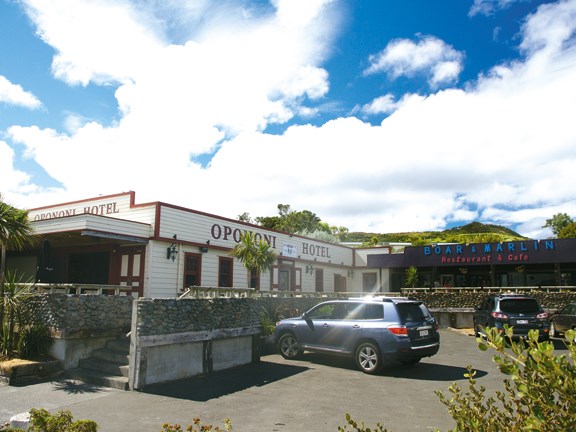 Plenty of good pubs and friendly locals to make your stay one to remember (and repeat)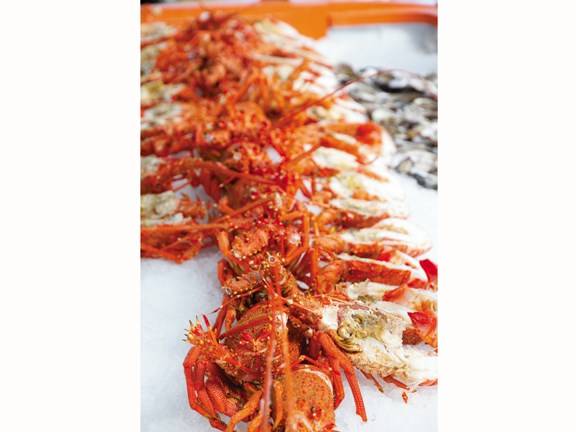 Crayfish are abundant — looks like Matt Jones enjoyed a few

If you're partial to good hospitality, stunning scenery and seafood-laden saltwater lapping at your doorstep, then Matthew Jones reckons you'll love the Hokianga — it's "bloody magic!"
Legend states the great Polynesian explorer Kupe made landfall in the Hokianga in 925AD on completion of his momentous journey from Hawaiiki. Kupe liked the place so much he vowed to return — hence the name Hokianga, which, loosely translated, means 'returning place'.
Located on the rugged west coast of the upper North Island, it's an area steeped in rich Maori history and is the backdrop to many tales of trophy fish. The Hokianga's a special place where the mighty kauri trees of the Waipoua Forest meet the Tasman Sea and the scenic coastal views are dominated by the majestic golden sand dunes sheltering the harbour-side townships within.
The seafood-laden salt waters of the harbour extend 30km inland from the Tasman Sea where its entrance is guarded by a shallow bar. Those fishermen lucky enough to strike a favourable weather window are rewarded with an abundance of the sea's bounty.
The people of the Hokianga are about as laid back as you can get without falling over backwards. They're a friendly, welcoming bunch, making time spent in the Hokianga all the more enjoyable.
Awe-inspiring attractions
When visiting from the south the magic begins along State Highway 12 from Dargaville, weaving among the mystical Waipoua Forest, part of Northland's Kauri Coast and home to Tane Mahuta, a mighty native kauri tree estimated to be between 1250-2500 years old. He and his mates Te Matua Ngahere and The Four Sisters can be found a short walk from the road. Footprints Waipoua offers guided tours, which Lonely Planet rates as "an experience of a lifetime".
A further 20km through forest and farmland brings you over the hill and into Omapere. Pull over at the top to see the 300m-high Niua sand dunes. Ask any local about the must-do attractions and they'll point to these dunes dominating the horizon and many tourists' photo albums. Sand dune tours, sand surfing and dune buggy tours offer plenty of sand-filled fun. Other activities in the area include horse treks, quad bike adventures, coastal walks and a maze to name but a few. There's also a hearty dose of character-rich pubs, cafes and local arts and crafts to enjoy.
Step back in time
The Hokianga is one of the oldest Maori settlements in the country, and is said to be the birthplace of the nation. The earliest European ship entered the harbour in 1822 to pick up the first of many timber shipments eventually claiming much of the area's mighty kauri forests.
A few kilometres on from Omapere is Opononi, made world famous in the summer of 1955-56 by Opo the friendly bottlenose dolphin. Opo enjoyed interacting with people and even allowed small children to ride on her back. Sadly, she was killed in unexplained circumstances in 1956 and was buried with full Maori honours. A statue and plaque mark her grave site next to the War Memorial Hall in Opononi township.
The Copthorne Resort enjoys prime beachfront location in Omapere and offers four-star accommodation, outstanding views over a cold pint, great food and a great atmosphere. It's also home to the Hokianga Big Game and Sportfishing Club with the weigh station and Omapere wharf right on its doorstep.
The combined population of Opononi and Omapere is less than 500 people, so there's always plenty of seclusion on offer along the beaches. Stones have become a feature of Omapere and Opononi beaches in recent years, so bring foot protection for swimming.
Seafood smorgasbord
For those with a hankering for the sea and its bounty, the abundance of seafood is certainly the star attraction in the Hokianga. A smorgasbord of fish species is on offer (including blue cod, bluenose, striped marlin, black marlin, blue marlin, broadbill and kingfish among many others). Crayfish and paua are also in abundance and the scallops have made a welcome return to the harbour after a few years' hiatus due to overfishing. The hapuku grounds are said to be only 20km offshore.
Bring your surfcaster, as there's plenty of beaches, wharves and rocks to fish from in the harbour — kingfish can be caught from the wharves. Most of the best spots on the coast can only be accessed through private land, however, so make sure you seek permission first. For boaties there are two main concrete ramps at Omapere (by the wharf) and Opononi, which also has a floating pontoon.
Swordfish are a regular sight at the Omapere weigh station in summer. On my visit the second blue marlin of the season weighed in at 123.1kg. By the end of March more than 50 marlin had been weighed or tagged in 2013. In July 2012 the first ever Hokianga-caught broadbill weighed in at 127.8kg. Since then a further two broadbill have been landed and another two tagged and released. Marlin season normally starts in late December and runs through to March (or the end of April in a good year).
Local knowledge
Steve Allen and his partner Maude run the Hoki Smoki Company in Omapere. Their facilities are a fisho's dream come true, with basic accommodation for 18, an ice machine, bait, chillers and a certified smokehouse with vacuum-packing on site. Steve's also the club captain of the Hokianga Big Game and Sportfishing Club.
Out on the water, West Coast bars are treacherous and subject to constant change. Don't be afraid to put a call out on the VHF or ask a local for advice. "The bar is not as scary as a lot of people make it out to be," says Steve. "But you've got to get some local knowledge before crossing."
Help and advice is available on VHF Channel 82 (Coastguard working channel). "All they have to say is 'hey guys I've never been out over the bar before, can someone please give us a couple of pointers?' and the right people will help out,"he says. "Someone will probably tell you they're going out in 10 minutes and you can follow them." Even if the bar's too rough to venture out you needn't despair, as there's plenty of fish in the harbour and you'll always get a feed no matter which direction the wind's blowing.
The locals share a simple philosophy when it comes to making the call whether to head out over the bar:
"When the door's open you go fishing and when the door's shut you go to work."
And if the door at the harbour bar is shut, never fear, there are five pubs on the water's edge with their doors wide open — located at Kohukohu, Horeke, Rawene, Opononi and Omapere. Just make sure you have a responsible skipper or give Hokianga Express Cruises a call for the guided tour.
Life-long local and Copthorne employee Kene (pronounced Kenny) says the hallowed fishing grounds over the bar are generally only accessible in summer when the easterlies tame the sea and bring turquoise currents with them. Westerly-sector winds are bad news for heading out over the bar. If you shout Kene or Steve a cold beer they might share some fishing spots with you.
The Hokianga is certainly deserving of its name, and it's only once you've experienced the hospitality, seafood and natural beauty for yourself that you'll see why. Steve rightly sums it up when he says, "Once people have been to the Hoki they always want to come back."
And he's right: I'm already dreaming of my next trip, and if I had to describe this enchanting place in a couple of words, they'd be "bloody magic!"
For the latest reviews, subscribe to our Trade-A-Boat magazine here.
Keep up to date with news from Trade-A-boat or like us on Facebook!