Wave Dancer Fishing Charter
---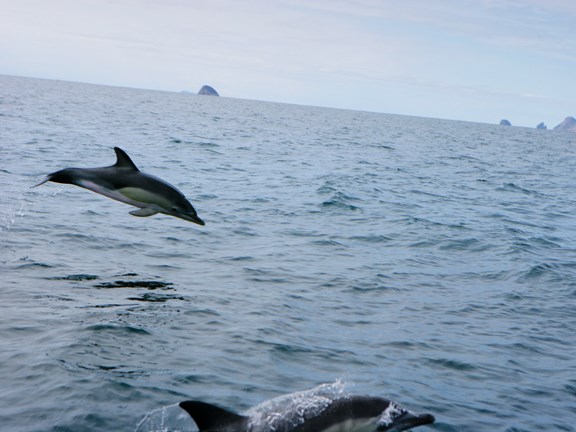 Just passing through…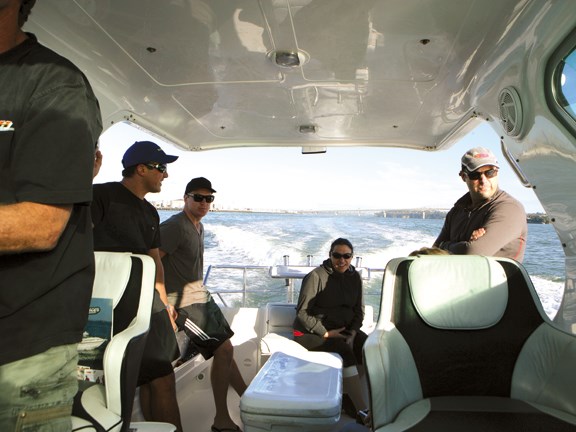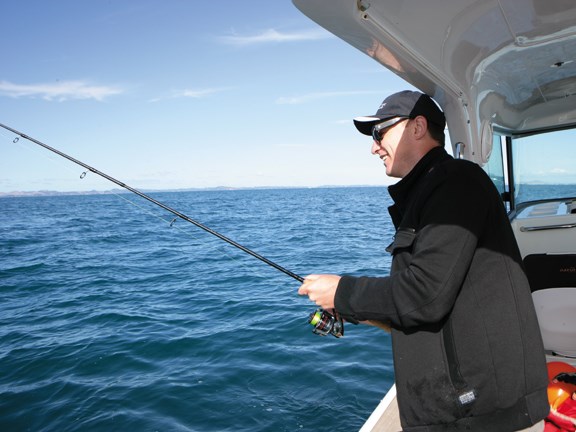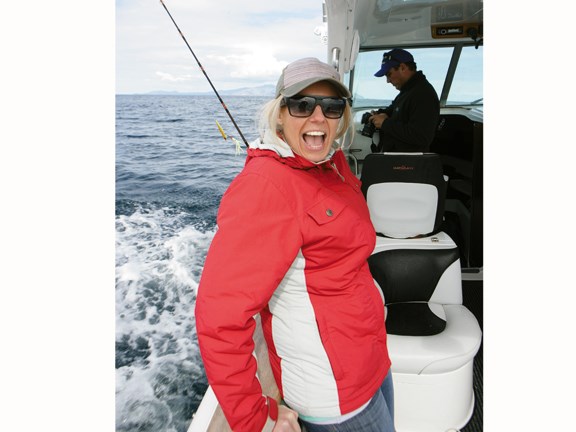 Our boss wasn't too worried when we decided to stay out all day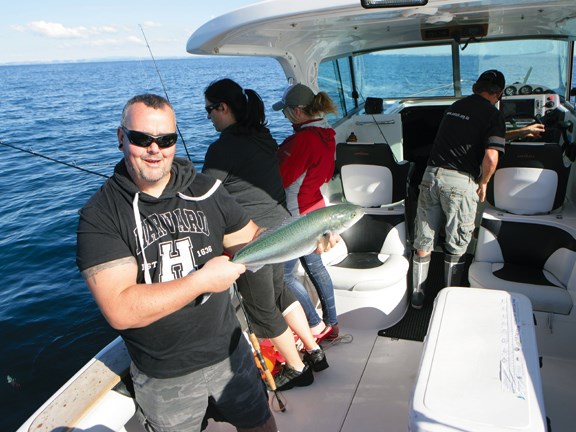 Motorcycle Trader editor Shane on his first Hauraki Gulf fishing experience �— the fish loved him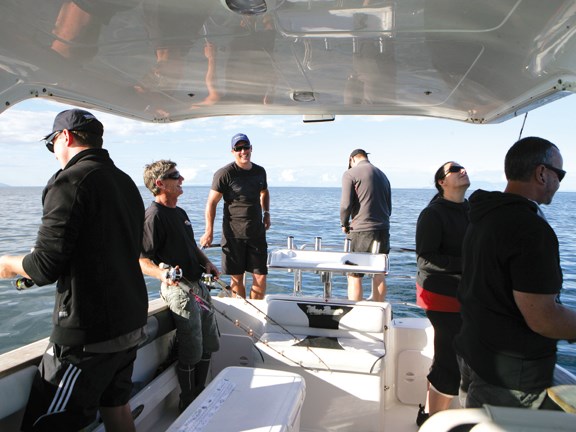 Wave Dancer's two-year-old Rayglass 2800 easily fished six; enclosed swim platform is a real plus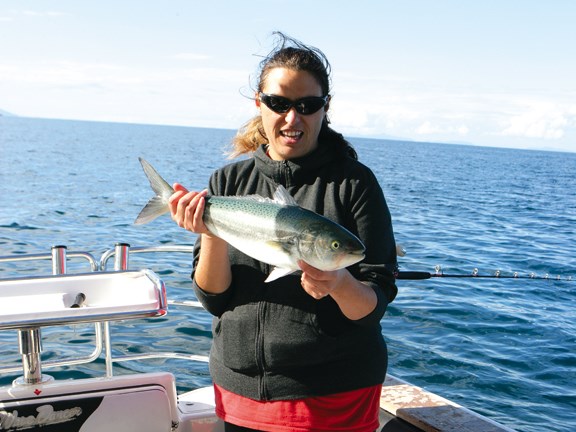 Trade-A-Boat sales manager Jo with a kahawai she took home for dinner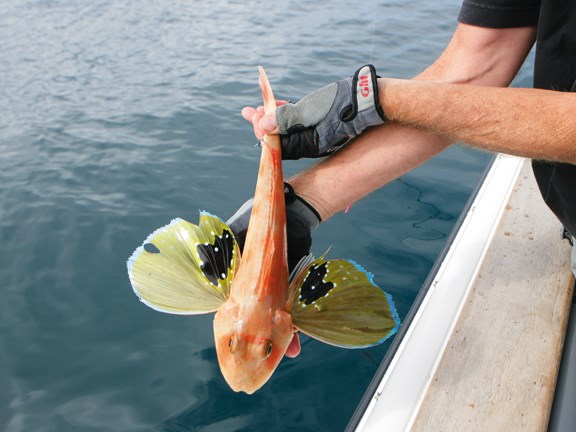 Gurnard caught off Great Barrier Island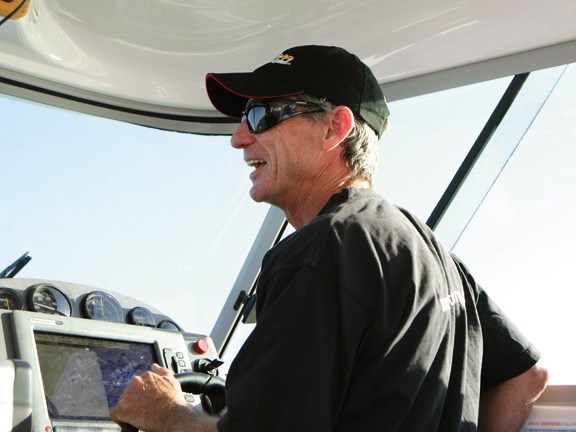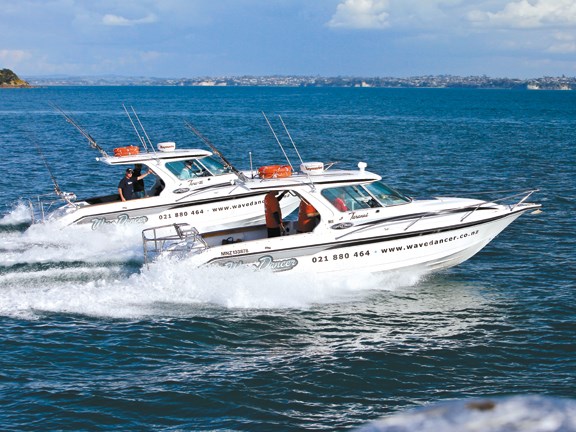 It was supposed to be half a day out on the water and we should have been back at our desks by one o'clock to put magazines together. But we had way too much fun, caught plenty of fish and stayed out all day. Who can blame us?
I have no way of knowing whether you're reading this with your slippers on, beer in hand on a quiet Sunday afternoon after a weekend on the water (or after doing DIY at home and wishing you were out on the water) or while pretending to work on a dull Monday morning as you drink your third coffee.
But it doesn't actually matter a whole lot where you are or what you're doing right now. What counts is what you could be doing after visiting us at the Hutchwilco Boat Show in May, where you could do yourself a massive favour. Because, just by coming to our stand and voting in our Readers' Choice Awards (see p100), you could be heading out to Great Barrier Island in a Rayglass Legend 2800 with three mates, ready to haul in the big ones.
Someone is soon to win a $3000 trip with renowned fishing charter company Wave Dancer, and we thought it only right and proper to try it out so you'd know what the prize involved. In short, these guys know what they're doing and provide a hell of a good time out on the water. Trust me, this is a prize you want to win.
Fishin' mission
Wave Dancer's mission in life is simple: find fish. And our skipper for the day, a friendly and knowledgeable bloke called Grant Bittle, was absolutely obsessed with doing everything in his power to make sure we caught them, and was armed with up-to-date weather, tide and bite time information, as you'd rightly expect. Behind the wheel of the company's Rayglass Legend 2800, he was constantly on the lookout for "signs from Mother Nature" sure to guide us to the most likely spots to drop a line, and my colleagues and I couldn't help but find his enthusiasm infectious as we motored out into the Hauraki Gulf on a crystal clear April morning.
We'd met at the Pier 21 drystack in Auckland's Westhaven Marina at 8am, ready for what was supposed to be a half day's fishing with colleagues keen to avoid work on a Monday. Bittle gave us a full boat and safety briefing involving, among other things, making sure we knew the lifejackets were within easy reach at all times.
Before long we found ourselves heading into the bright sun, the big Rayglass's smooth, throaty 310hp Yanmar itching to let loose once we passed the speed-restricted harbour area. Before long, Bittle put the hammer down and we powered out at an easy 26 knots across very light seas toward the fish. He constantly kept us informed about where we were heading, what he was looking for and what we could expect at any given point. Matt Jones, passionate, experienced fisherman and regular contributor to this magazine, was already mining our skipper for information, and reckons he learnt a lot from a guy who spends his work days, and days off, fishing the Hauraki Gulf, as do all the fanatical Wave Dancer captains.
The fish proved relatively elusive for a large part of the day, but of course we kept trying. Bittle was always on the lookout for gannets, other birds and dolphins (signs fish are present), and we tried several spots where there were snapper showing on the massive Raymarine C120/W GPS/fishfinder. Whenever it became clear they weren't biting, Bittle called lines up and we moved on. "This isn't fishing, it's boating," he said as he put down his binoculars and fired up the engine. He wasn't messing around and wanted to fill the bins. "If we ain't catching, we move or change what we're doing."
Forget the office
So when Bittle suggested to me, at about midday, we head out to Great Barrier Island to try our luck there (having heard from another Wave Dancer boat the snapper were biting) I decided the office would still be there tomorrow and we'd make a day of it. My boss was on board and I didn't even ask her, but she didn't seem worried so we just got on with it. And I'm glad we did.
There was a bit of a south-easterly coming up the Firth of Thames behind Waiheke Island (pretty much the only breeze we encountered on the day) so we pulled up our lines and made ourselves comfortable for the 50-minute ride out to the Barrier. The Rayglass easily accommodated six people (plus skipper) and we enjoyed the ride and the view as the 2800 powered through the ocean.
The low-lying island grew steadily larger ahead of us, but before long someone spotted dolphins, prompting a brief detour to watch them and see what they were chasing. They seemed to be on a mission of their own, heading south, so we didn't bother dropping our lines. They cruised around us, some of them very young. You can't help but enjoy the sight whenever you come across them.
Half an hour later we were sitting off the west coast of Great Barrier in flat water waiting for fish. There's plenty of room for six anglers on the Rayglass. The cockpit's roomy and this boat's been fitted with high rails around the Portofino transom, allowing three, possibly four, people to safely and comfortably fish at the stern. At this point, though, we weren't having much luck — just a gurnard, some mackerel and four decent snapper between us — so Bittle radioed another Wave Dancer boat a few miles away and we went over to join them. They'd just hauled in some big snapper and the six guys on board were all smiles, thoroughly — and understandably — enjoying their Monday. We dropped our lines but it seemed they'd caught the hungry ones, and after trying a few spots Bittle decided to move again.
How it should be done
On our way back toward the city we stopped several times when Bittle thought we could get lucky, and pretty soon, with Tiritiri Matangi Island a couple of miles to starboard, we were hauling them in one after the other. Motorcycle Trader editor Shane Solomon, in particular, was on fire, bringing in snapper and kahawai like he was trying to single-handedly deplete the Hauraki Gulf of fish (as a proud Southlander he was showing us northerners how it should be done).
For a while it was a fishing frenzy, and we'd soon filled the big fish bin. As the sun headed for the horizon we called it a day and headed back to Westhaven after the best Monday in ages. We spent the next hour or so filleting and handing out fresh dinners.
In the end we'd covered over 100 nautical miles and had a bloody good time doing it. We had some decent fish and some tall tales to tell. We'd been so focused on the fishing we almost forgot to eat, but the winners of this prize charter will be served a very nice lunch — if they can drag themselves from the rods to eat it.
For the latest reviews, subscribe to our Trade-A-Boat magazine here.
Keep up to date with news from Trade-A-boat or like us on Facebook!