Cruising the Pacific part 5: Mexico to New Zealand
---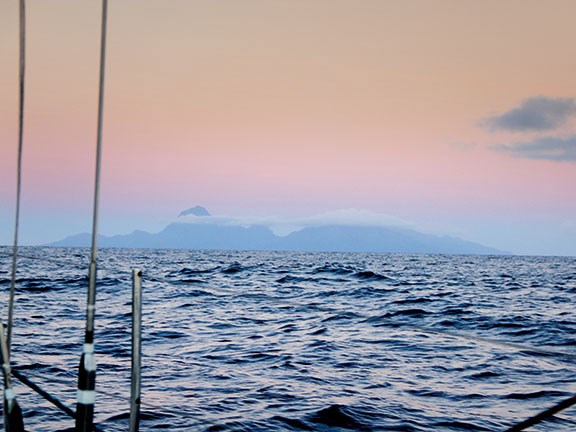 Moorea gives up her shape as day breaks over Tahiti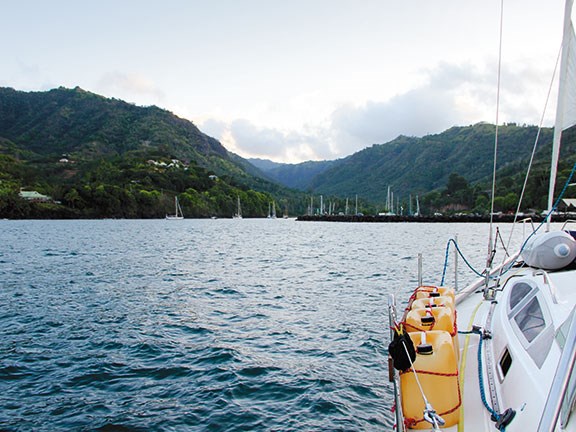 Atuona Harbour on the Marquesas island of Hiva Oa unfolds after 20 days at sea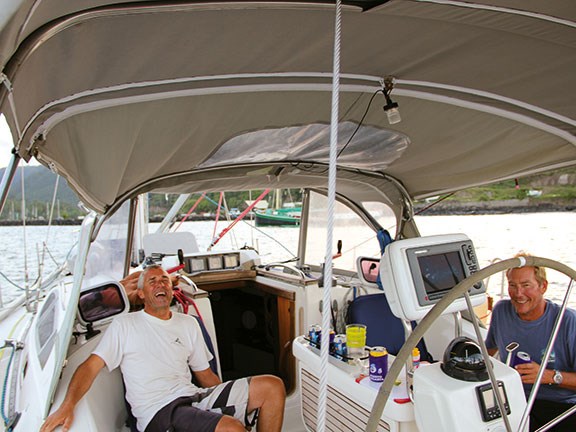 The morning after the night before — celebrating the arrival at Hiva Oa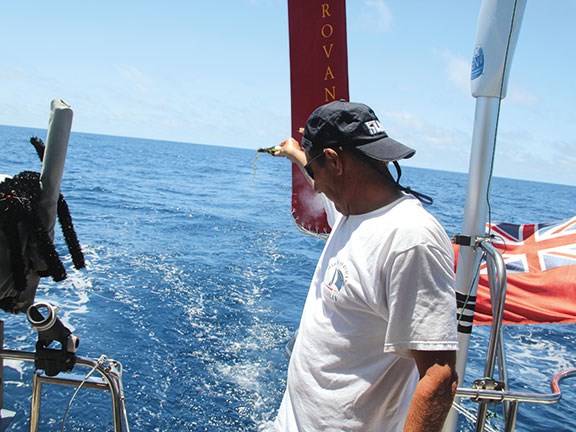 King Neptune gets a tipple of the very best as Nereid and crew cross the equator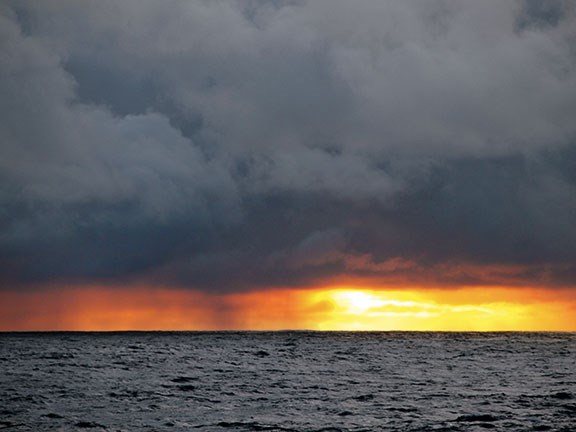 Line squalls, some violent, were a constant threat crossing through the ITCZ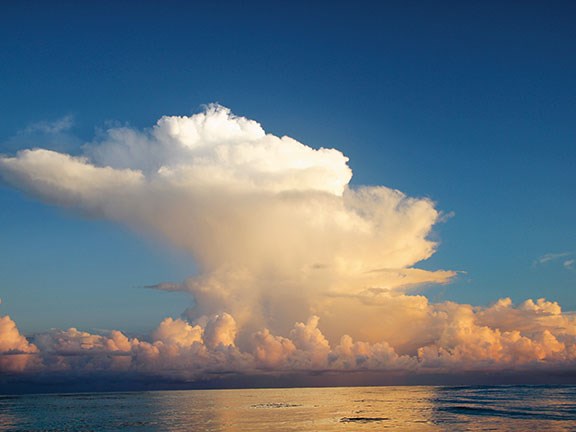 Cloud formations in the low latitudes are awe inspiring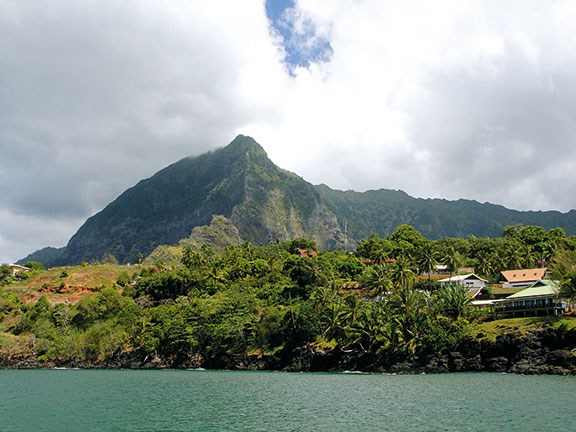 Hiva Oa, Marquesas

Editor-at-large Steve Raea and Auckland crew Cameron Maher and Brett Hampson complete the 4000-mile passage from Mexico to Tahiti via the Marquesas Islands.
It's a cruel twist that, after thirty-something days bobbing along on the North and South Pacific Oceans, arriving in Tahiti on Saturday, 11 May, the swell inside the reef is burying our bow making it nigh on impossible to get off the boat.
It is a pretty swell — aqua, warm and tropical — but it's a swell nonetheless and I'm over swells for the time being. The dinghy is doing cartwheels on its painter tied off the back and I suspect any attempt to get into it and run for the nearest bar would end in soggy tears. The saving grace is that the Mexican beer lasted the passage and is cold in the fridge.
With the arrival of Nereid's crew from Auckland in early April for the Mexico to Tahiti legs — a distance just shy of 4000 nautical miles — our last few days in Puerto Vallarta were spent loitering in supermarket isles trying to decipher Spanish labels on tinned vegetables, fruits, dairy and meats.
Our biggest challenge on the stores front was trying to find cuts of meat that looked, and hopefully tasted, familiar and then having it vacuum packed and frozen before delivering it back to the boat. Sign language goes some way in Spanish, but trying to mime 'vacuum' was a step too far — store security was a step away from having us removed.
After three full days under the blazing Mexican sun we had everything we thought we needed on board, including 200 litres of supplementary diesel strapped to our port and starboard rails. We threw our lines off just before nightfall on 10 April.
Cast off
Our course to Hiva Oa in the Marquesas Islands — distance 2900 miles — would take us pretty well southwest on a course of 225°, hopefully crossing the equator at about 130° west, after which we would follow the rhumb line direct to the port of Atuona.
While our departure was not late in the season, we were sailing alone. A group of about 10 yachts had left the week before and a further dozen or so the week before that. Our primary line of communication en route would be the evening SSB radio schedule arranged between the southbound yachts. We had spent several days trying to get our heads around using the SSB Pactor modem that came with the radio and we finally mastered it, giving us the ability to download weather grib files and weather faxes directly onto our laptop.
Much of the first week was very light, with N to NE winds of 8-15 knots. This meant slow progress but we were able to average about 100 miles a day for most of the week and avoid using our diesel, which we'd promised to save for motoring through the Doldrums if need be.
The light weather was a blessing in respects and allowed us to ease into life at sea and settle into a routine that would become familiar over the course of the passage. The most difficult aspect of those first days was adjusting to the heat, which was relentless and only got worse as we progressed south. As dull as it might seem, routine is all important at sea as it is the yardstick of your day. Boredom will turn minutes to hours if you let it, so every task, no matter how miniscule or monotonous, is a godsend.
The daily grind
With a crew of three we worked a two-hour on, four-hour off watch system by night, which ran from 6pm till 8am. Thereafter, things were a bit more casual for the daylight hours. The first task of the new day was breakfast, and despite the heat this was very often cooked. Then there was housekeeping for an hour and a late morning coffee while we downloaded our weather for the next three days.
At midday I would squirrel myself away at the chart table and plot our position and noon to noon daily run. This was always met with anticipation but confirmed an annoying and persistent current continuously stripping us of 10 to 20 miles a day.
Reading was a big part of the afternoon and occupied our time till happy hour, which was set at 5pm but continually crept forward with each passing day until we finally drew a line at 3.30pm. This was our social time on board and it was eagerly awaited. The evening meal and SSB radio schedule heralded the end of each day and a mode switch for the long night ahead.
One of the more remarkable aspects of sailing in the low-latitude tropics is the lack of any real dawn or dusk — out here the sun rises and sinks as if on steroids: blink twice and you miss it.
After our first week we'd covered off 840 miles, leaving 2060 to go. It wasn't the 200 miles a day I was looking for but the log entry for 13 April pretty well sums up those early days: "Long night steering by hand to maintain momentum in five to seven knots of wind." And on April 17: "Gybed to head west at 1800 in search of more wind."
The second week brought a more favourable wind from the NE and allowed us to raise our spinnaker for the first time, reeling off several 200-mile plus days, although standing under the relentless sun trimming was overbearing. We were forced back under our canvas covers to settle for a poled out headsail.
By the end of week two we'd charted off a further 1040 miles leaving just over 1000 miles to run. This was good progress and we'd caught up with half a dozen yachts that had left a week ahead of us. We weren't racing but neither were we slowing to a crawl at night as I suspect others were. For all of that I was challenged for choosing to put a tuck in the main and gather in a bit of headsail for the night watch.
Doldrums
Week three was always going to be the real challenge as we neared the equator and the Inter-Tropical Convergence Zone (ITCZ). Known as the 'horse latitudes' or the Doldrums, this is an area where the prevailing NE trades in the northern hemisphere meet the SE trades in the southern hemisphere. This 'meeting' can occur anywhere from five or six degrees north to five degrees south and is usually a band about 200 miles wide. There is no escaping the ITCZ. The trick is to try and cross it at right angles to get through as quickly as possible. Before diesel engines the old wind jammers plying the trades could be stuck in this area for weeks. The horses they carried would die from starvation and be thrown over the side. The crew often went loopy, too.
Our experience was that of most others. We encountered the ITCZ at about five degrees north early into our third week and the 55hp iron spinnaker below the cockpit was pressed into service such that we maintained about five knots until we got clear on the other side.
The other ITCZ variable is frequent rain squalls and rain cells. By day you can see these coming and prepare by reefing or skirting around them, but at night they're a real blight because they come on with little or no warning. In most instances they're relatively benign, but we encountered several during the night that blew to 35 knots. While generally short-lived, some persisted for three or four hours and threw rain at us so hard the ocean appeared to be smoking.
This period of constant sail changes and reefing was tedious and played on our nerves. While crew morale was generally pretty good, little things began to creep in and nag away at us. A low point was the several bucketfuls of water raining down on me through the front hatch as I slept below and the flying fish inviting itself through the mid-cabin hatch and into bed with Brett sleeping in the saloon. We were ready for land.
We crossed the equator shortly after midday on Thursday, 23 April, and toasted Neptune with a quality tequila brought for the purpose, but the idea of dressing up and playing the fool wasn't really our thing so we carried on, putting the party on hold till our arrival in Hiva Oa.
Land ahoy
The last week was a mixture of squalls, calms, long periods of motoring and, towards the end, a steady but building SE trade wind pushing us rapidly toward our destination. We arrived at the entrance to Atuona Harbour in the pre-dawn of 30 April and dropped anchor. We'd been at sea 20 days and some hours and had averaged 5.85 knots for the crossing.
Settled in, we celebrated with tequila shots and beer and watched the sun rise over an island that looked jurassic with its high, rocky cliffs and peaks rising vertically out of the sea. Atuona Harbour is picturesque but too small to accommodate many yachts. There were about a dozen boats lying to bow and stern anchors and it was necessary for us to follow suit. It seemed incongruous that at one of the most isolated islands on the planet we had to parallel park to get inside the breakwater.
With a population of just 2500 permanent residents, Hiva Oa is not much of a flesh pot. There were certainly no brightly coloured ferry lights or music wafting across the harbour from any seaside bar. Still, it was land and we were pleased to see it. The grand tour takes something less than an hour — a good thing as the danger of passing out from heat exhaustion is real. We found the main town restaurant, invited ourselves in and sat down. We were quickly informed today was a public holiday and there would be no beer drunk here till after 6.30pm. Our taxi driver — the only one on the island — picked up on our disappointment and took us to the only hotel 20 minutes out of town. This, she assured us, would be open. It was and the beer was cold.
We'd planned to spend about a week here before making the last push on to Tahiti, but after several days there wasn't much more to do so we took on what fresh supplies we could find, ferried out duty-free diesel in 20-litre jugs and weighed anchor.
Westward through the Tuamotus
The last leg would take us through the Tuamotu Archipelago, a wide band of very low-lying coral atolls that lie roughly north-south 500 miles southwest of the Marquesas. The Admiralty pilot cautions sailors of what it describes as 'barometric anomalies' in this area, meaning you're likely to encounter everything from calms to gales.
Picking your way through the Tuamotus requires careful navigation because of strong currents that develop between the many atolls. After six weeks at sea the crew was itching to get to Tahiti and back home to their families, so we skirted the northern side of Rangiroa Atoll and made a direct course for Papeete 200 miles distant.
These last two days were some of our hardest, with fresh to strong SE trade winds and a following sea that was confused and rolly but the miles clocked over rapidly and we picked up Tahiti's Point Venus light early on 11 May. By 10am we had entered the inner harbour at Papeete and tied up alongside floating barges moored for visiting yachts.
There was only one other yacht in the inner harbour and we quickly discovered why: the barges are too high off the water to get safely on and off the yacht. With a leap of faith we scaled the rusting hulk we'd tied to and walked the short distance into downtown Papeete where the crew made a beeline for the nearest airline office, emerging 20 minutes later with tickets to Auckland the next day.
After a leisurely lunch of New Zealand lamb and beer we returned to the yacht and navigated through the inner reef to the main yacht anchorage and marina at Taina on the western side of the island. Here I sit waiting for conditions to ease so I can get off the boat and get the lay of the land.
My first task is to try and secure a crew for the next leg of the journey through the Society Islands and onwards to Rarotonga and Tonga.
Check out the rest of Steve's adventure:
For the latest reviews, subscribe to our Trade-A-Boat magazine here.
Keep up to date with news from Trade-A-boat or like us on Facebook!