Cruising the Pacific part 7: Mexico to New Zealand
---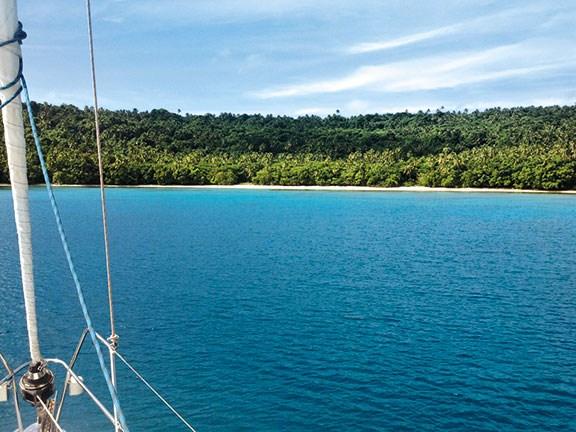 Pacific paradise from Neried's decks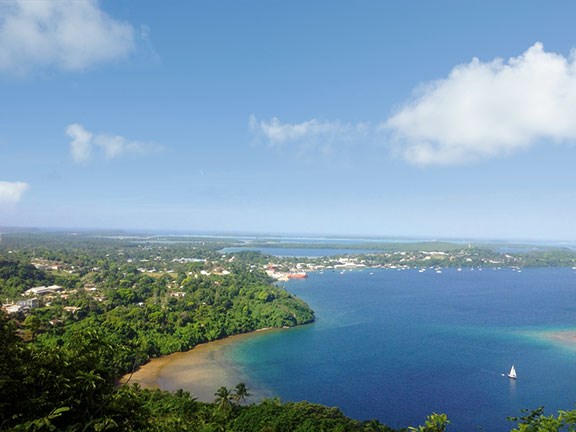 View from Mt Talau National Park looking southwest across the Vava'u island group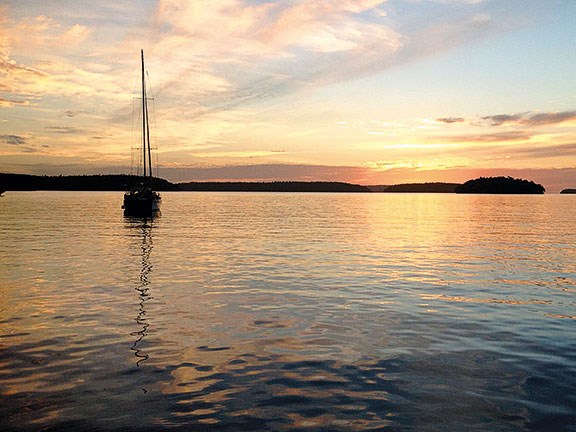 Port Maurelle, Vava'u, Tonga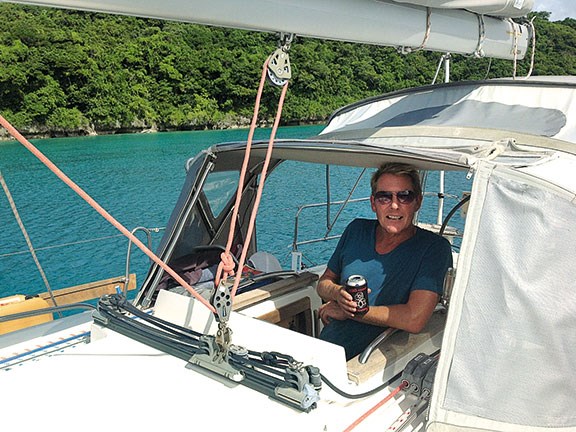 Steve enjoys a well-earned cold one after the 850-mile Rarotonga-Tonga leg of his Pacific crossing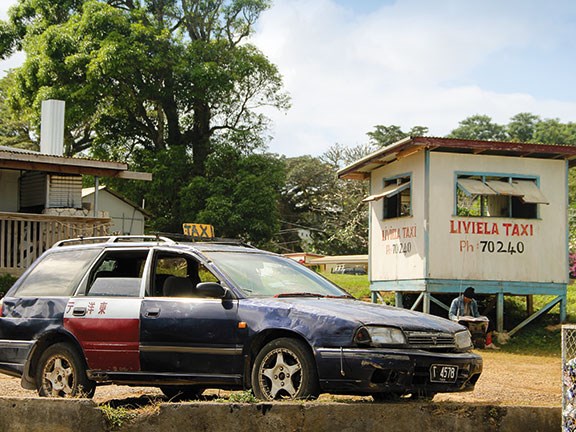 A typical temperamental and aging Tongan taxi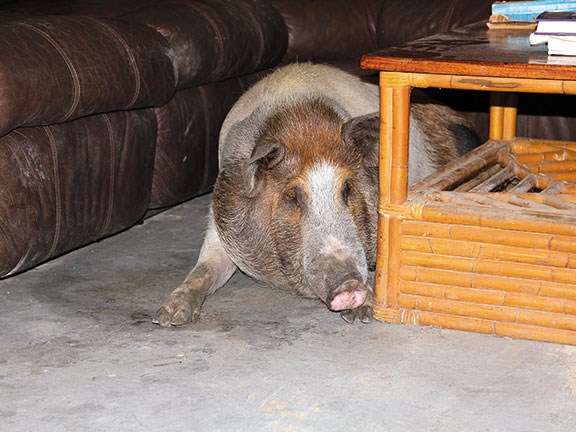 Charlie the caf� pig awakens in a bad mood…

Editor-at-large Steve Raea and crew conclude the penultimate leg of their journey home, drop anchor in beautiful Neiafu Harbour, Vava'u, and, among other things, meet Charlie the moody café pig.
I recall our last correspondence had Nereid and crew very much stuck to the seabed in Rarotonga's troublesome Avatiu Harbour, where it had become necessary to lay out three anchors to avoid being dashed against the concrete seawall.
I can now report we're far removed from that cesspool and happily anchored in Vava'u. Retrieving our ground tackle was no easy task and it took the best part of an afternoon to pry ourselves free and slip out the narrow harbour entrance.
The 850-mile passage from Rarotonga to Tonga takes you slightly north of west and is generally an easy broad reach when the prevailing southeast trades are blowing. The rhumb line takes you over the top of Beveridge Reef and onto the southern shores of Niue Island. If you can avoid these hazards and hold a steady course, you'll generally arrive in Vava'u in about seven days.
As it was, the trade winds did not blow at first and we had to listen to the drone of the diesel engine for the first two days before the wind came in fresh from the east southeast. This is directly over the transom, which meant having to wrestle with spinnaker poles and other downwind sailing paraphernalia. Other than an incessant roll from rail to rail we made the most of the fresh breeze and covered off the remaining miles quickly, arriving in Neiafu Harbour in time for happy hour on Tuesday 11 June.
This was my partner Cherie's first offshore passage and she handled it with poise and dignity. I suspect one of her greatest challenges was learning to trust the mechanism of the galley stove. Preparing a meal in a seaway is no easy task and, having fought gallantly to keep her ingredients off the galley floor, she was deeply suspicious the stove would throw its contents across the companionway the minute she turned her back. The gimbals prevented this for the most part, but watching a stove swing wildly from side to side is one of the more unnatural phenomena of ocean sailing.
Sailor's delight
Sometimes referred to as Tonga's friendly islands, Vava'u is a sailor's delight and my favourite South Pacific cruising destination. It has all the delights of French Polynesia and none of its vices. Vava'u is not without vices, but these tend to be considerably more entertaining.
Clearing customs was relatively straight forward once we were informed by fellow yachties that neither customs, immigration, nor Vava'u Harbour Control monitor VHF radio. Procedure has it you tie alongside the main wharf and await the arrival of the authorities. In Tonga these duties are shared liberally and we had no less than eight healthy Tongans crowded into the cockpit of the yacht at the height of proceedings. In previous visits I've generally been lightened of liquor and tobacco as an imposed gesture of koha, so this time round I was careful to ferret away what little wine we had on board.
This must have been a bitter disappointment given the payload secured by grinning officials as they stepped from the yacht berthed in front of us. The upshot was we were processed and cleared in record time and free to begin rediscovering the delights of Vava'u, which is a collection of small islets and islands centred on the capital of Neiafu. Within a 30-mile radius lie no less than 40 islands, each offering secluded, albeit very deep, anchorages in pristine waters. It is here the humpback whales arrive every July to calve and frolic in the tepid waters before going back to wherever it is they come from.
Whale song
The annual whale migration is one of nature's best kept secrets and enjoyed predominantly by cruising sailors. At the height of the season you can lie in your bunk at night, listening to whale song and swim among them by day, if that's your thing.
Having the whales in town is good for tourism, but it is my experience that at the height of the season whale numbers can be so numerous in the narrow island passes and channels that there's a real risk of an unfortunate meeting of fibreglass and blubber. It makes sense — having recently given birth, these gentle creatures might very well be overrun with emotion and thus in no mood to entertain unpredictable yachties and swimmers floundering around in their backyard.
It's not uncommon for the whales to belch plankton and krill into the cockpit of passing vessels and occasionally using their girth and weight to move yachts on. This, I suspect, would constitute an act of God in the eyes of most insurers.
Growth industry
Speaking of greater beings, God is very much alive and well in Tonga and has a major hand in the lives of its citizens. The church is one of few growth industries here and, from what I can see, it continues to shape many facets of Tongan life. This is not necessarily a bad thing, for the church is very much at the centre of the Tongan community. I've heard and seen many a good party spill out of the aisles of churches in the short time I've been here. And there is nothing more majestic than waking to the voices of a Tongan choir at 6am.
In the 25 years I've been sailing through these islands there has been little sign of any real progress or development and some aspects of Vava'u have slipped backwards. The one and only quality-rated hotel on the island has half burnt to the ground and a new hotel, charming as it is from a distance, is sinking into its coral foundations and is largely uninhabitable. This leaves a backpacker lodge of dubious structure and a few guest houses dotted around the town. There are, of course, several exclusive island resorts but these are priced accordingly.
For these reasons, it would be a stretch to consider or recommend Vava'u as a tourist destination and I suspect this is just how the Tongans like things. This is not to suggest you'll get a frosty reception, as Tongans are the friendliest and humblest of people. They're also proud and this is obvious in the way they keep their schools and their churches. Their children are happy and well fed, polite and friendly, and many delight in practising their English, which is taught at schools throughout the group.
For visitors, the attractions of Vava'u lie largely beyond the shore and are accessible only by boat. Because of this, the few tourist facilities and options available are tailored to the needs of boaties. The casual traveller could end up feeling quite isolated.
There are few services for visiting yachts, so it is best to prepare accordingly. Water is available but it is from a bore and brackish. Diesel has to be taken from one of two petrol stations and transported in containers to the boat. Duty-free fuel can be obtained on clearing customs.
Getting to Vava'u is easy, with three daily flights between Neiafu and the international airport in the Tongan capital Nuku'alofa. Internet and telephone services are available but these can be unreliable.
Plain sailing
The delight of Vava'u for cruising sailors is the relative safety of the islands from a navigational perspective. Unlike Fiji, large parts of the Vava'u group do not have fringing reefs and many of the islands and islets are free of coral and reefs. There are some aids to navigation but they're unreliable. Care should be taken with electronic charts, which in some cases can be up to two miles out.
Many anchorages have moorings that have been laid by schools or the local village to encourage visitors and to generate a little income. Anchorages are generally very deep — in excess of 30 metres — so you'll require a generous amount of chain.
Vava'u is a Moorings/Sunsail charter base with a fleet of late model keel yachts, catamarans and power cats and an ideal destination for the first time charterer offering over 45 anchorages — all within a day's sail of the base.
Little Cuba, big pig
In attempting to capture the flavour of Vava'u, I'm reminded of Cuba. While Cuba has its infamous Bay of Pigs, Vava'u has bays and bays of pigs. In fact, almost every bay in Vava'u — and there is a great deal of them — is overrun with pigs scratching for delicacies below the high-water mark.
There are big pigs and small pigs and pigs of every colour and description ranging from the friendly to the feral. Just who owns these pigs or how they're identified is a mystery, but like the sacred cow, pigs enjoy a very good life in Tonga. Not only do they have the run of the beaches, they've also got the chains of office and wander freely around the town like lord mayors, gathering in large demonstrations on street corners and outside shops. The locals will invariably tip their hats and toss them some form of tasty treat.
One pig of notable repute is Charlie. Charlie spends his days lying around on an old, frayed, chocolate Lay-Z-Boy at Vava'u's Coco-net Café. At just 10 months old, Charlie is a big chap and has an attitude to match. Often short of temper, Charlie is rather selective of who can and cannot frequent his owner's establishment. If Charlie deems it appropriate, or is asleep on the couch, you can enter the café relatively safely. This is a good thing, because here you can chat online, do your laundry and enjoy a cold beer. However, if Charlie wakes in a bad mood, which he often does, then beware...
The safest course is to gulp down your beer and scale the back fence, grabbing at your laundry as you go. The alternative is to risk being piled into the dirt by a 400lb porker with no conscience. Charlie's owners are adamant this is Charlie's way of showing affection, but they concede profits are well down on last year.
The incongruous thing about pigs and Vava'u is the scarcity of bacon. There is not, and has not been, a rasher of the stuff to be found in the three weeks I've been here. This is despite bacon and eggs being proffered by every hole-in-the-wall restaurant and café on the island. In fact, provisioning and dining here is not all it could be. While the vast majority of eateries are run by inventive ex-pats, the menus on offer reflect a 'wartime' shortage of supplies, so much so that a meatball sandwich at $18 stands out as outstanding nutritional and monetary value.
The problem, I'm told, lies in the soil, which yields little in the way of fruit and vegetables. If the lettuce is a reflection of what the earth is prepared to give up, I'll stick to meatballs. It did occur to me that a possible reason for this apparent lack of nutrients is the pigs have got to them first.
A fighting chance
The other Cuba-ism in Vava'u is the taxi fleet. While the Vava'u fleet might lack some of the charm and character of the old American Chevrolets and Buicks, it is no less interesting from an archeological perspective. Here you will find a world-class collection of old Japanese vehicles. Most are showing the ravages of time and few have their full quota of windows and doors, but they are worthy collectors' items nonetheless.
Unfortunately, however, the functional quality of these vehicles is not what it could be. In fact, most are hopelessly unreliable and refuse to start if ambient conditions are anything less than perfect. This means they won't start if it is too hot or too cold, too windy or too calm, too overcast or too sunny. The only time they will start is when conditions are just right for walking. None of this is of any real consequence to the taxi driver. In Vava'u, things happen slowly and sometimes things just don't happen at all. Quaint as this may be, it creates something of a dilemma if you're travelling to and from the airport, which is a good 25 miles out of town — it then pays to get up many hours before the sun to give yourself a fighting chance of getting to your destination.
On that point, it is my duty to inform would-be travellers to Vava'u of the reported impending arrival of Chinese-manufactured aircraft to service domestic routes within the kingdom. My source, a highly-placed diplomat of dubious intelligence, informed me as I waved off my crew that the Chinese government was giving away Chinese-manufactured aircraft to third world countries and that Tonga was on the manifest. This, she went on, was creating something of a dilemma among travel agents, who, purportedly, were advising customers in Australia and New Zealand against air travel within Tonga due to issues surrounding airworthiness. Her best advice was to check for travel updates on both the New Zealand and Australian websites.
True or false, I'm booked to fly to Nuku'alofa next week and have no hesitation in doing so. I choose to believe aviation authorities here and at home have their eyes and ears open.
Check out the rest of Steve's adventure:
For the latest reviews, subscribe to our Trade-A-Boat magazine here.
Keep up to date with news from Trade-A-boat or like us on Facebook!