Classic yacht relaunch
---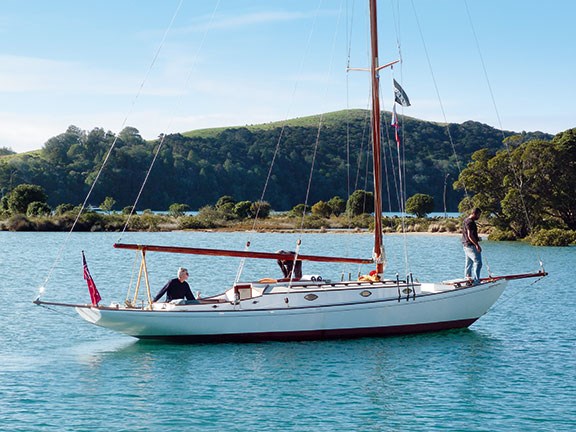 Back in the water at Sandspit, north of Auckland, June 2013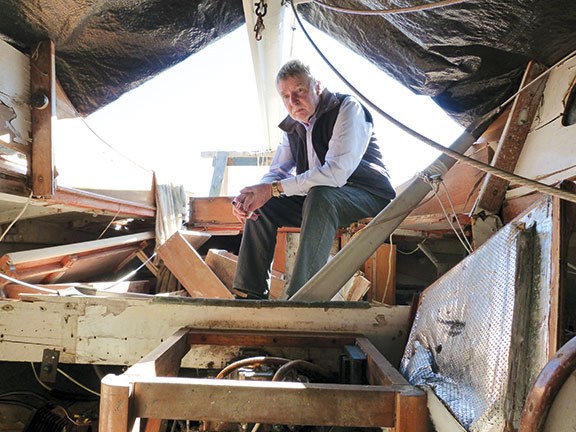 Owner John Pryor in the wreck of his beloved yacht. Not a happy bloke amidst the aftermath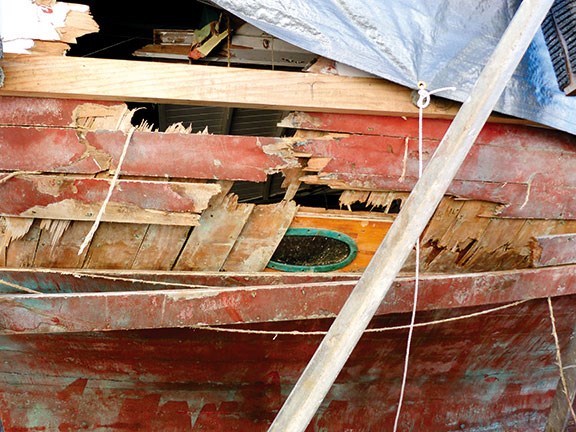 Gypsy sank in 12m of water on the Waitemata Harbour after being hit amidships by the bow of a motoring vessel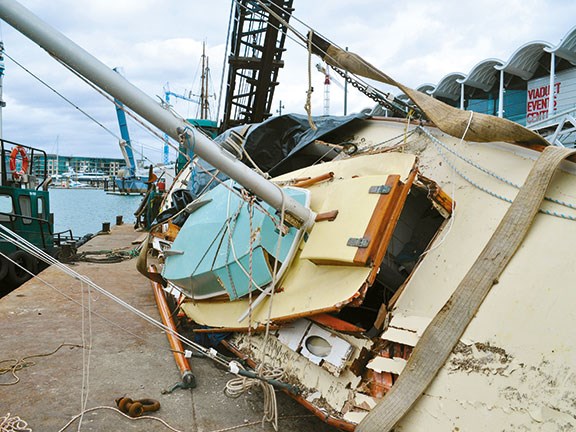 A sad sight at the wharf after her recovery; her devoted owner saved her from the scrapyard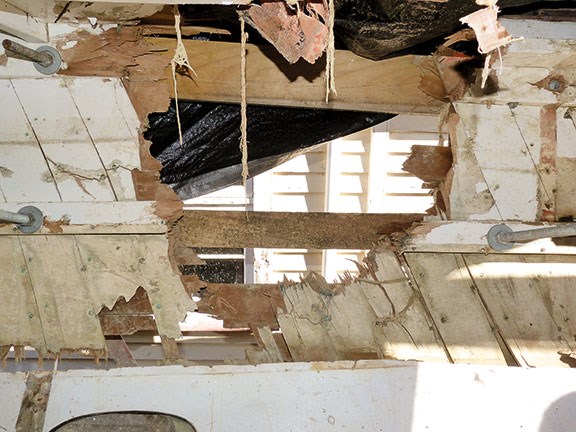 The extent of the hull damage is plainly clear after the collision in January 2012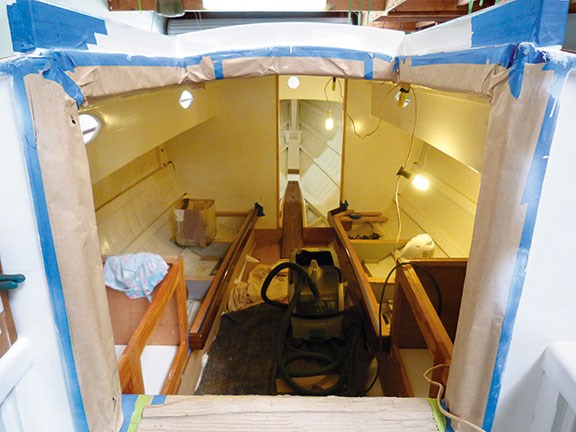 On the mend: the hard work of rebuilding a wrecked boat in one year is well underway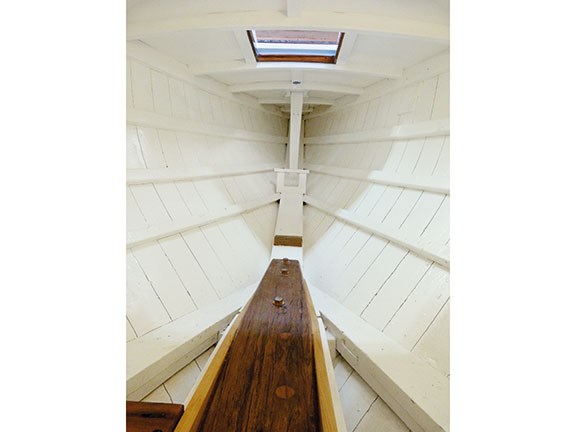 Taking shape and looking good as the hull returns to its former glory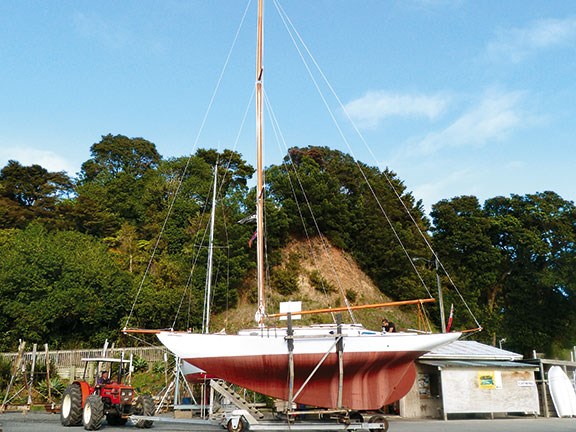 Fifteen months after the sinking, Gypsy is transported from the Snells Beach unit in which she was restored and is ready to relaunch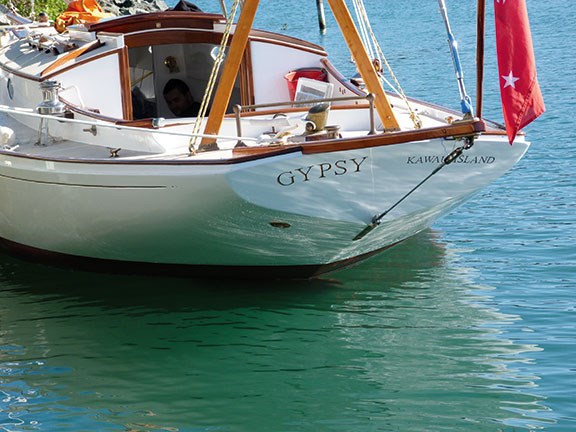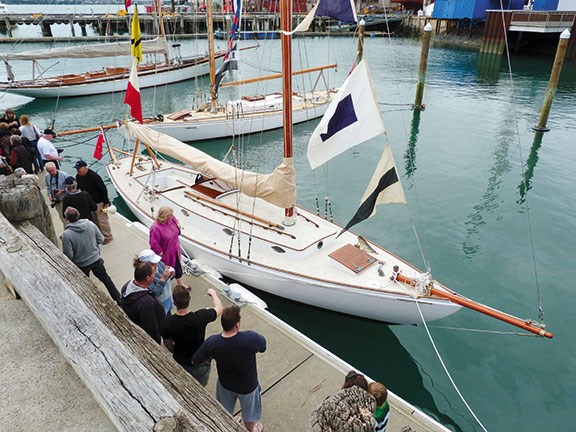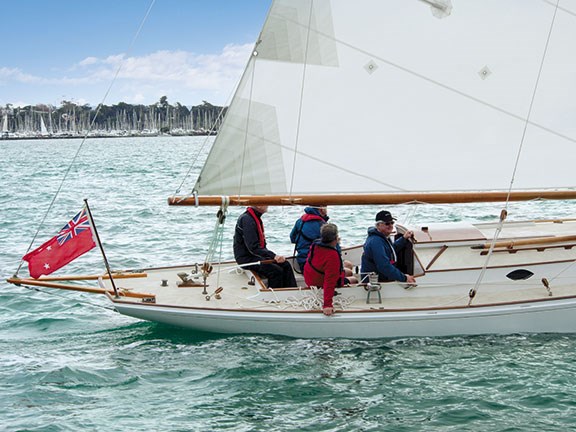 Racing again: Gypsy cuts a fine figure out on the Waitemata Harbour where the devastating collision occurred

After suffering a dramatic collision and sinking in January 2012, classic yacht Gypsy could have spent the rest of her days on the scrap heap. But after an epic effort from owner John Pryor and his devoted supporters, this lovely vessel is back on the water and racing again.
Legendary yacht designer Arch Logan and boatbuilder Arnold (Bill) Couldrey would be justifiably proud of the men and women who have followed in their footsteps in having a passion for beautifully-crafted sailing boats.
It would please their souls to know that, almost 75 years after their fabulous creation, Gypsy was relaunched on the Waitemata Harbour, good as new, following a catastrophic sinking in January 2012.
I normally write for a trucking and construction magazine in the same stable as Trade-A-Boat, so it came as quite a surprise when, back in March 2012, I was asked by the then TAB editor to write an article on a classic yacht that had been run down while participating in the Auckland Anniversary Regatta.
Off I set, notebook in hand, to pay Gypsy's owner John Pryor (and what was left of Gypsy) a visit. It turns out I was ill-prepared for what I was about to see.
From a watery grave
After being hit just forward of amidships by the bow of a motoring vessel, Gypsy had sunk in about 12 metres of water, where she sat for a time before being recovered with the kind assistance of Brent Shipman's salvage firm, Total Marine Services. At the time of my visit, Gypsy was sitting forlornly in a cradle at the Traditional Boatbuilding School at the old Hobsonville air base.
I'd arrived early for my appointment with Pryor, so I took some time to look over the vessel. What I was confronted with was jaw-dropping to say the least. Gypsy had a gaping hole in the starboard side of her hull about two metres long and one-and-a-half metres high, a result of the bow of the opposing vessel punching its way through the timber, destroying a large proportion of her superstructure in the process.
I stood there looking at the tarpaulin draped over this badly damaged vessel. The tarp looked more like a body bag than the 'hospital blanket' it would prove to be, and I wondered how on earth they were ever going to repair this wreck.
And so I felt a degree of sympathy for the man who was walking around the corner to meet me, a man who was about to tell me his boat was "going to be repaired and would soon be back in the water".
Won't give up
I'm ashamed to admit now that the first thing I was thinking of doing after the interview was phoning the marketing manager of a high profile New Zealand brewery to see if he could use Pryor's comment to grace one of their prolific red and black 'Yeah Right' billboards. But Pryor is a quietly self-assured man, and something in his demeanour convinced me to do an about-turn in my thinking.
Pryor's partner, Jill Hetherington, had been seriously injured in the crash and was still undergoing treatment for her injuries. The collision was still fresh in their minds and one could have easily forgiven them for giving up any thoughts of restoration as a lost cause. But giving up clearly wasn't on the agenda, so if Gypsy was ever going to sail again, drastic measures would have to be taken to finance what was clearly going to be a monumental task.
Even Pryor's closest friends and colleagues, many of whom are experts in the field of repairing heritage boats, advised him of the folly of undertaking such a huge project — "It'll cost a fortune and run you ragged," they told him.
Classic yacht expert Robert Brooke told Pryor a rebuild was entirely possible, setting the restoration ball in motion and getting the entire project underway. Brooke also arranged for Gypsy to be stored at the Traditional Boatbulding School's premises in Hobsonville. There she sat for six months before being transported to Snells Beach for deconstruction and her eventual rebuild.
Making things happen
During the six-month period between February and July 2012 while Gypsy was awaiting 'surgery', Pryor was busy setting up the Gypsy Trust. While the funds raised by this charitable organisation have largely paid for Gypsy's restoration and associated costs such as storage and transportation, Pryor and his fellow trustees say that without generous donations from many businesses such a large undertaking would never have been possible.
Money, however, isn't the only ingredient required to effect a successful restoration — talent and skill have most certainly come to the fore in bringing Gypsy back to life. Three men who have worked tirelessly and have gone the extra mile in helping Pryor to realise his dream of sailing Gypsy on the Waitemata again are Colin Brown and his soon to be son-in-law Josh Hawke — both have a great passion for traditional boatbuilding — and Warwick Leslie, who has patiently applied coat upon coat of paint to Gypsy's hull and almost as many coats of Uroxsys to other parts of her structure.
Pryor is quick to pay tribute to the hundreds of supporters who have contributed in ways too numerous to mention, and shies clear of attributing any credit for the success of the venture to his own talent in making things happen.
The technical work
Although great care was taken during the process of lifting the boat from the bottom of the harbour, the risk of it breaking in two was always under consideration by the salvage crew, so temporary bracing was installed in order for Gypsy to be transported safely.
After being manoeuvred into place at the Snells Beach warehouse, shipwrights Brown and Hawke set about the time-consuming task of ensuring Gypsy's hull was symmetrical.
Two weeks' preparation time was set aside for the process of determining plumb lines, level lines and the taking of other measurements that would ensure Gypsy would be restored to her original specifications.
Two string-lines were placed stem to stern on the undamaged port side of the hull, approximately a metre and a half apart (measurements were taken in imperial values) using the water line and the top of the transom as datum points — this process revealed an 80mm droop in her stern.
The next step was to jack the port side to a point at which it was both level and plumb, then a mirror image was used to determine values for the damaged starboard side of the hull. Only when this task was complete was it possible to set about the job of cutting out damaged planking and removing the damaged stringers and a portion of the sheer clamp (shelf beam).This part of the operation took a further three to four weeks of careful work before the actual restoration work could begin.
Nailing it
There was timber to be sourced and shapes to be hued, using steamers, band saws and hand tools, but the most time consuming job of all was fitting off the planking with more than 2000 nails. This job is quite unlike nailing weatherboards to a house, as each nail hole had to be drilled and countersunk before being driven and have a rove fitted from the inside of the hull.
Brown, it would seem, had the better job of the two — working on the outside, driving the nail and placing a dolly on the head of the nail — while on the inside, Hawke would fit the rove (a cup washer) before snipping off any excess length in the nail and peining the end.
Because neither man could see or hear what the other was doing, the two of them set up a kind of Morse code form of communication by tapping on the hull. One can only imagine how tedious this task must have been. The two became so adept at performing this job over and over again that after a while they perfected it — about two minutes per nail.
When asked if this arduous task could have been performed using power tools, Brown says that although there are electric and pneumatic tools available, he felt it was necessary to use the hands-on approach. He went on to say that when the job is carried out using power tools, there is a certain loss of feel for the tension being placed on the hull. It can be likened to tuning a finely-honed musical instrument, he says.
Incredibly, this major restoration was carried out over a mind-bogglingly short period of one year. Moreover, the majority of the work was carried out in an industrial unit barely big enough to house the boat, let alone the necessary equipment required to cut, steam and assemble the myriad components.
Racing again
By May 2013, a mere fifteen months after her disastrous sinking, Gypsy was removed from the unit at Snells Beach and transported a few kilometres to Sandspit where she was fitted with a new mast and, after several weeks, was refloated on a fabulously fine and sunny morning in June.
The one-time owner and now custodian of Gypsy (she is now owned by the Gypsy Trust) sailed this beautifully-reconstructed vessel from Sandspit to Heritage Landing at Auckland's Silo Park in July.
Over the ensuing months, Gypsy has been fully rigged and has competed in her first race of nearly two years, thanks to the dedication of so many Aucklanders who cherish the beauty of classic yachts. Pryor says that due to changes in the rigging, along with the fact he hasn't sailed Gypsy for a couple of years, he has had to learn to sail her all over again, but he adds it's been well worth the wait.
Some have said the restoration has made Gypsy more original than she was at the time of her sinking but whatever your point of view, you can't go past the fact she's looking pretty damn good. A new 50ft (15m) Oregon mast has replaced the previously-fitted 45ft (13.6m) aluminium unit, and the new sails fitted were donated by North Sails.
Another event during this remarkable journey was the official re-launching, which took place at Auckland's Heritage Park on 3 August 2013, where a crowd of around a hundred or so people gathered to welcome the lovely yacht back to the harbour. Like the day she entered the water several months before at Sandspit, it was a glorious day, with the weather gods once again smiling on Gypsy and all who love her so dearly.
Donations can be made to the Gypsy Trust, PO Box 430, Warkworth.
If you are keen to learn more of Gypsy's long and interesting history, the Gypsy website is heartily recommended – visit Gypsy.org.nz.
For the latest reviews, subscribe to our Trade-A-Boat magazine here.
Keep up to date with news from Trade-A-boat or like us on Facebook!