Feature: Dive tank mounting systems
---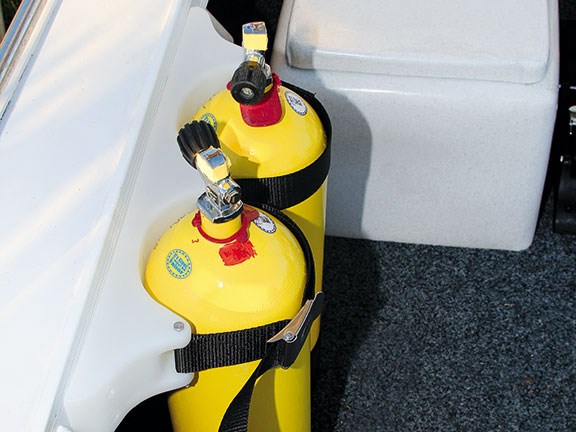 The Hi Tech system is removable but doesn't significantly intrude into the cockpit; comes in black or white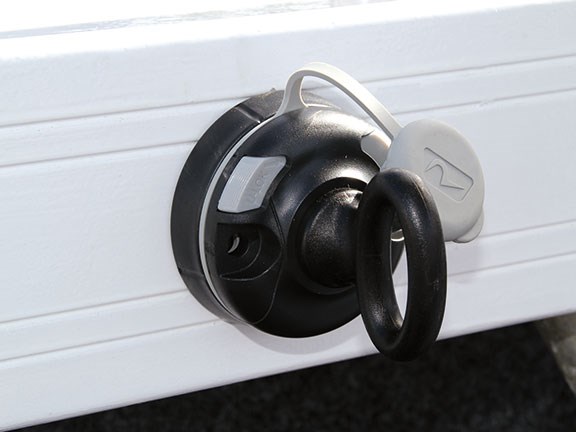 Railblaza socket with securing eye fitted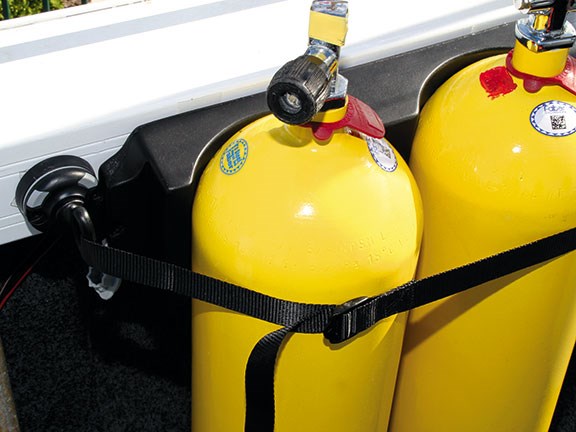 Railblaza is a universal mounting system with options for securing a variety of accessories; easy to install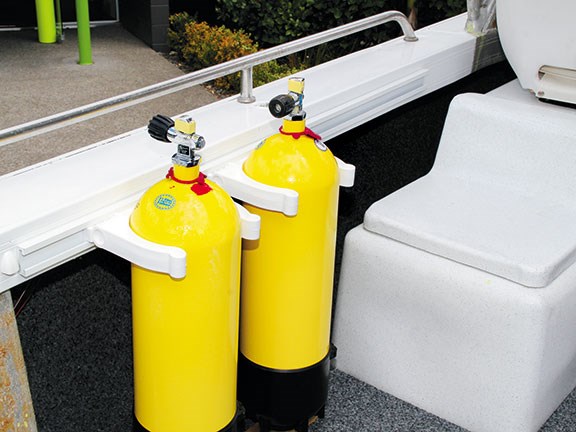 Splash system brackets hold tanks very firmly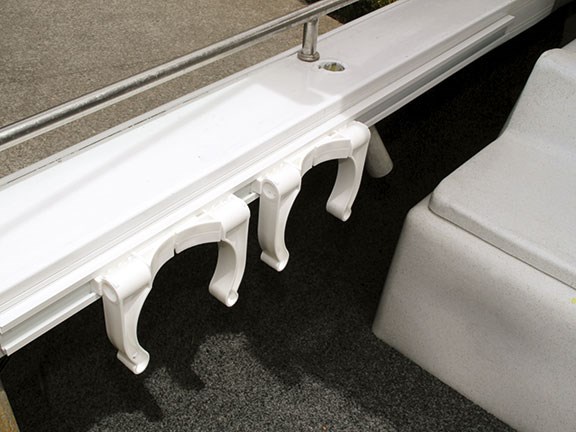 Splash system brackets fold away or can be removed; rail unobtrusive; brackets adjustable for different tank sizes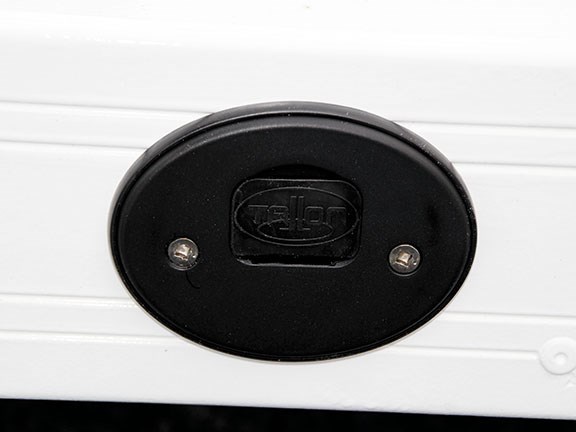 Tallon receiver flush against bulkhead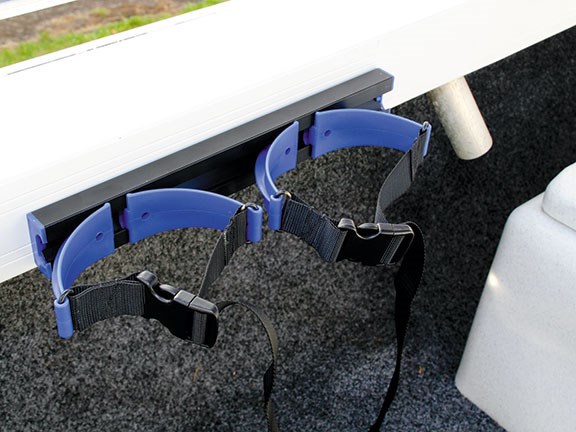 WilSecure system has adjustable brackets; rail permanently mounted, brackets removable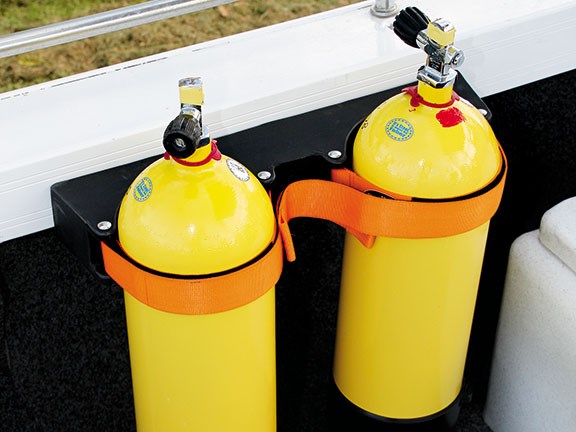 Tallon bracket holds tanks securely with Velcro straps; bracket can be completely removed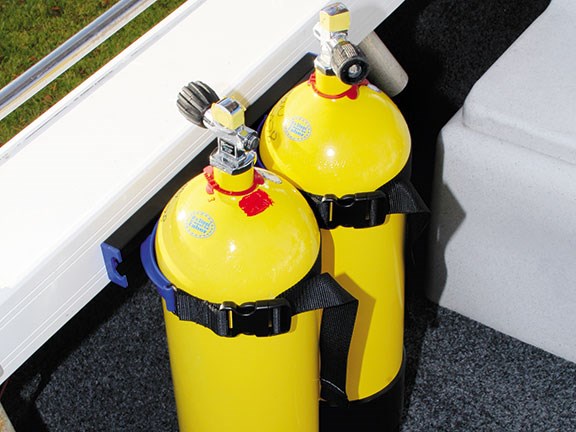 WilSecure's independent straps can hold anything from LPG cylinders to water or fuel tanks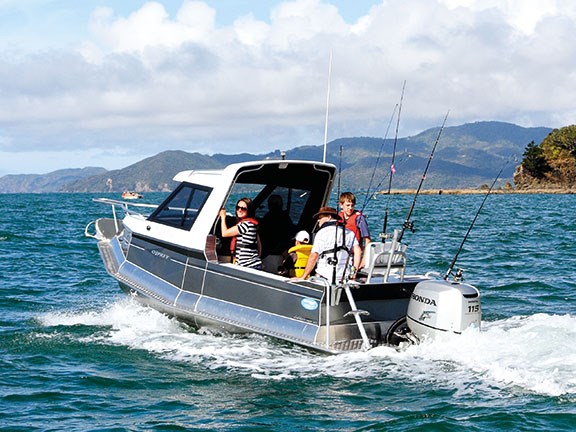 Heading out for a dive? Make sure your tanks are safely secured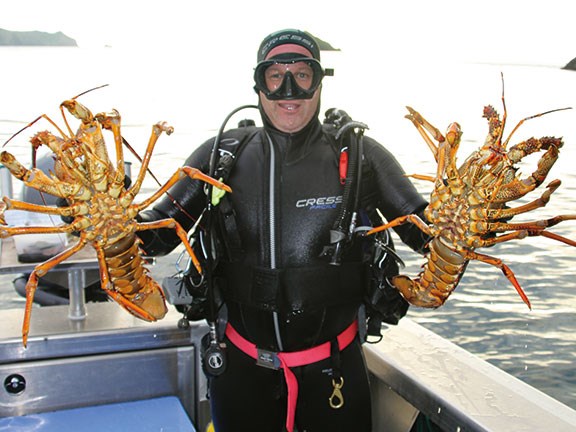 Scuba diving is a big part of the Kiwi boating lifestyle, with scallops, crayfish and sightseeing all on the agenda. But a dive tank in the back of the head could really ruin your day when you're hitting the chop — we've taken a look at the best ways to keep them secured and out of the way.
A large number of boaties are also scuba divers, and one of the real pleasures of having your own boat is discovering new locations, both above and below the water.
However, scuba diving invariably requires a huge amount of equipment, and a boat that could easily accommodate half a dozen people will start to feel cramped with even half that number, plus all their scuba gear. Apart from the bulky wetsuits, buoyancy jackets (BCDs) and fins, there are more delicate items, like regulators and masks — and then there's the heavy weightbelts and dive tanks. A diver's gear can easily weigh half as much again as the diver himself, further limiting the carrying capacity of the boat.
But possibly the biggest problem, and the most risky items, is the dive tanks. Weighing up to 18kg each, these can cause serious damage to the boat's hull if they're allowed to bounce around in a rough sea. In the case of a collision they could even become lethal projectiles, and unfortunately their shape and size means they're not easily secured in most boats.
Although most dive shops are able to supply moulded sponge foam pieces that help to stop tanks rolling around, this requires that they are laid horizontally on the deck on top of the foam. Despite being the most stable position, this method also takes up the most room. The foam doesn't itself provide any way of securing the tanks, and in rough conditions they could easily bounce free.
An upright solution
The solution is to install a dedicated securing system that will hold the tanks upright against the gunwale or transom. Ideally that system should be capable of being removed, or at least moved out of the way when not in use. We decided to explore what is currently available in the New Zealand market.
Since some of these systems come in variable configurations, for price comparison purposes we set up each system to hold two dive tanks. We've listed the advertised retail prices, although the price you pay may differ slightly depending on the outlet you purchase it from. We also limited our search to items currently available through an online or retail outlet in New Zealand. Although there are many more systems available online from offshore suppliers (generally from the USA), the shipping costs, delay in delivery and uncertainty with regard to warranty and support make these less attractive.
Four of the systems we found are modular and partly removable, and these comprise a fixing system that is permanently attached to the boat, plus one or more removable brackets. Where the permanent part of the mount is a rail, the actual tank holder can then be moved or adjusted to suit different tank sizes and shapes. The socket-based systems have less flexibility, with a fixed location and standard-sized tank holders, but more of the system is removable and the sockets can be used for other purposes. All systems have some sort of strap to hold the tank securely in place.
Rail systems
Splash Dive, based on the North Shore in Auckland, sells a modular tank-mounting system comprising a powder-coated aluminium rail permanently fixed to the boat, one or more movable tank brackets and optional end caps for the rails. The rails come in only one length option of 1220mm, which is long enough to accommodate up to four tank brackets. If space is limited, the rail could be cut shorter to create two or more mounts in different locations.
The cylinder brackets are sturdy polypropylene, and fold down flat (or slide off the rail) when not in use. The brackets hold the tank very securely and are adjustable to accommodate different tank diameters. A short loop of bungee cord can be slipped over the end of the brackets to prevent the tank popping out, but the bracket itself is robust enough to make this mostly unnecessary. A smaller single-piece speargun bracket is available to fit the same rail, and this could also be used to hold other items, like nets and gaffs.
A system comprising a 1220mm rail, two brackets, plus two end caps would cost $135.93 excluding delivery costs. Since the rail is long enough for four tanks, this is the cheapest option if you need space for more than two tanks. The end caps are also optional, so some cost can be saved by not installing them. The system is only available in white and Splash will ship anywhere in New Zealand. Its products are also available through most dive stores. Visit splash.co.nz for more information.
Powar Distributors, in Pukekohe, stocks the WilSecure range of tank bracket systems, which comprise a permanently-mounted aluminium rail and movable brackets. Not just suited to dive tanks, the adjustable brackets with independent straps can hold anything from LPG cylinders through to water or fuel tanks. The rails, which only come in black, are available in a range of lengths from 80mm up to 1000mm.
Although the brackets don't fold away, they can be completely removed from the rails when not in use and take up very little space when stowed. The tanks are held securely in place by a strong webbing strap with a quick-release clip, with different strap lengths available.
A standard rail of 400mm with two sets of brackets and straps suitable for scuba ranks sells for $108.00. Visit wilsecure.co.nz.
Socket systems
Possibly the Rolls-Royce of solutions is the fantastic Tallon system, designed and manufactured in Wanaka and now sold around the world. The heart of its system is a universal 'receiver' socket, which is mounted flush into the bulkhead of the boat. These sockets then accept a variety of accessories such as rod holders, baitboards and drink holders.
Powered sockets (both 12V and USB) are available for powering anchor lights, iPads and other devices, and they recently introduced the Lowrance Elite receiver that allows Lowrance display units to be plugged in or moved around the boat. Altogether there are over 50 different elements to the Tallon system, and the sockets are claimed to be strong enough to take loads of up to 600kg.
The Tallon system is possibly the neatest solution of all, as its receivers mount flush, come in black and white and are unobtrusive. If you like the Tallon system but prefer the flexibility of a rail system, there is even a Tallon rail that can be fixed permanently but allows the accessories to be attached at various points along it. Tallon receivers are also available for installing into the pneumatic tube of an inflatable or RIB, making this one of the few workable solutions for blow-up boats.
This system is probably the most complex to install, requiring a 50mm hole and access behind the bulkhead where they're mounted. It's also the most expensive solution by a considerable margin, but also the most elegant.
For dive tank storage, two standard receiver sockets are needed, and a dive tank holder clicks into those sockets. Two receivers plus the twin tank holder lists at $249.98 from marine-deals.co.nz. Most marine retailers supply the Tallon system and can order the components required if they don't have them in stock. Visit tallonsocket.com.
The Railblaza Starport is available country-wide through Burnsco Marine and is another New Zealand-designed and manufactured universal mounting system with options for securing a variety of accessories. The Starports protrude slightly more than the Tallon system and there are fewer options. However, they're also available in black or white, are easier to install (not requiring a large hole or access behind the panel) and are considerably cheaper. They can also fit into the tubes of a RIB, and there's a socket that can be fitted to the safety rail of a runabout or the stern rail of a yacht.
The tanks are held in place, against a moulded foam pad, by a single narrow webbing strap and the Starports can be used for other purposes when not holding tanks. The foam pad is easily stored away when not is use.
Railblaza bundles a 'dive bottle rack kit', comprising two Starports, two webbing eyes, a retaining strap and the urethane foam pad. The kit holds two dive tanks and retails for $129. The Starports and webbing eyes can be used for securing other items. Visit burnsco.co.nz or railblaza.com.
Fixed-mount systems
Hi Tech Plastics makes two different scuba racks, holding either two or three tanks. The units are available in white or black. Made of polyethylene, they're commercial-grade and UV resistant. The tanks are held securely in place by a very strong webbing strap and stainless catch, and this unit is probably the strongest of all the options we looked at. The downside of this system is that the racks are not removable, although the unit only intrudes 105mm into the boat and has no sharp points.
The racks can also be used to hold Hi Tech's tuna tubes for those boaties who also indulge in game fishing. If space allows, the rack could even be mounted outside the cockpit on the boarding platform, freeing up interior space and allowing the tuna tubes to drain straight out. This system is the only one for which an external mounting position could be safely considered.
The twin tank unit retails at $121. Visit hitechplastics.co.nz.
Summary
Each system has its pros and cons. The Tallon system is the neatest and one of the strongest, but is also roughly twice the price of the other systems. Hi Tech's brackets are definitely the most robust option, and its products are often used on charter vessels where they withstand daily use and abuse. Either of the rail systems allows the exact position of the tanks to be adjusted, with the Willsecure system the more versatile option but only available in black, while the Splash system is only available in white. Finally, the Railblaza Starport system is highly versatile, easy to install, economical but possibly best suited to occasional use.
Enjoy your diving!
For the latest reviews, subscribe to our Trade-A-Boat magazine here.
Keep up to date with news from Trade-A-boat or like us on Facebook!