Fishing: Hunting the big boys
---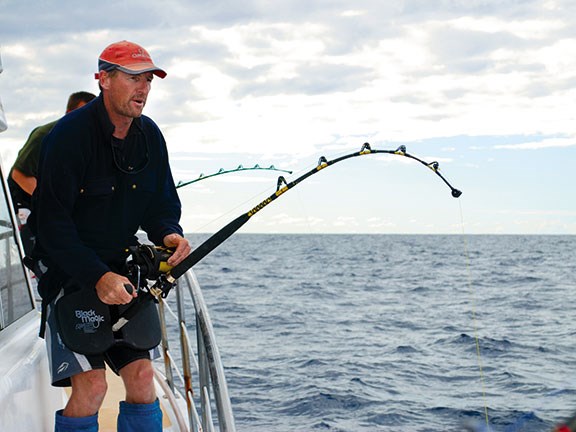 A good hapuku set with rod suited to braid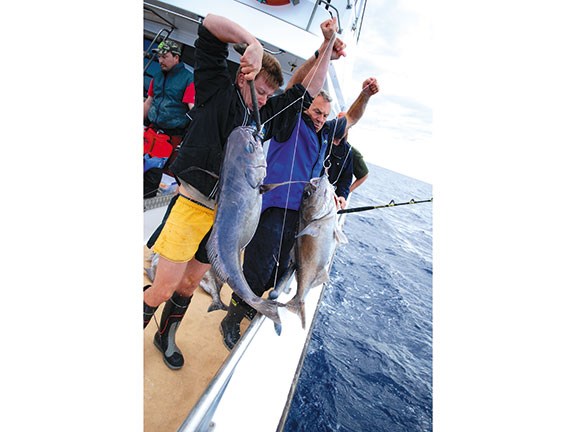 Bluenose caught on three-hook dropper rig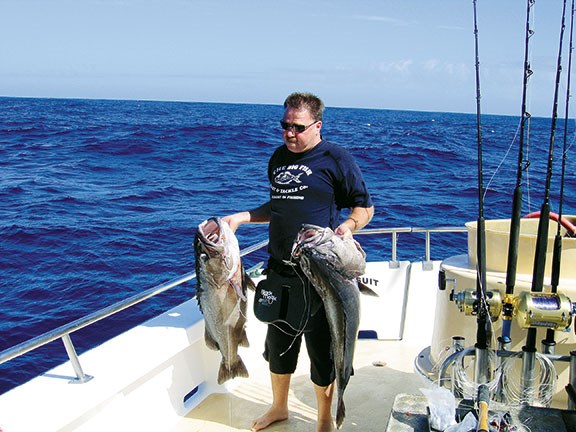 A double on a two-hook ledger rig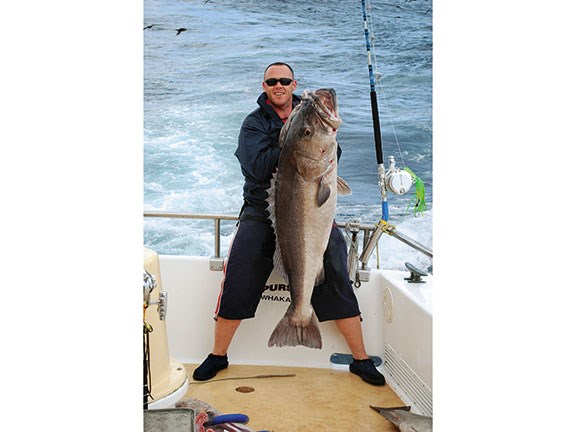 Large hapuku, North Cape. Generally caught on deep offshore reefs in water 100-200m plus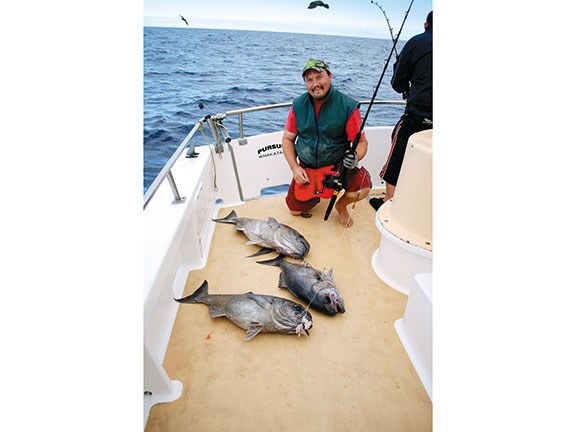 Triple header of bluenose, Cape Karikari, Northland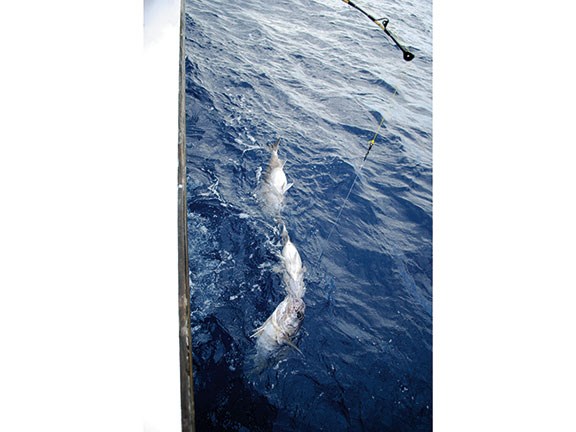 You'll ideally need a 30- to 50-size reel loaded with 50lb braid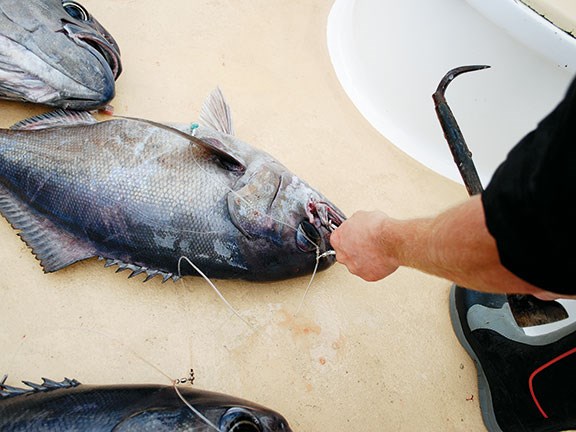 Bluenose: fantastic eating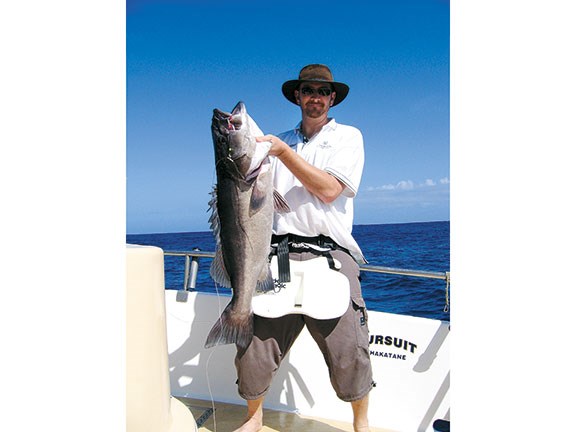 Nice eating-size hapuku, Three Kings Islands, 55km NW of Cape Reinga

Fancy chasing a big fish that's good eating? This month, Terry Williams King offers advice on how to get your hands on hapuku, bass and bluenose.
God bless Aotearoa! We're so lucky to have such a mighty fishery. We have a system that, for the most part, works and protects our resources — one that enables the humble Kiwi fisher to enjoy a wide variety of seafood on the back of our obsession with the water.
We often talk about the many species of fish that are entrenched in our psyche, and the many styles and techniques used to harvest them. We talk about the sporting pleasure and the skill to land trophies and, best of all, we get to enjoy the wholesome flavours engrained into their flesh by our nutrient-rich waters.
I'm addicted to fishing — I love catching fish, I love the buzz of a big fish pulling string from my reel at high speed and the rod folding over to points that don't look natural. But most importantly, when I don't let them go to fight another day, I love to enjoy the succulent flavours of what I catch.
There is one family of fish — well two, actually — that I love eating over any other. In the opposite words of the Kerrigans from the iconic Aussie movie The Castle — 'they're a great eating fish, not such a great catching fish'. I always found the original saying amusing: 'why would you want to catch it if you can't eat it?'
This may seem a little harsh, and many will probably disagree, but the mighty bass, hapuku and bluenose to me are just that: fantastic to eat but on most occasions, not the most exciting to catch. The sheer size they can grow to and the prehistoric look of them can often be the most intriguing part to many anglers who have not caught one, but ultimately their table quality is second to none.
The business end
So how do we catch one? Well, that's the fun part — and don't be put off by the thought of winding sometimes up to 900 rotations of the handle (yes, I thought it would be fun to count one day on the long haul back up after an unsuccessful drift. Sounds mind-numbingly boring but, hey, I could).
Generally caught on the deep offshore reefs and pinned in water over 100m (but more commonly in 150 to 200m plus) these brutes stalk their prey through a set of very large eyes that enable them to pull in the smallest amount of light, and their senses are honed to feed on basically anything that can fit in their sizeable mouth. They inhale large amounts of water, their prey with it, their large gill rakes killing and mangling anything that enters — likely to be a rather terrifying experience, I would imagine.
Firstly, you need a good rod and reel, ideally a 30- to 50-size reel loaded with 50lb braid. Braid line is by far the best bet to use. In the older days of fishing, with mono to chase deep-water fish, it was often hard to see a bite and even harder to roll the hook into the mouth, wind 1000 times to get the stretch out of the line, stopping to see if you were loaded up — yeah, that sounds like fun. With braid, the no-stretch allows you to keep in contact with your weight and bait, even at the greatest of depths. This will need to match to a rod of around 5ft 6in to 6ft, something with enough grunt to lift a big fish from the depths but with a softish tip to feel the bite and take some of the impact out of the very sensitive braid.
Torn a new one
The terminal rig is fairly simple: two 12/0 or 16/0 circle hooks (for bluenose you can go to a three hook rig, but drop your hook size to 10/0). These are attached to 200lb or 300lb supple leader in a ledger rig setup. For those who are not familiar with this rig, it's two hooks branched out from the trace above each other with the weight at the bottom, much like your common flasher rigs sold in your favorite tackle store, just significantly upsized. The sinker will vary depending on your depth. Some people like to use breakaways in case the sinker fouls on the bottom but I prefer not to. Fishing your rig as straight up and down as possible will allow you to set the hook easier, reduce the chance of snagging by keeping you in contact with your baits. Use big strip baits or live mackerel. If you want a real big boy, try a tarakihi (my favorite bait for big monsters — been torn a new one on many occasions using it).
Allow your bait to hit the bottom then lift so it's just off the seabed. You should repeat this as you drift across the proposed area, which will make sure you're close to but not on the bottom — these big guys will have no issue coming up slightly to get a feed.
The bite is like a heavy knock: your rod tip will bounce as they inhale the bait, and with the bigger ones the tip will just fold over. Now remember you're using circle hooks — don't strike, don't strike, don't strike... When the rod tip starts bouncing or loads up, just wind the handle until everything comes super tight — big fish will rip, looking for something to foul you up on. Mid to smaller fish will tend to fight up and down. It's the first 30 to 40 metres from the sea floor that are the toughest, so fish the maximum drag possible, trust your knots and rigs, and lay into them. If you win the ground game, you've pretty much won the battle.
From this point on it's a matter of keeping the line tight and pumping and winding — yes up to 900 times — and often the reward is well worth it.
For the latest reviews, subscribe to our Trade-A-Boat magazine here.
Keep up to date with news from Trade-A-boat or like us on Facebook!