Cruising the Pacific part 8: Mexico to New Zealand
---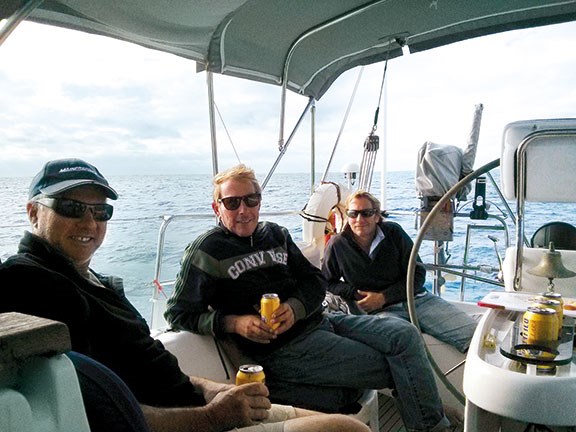 Steve Smith, Steve Raea and Richard Raea at Minerva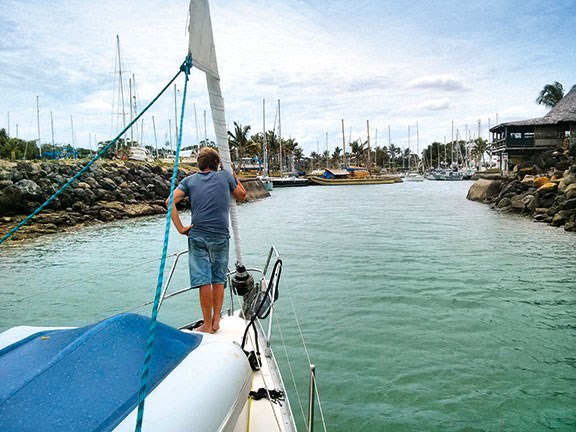 Arriving at Vuda Point Marina, Fiji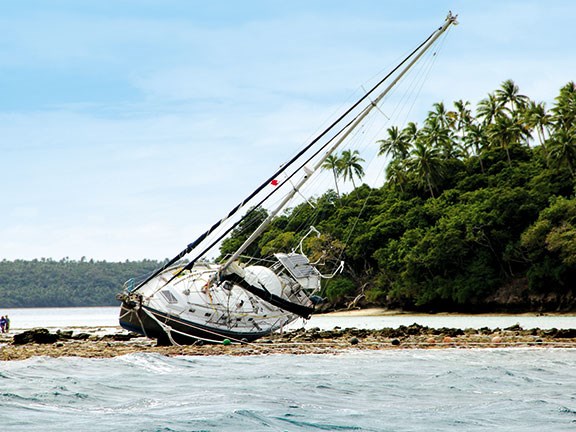 The dangers of reefs: Vava'u, Tonga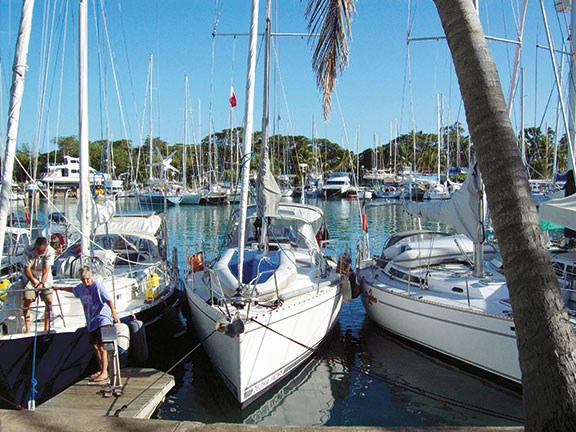 Nereid at Vuda Point Marina

Sailing from Tonga to Auckland via Fiji was never part of the master plan, but Mother Nature doesn't always cooperate, as Nereid skipper and crew discover on the (almost) final leg of their trans-Pacific crossing.
It was a nervous wait peering into a sub-tropical haze for any sign of Real Tonga Airlines' Chinese-built MA60 aircraft overdue from Nuku'alofa. It was now 20 minutes late and there were some nervous-looking people milling around the small tin arrivals shed at Vava'u Airport, Tonga.
On board were the last two members of my crew for the 1200-mile passage home to Auckland. I figured that if they survived the flight then the most dangerous part of their journey would be behind them. I think they felt the same way.
The aircraft had only just entered scheduled service between the Tongan capital Tongatapu and Vava'u despite howls of protest by the New Zealand Government, which had made no secret of its belief that the plane was a death trap.
The MA60 duly poked its nose through the clouds and touched down without mishap, to the collective relief of those lined up alongside the airport perimeter fence.
With busy work schedules and unforgiving wives, I was on notice that there was little time for frivolities so had planned to clear customs first thing the next morning and get on our way. But nothing happens quickly in Tonga and clearing out is a process that can't be rushed. Between multiple visits to immigration, quarantine, customs and various port authorities, the morning slipped away and it was not until late afternoon that we had secured the stamps and official papers we required for our arrival in New Zealand. We anchored for the evening, taking the opportunity to clean the hull and prop, prepare a decent meal and familiarise the crew with the boat and her safety systems.
Under way
We hauled anchor at first light and slipped out of Vava'u under a pale grey sky. By early afternoon we'd dipped Vava'u's highest peaks and put the boat on a course that would take us west of the Ha'apai and Tongatapu island groups.
The three-day weather forecast was reasonable, with moderate southeast trade winds but these fell away on our first night and we found ourselves motoring through an area well known for volcanic activity. It was not so disconcerting, therefore, when we saw the distant glow of what could only be an active volcano at the southern-most islands of Ha'apai group.
The first 48 hours saw good sailing and we made decent progress, but a brassy haze and growing mares' tails heralded the arrival of an approaching front. The GRIB (weather) files confirmed an intensifying low pressure system approaching from the southwest. We could reasonably expect strengthening south to southwest headwinds and a building swell over the next 24 to 48 hours. The idea of bashing to weather for two or three days had little appeal and the relative sanctuary of North Minerva Reef 50 miles to our west looked an inviting option.
North Minerva
Putting into Minerva would slow us down. We weighed up the relative merits of being beaten up at sea or at home on our late arrival, agreed the latter was the lesser of two evils, and found ourselves off the reef mid-morning in a freshening southerly. We stood off for a good while sizing up the narrow pass through the reef. There were a few anxious moments as the depth sounder climbed from several thousand feet to just 25 as we shot through the pass with every knot of boat speed we could muster.
Once safely inside the atoll and back into deep water, we were astounded by just how big the reef was, stretching a good two miles from north to south and about a mile and a half east to west.
We didn't expect to find any other yachts resting up so early in the season and we weren't wrong. We motored across the atoll in depths from 50 to 75 feet and eventually picked our way through a cluster of coral heads, dropping anchor in 25 feet on the northwestern side. It was more than a little surreal being tethered to the seabed in the middle of the South Pacific Ocean.
The atoll can only be described as lonely and desolate, with much of the reef awash at high tide but still providing a reasonable anchorage in crystal-clear turquoise waters straight out of a Caribbean brochure. We spent two days and nights listening to the wind in the rigging as it slowly clocked back to the southeast, while the sea crashed on the reef with deafening monotony. We left early on the third morning and quickly found ourselves sailing hard on the wind with a deep-reefed main and a sniff of headsail.
Polar blast
We banged and crashed our way through the afternoon and into the early evening when I went below to download the latest GRIB files. The picture wasn't all that pretty, with another deep low forecast to move up the North Island in the next few days and sit off North Cape, directing 40-knot-plus winds straight at our approaching bow.
I powered up the satellite phone and sent texts to several friends back home, asking them to check out other weather sources and to give us their take on what we could reasonably expect. Their replies were quick and unequivocal, confirming a deep low was indeed forecast to greet us about 300 miles north of New Zealand.
In case there was any doubt, MetService ambassador Bob McDavitt was warning of a "polar blast" that would sweep up the country and a complex tropical depression moving down from Tonga. McDavitt's only advice was to "avoid".
My old man's message was less ambiguous, suggesting we'd be fine if we stayed above 25 south and 175 east until the forecast low had moved away to the southeast, but failed to say whether that would be in a day, a week or possibly never.
The prospect of floating around aimlessly in the middle of the ocean waiting for summer made the crew nervous and my suggestion that we plug back to South Minerva and wait it out didn't go down much better. I gently reminded the crew that this wasn't a democracy and if I thought Minerva was a safer option for boat and crew then we'd bloody well go to Minerva. After an hour of soul searching I was casually reminded that we'd exhausted our beer supply and were down to a single tot of rum a day.
This changed everything. I reasoned that Fiji is rather charming this time of the year and it would enable my crew to abandon ship in a matter of days and potentially avoid divorce on their arrival home. It would also allow me to further extend my time in the tropics along with the unpalatable expectation that I should find a job and settle down upon my return home. I couldn't get to my parallel rules fast enough and relay the heartening news that cold beer lay a mere 390 miles from our current position. With concentration and smart trim we could be there in time for happy hour the day after tomorrow.
This was met with mutual agreement and celebrated accordingly, with the last bottle of rum retrieved from the ditch bag and served out liberally as we sang sea shanties and congratulated ourselves on our resourcefulness. A fine evening was had, but when I woke in the morning the yacht had sailed herself into irons and a check of the log confirmed the worst. We had somehow gone backwards since midnight and our happy hour ETA had evaporated. The gravity of the situation did not weigh on us fully until our heads had sufficiently cleared much later that afternoon and we confirmed that indeed, the grog locker was dry.
This brought on a sullenness within the crew. Then, like an apparition, I remembered two bottles of Oyster Bay sauvignon blanc and a third of Jacobs Creek that had been stolen away in times of plenty and stowed impossibly deep in the aft lazerette locker.
Avoiding the risk of further disappointment, I said nothing of it as I sucked in a deep breath, leapt into the aft locker and began rattling around below the waterline. I emerged some time later with all three bottles intact. The familiar clink of glass on glass woke the crew from their melancholy even before I had pulled myself from the locker. The teamwork in those next few seconds was something to behold. My brother flew at the engine starter as Smithy grabbed the bounty and handed it down the companionway to Matey, who had the bottles in the freezer in seconds flat.
Land ahoy
At dawn the next morning we sighted low-lying Kadavu Island, and by lunchtime we had less than 40 miles to run to the reef pass at Navula, the entrance to Nadi. We sighted the leads at 2000 hours and by midnight were swinging on the anchor off Vuda Point.
We were up at first light and motoring towards the customs wharf at Lautoka to present our credentials. This was always going to be challenging as we had not given Frank (Bainimarama) the prerequisite 72 hours' notice of our impending arrival. We had, however, advised Taupo Maritime Radio of our intentions several days earlier and Taupo had kindly offered to email Frank's men in Lautoka and tell them we were on our way.
Efforts to make radio contact with Lautoka Harbour Control to confirm check-in procedure were fruitless. It was, after all, only 9.30 Friday morning. We then received an anonymous call on the radio from what I deduced to be an American rancher advising us that private yachts could now check in at Vuda Point Marina, which we had steamed past an hour earlier.
I swung the helm down and followed our track back to whence we had come. Just beyond the narrow coral-fringed marina channel we tied off to a large yellow buoy and waited several hours for an invitation to proceed into the marina and clear.
Frank's mob
We were greeted by four smiling officials with teeth so white and so large they could have snapped each of our heads off with a single chomp. As skipper, I was invited to disembark first and follow them to their office — this was small but modern with every contrivance, including a china teapot and six china cups.
I presented crew passports, our port clearance from Tonga and a long-winded story as to why I had failed to write to Frank to tell him of our pending arrival prior to departing Tonga. The officials listened intently as I described the threat of waves the size of houses and how this had demoralised the crew to the point of mutiny. I also explained that our mate Bob at MetService indicated it would be silly to proceed to New Zealand.
Clearly enthralled by my explanation of events, Frank's customs chap asked if I'd be good enough to write my story. He reached into his desk and produced a single sheet of stationery headed up 'Statutory Declaration'. There were even dotted lines at the bottom of the page where I could sign my name and note the time and date. I took the sheet and laid it on the Formica table. Being a single, one-sided sheet, I reasoned that I'd have to be thrifty with words without skimping on detail.
I started with an account of the glowing volcano and the beauty of the stars and the moon and the still, black ocean as we motored through the first night. I then described our passage to Minerva Reef and how our duck board had not been mauled by sharks or giant squid as we had been told it would be.
I confessed that we had watched Taken and Slumdog Millionaire on the computer and eaten chocolate while anchored in the lagoon. I even confessed that we had taken a brief but daring swim around the boat. I was nearing the end of the page and felt obliged to cut to the chase. In my smallest hand I explained that, above all else, we had run out of beer and the serious implications this had for the safety of ship and crew.
Satisfied that I had left out nothing, I signed and dated the form and handed it back to the man from customs. He read it and read it again. He looked up at me and let go a low guttural growl before thumping the declaration on the table. He then took a stamp from his desk drawer and propelled it with such force at the document before him that the china teapot and cups leapt off the table and smashed into a thousand pieces around my ankles.
The excitement was too much for the man from immigration, who reached across and snatched the statement off the table and began to read it, expelling an audible high-pitched whistle through his splendid yet fearsome teeth. As his colleague had done moments before, he fumbled around in his own desk for his stamp and landed it in my passport with the force of Hercules. This was clearly a sign of affection because I was then ushered to the door and told I was free to go.
The whole procedure had taken the better part of two hours and I was in little doubt that my crew would be concerned for my wellbeing. I discovered soon enough that rather than waiting for my return, they'd jumped from boat to shore and had set themselves up nicely at Vuda Point's Sunset Bar.
That evening I sat in the cockpit, bidding a final farewell to my crew a mile overhead on the last flight to Auckland and contemplating the closure of one chapter and the start of another.
Check out the rest of Steve's adventure:
For the latest reviews, subscribe to our Trade-A-Boat magazine here.
Keep up to date with news from Trade-A-boat or like us on Facebook!