Twin V8s transform Rayglass 4000
---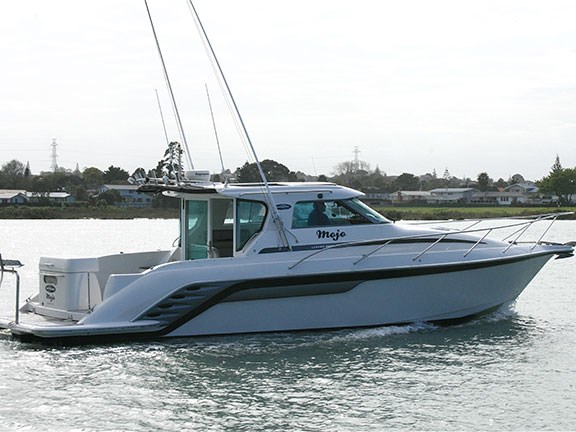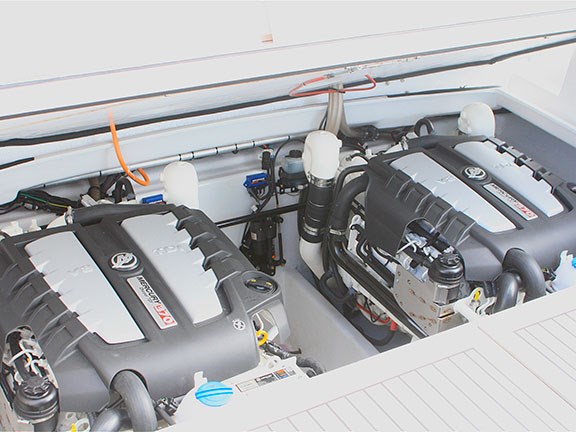 Exchanging his Rayglass 4000's original 320hp Cummins Mercruiser diesels for a pair of new V8 VW TDis has "completely transformed" Keith Andrews' vessel.
"My Rayglass 4000, Mojo, is now a completely different boat," he says. "I have more horsepower for less weight, do not need trim and can cover a lot more ground without using any more fuel."
The new 370hp horsepower V8s were installed as part of a major refit undertaken by the Rayglass Service Centre in Mt Wellington, Auckland.

"We completely refurbished all of Mojo's teak and gelcoat and added a specially-modified graphics package to create a whole new look," says Rayglass service manager Dean Ryan. "We also added a passenger seat at the same height as the helm seat and added a pair of game poles."
However, it is the addition of the first twin VW V8 diesels in New Zealand that has made the most difference.
"We now cruise at 27 knots at 3000rpm while using a total of just 70 litres per hour," says Keith Andrews. "That's a good 5 knots faster and the ride is quieter, smoother and more comfortable.
"We are now using virtually the same amount of fuel to go faster and further, covering a lot of new ground."
He says an added bonus is that he no longer has to apply fore and aft trim. "Previously we would run at 4 or 5 on the trim gauge, now we run all day on just 1 or 2."
Keith Andrews is also enjoying the larger alternators that come with the new engines. "We have much quicker charging which is really important as we don't spend a lot of time going from A to B."
He is also impressed with the instrumentation that comes with the V8s. "It is much more sophisticated," he says. "It allows us to see how each engine is performing. Add in the new electronic controls and the engines are much easier to synchronise and to monitor."
For the latest boat news and reviews, subscribe to Trade-A-Boat magazine here.
Keep up to date with news from Trade-A-boat or like us on Facebook!