Peter Burling Olympian
---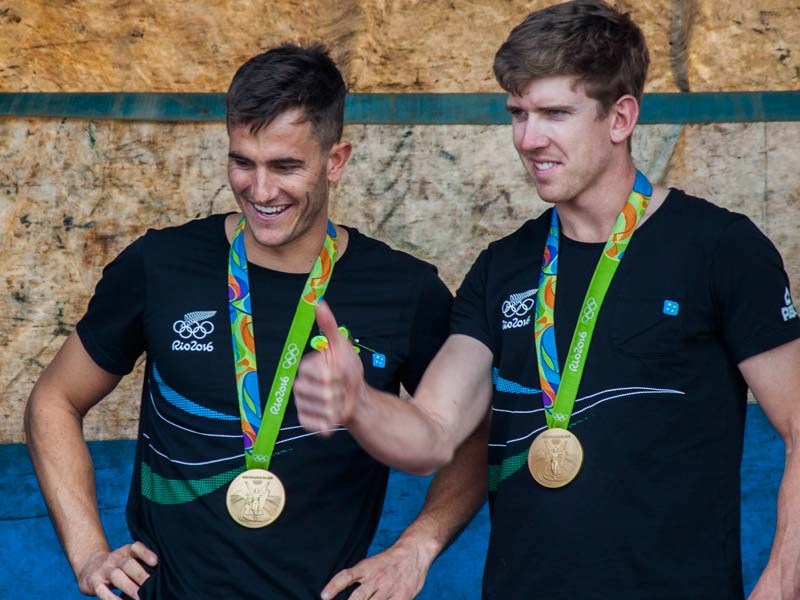 Peter Burling (right) and his long time crewmate Blair Tuke.

In 2006 we predicted great things for 2016 Gold Medal winning Olympian Peter Burling. Here's the original article about the gold medallist from Rio 2016.
National Starling champion two years running, Tauranga's Peter Burling is already well on his way to achieving his goal of one day representing New Zealand at the Olympics. A recipient of the coveted Sir Peter Blake Award for Outstanding Sailor of the Year, Burling, at just 15, has a yachting CV second to none.
The prodigy of an active sailing family, Peter began sailing at age six and graduated to an Optimist sailing dinghy two years later. His determination to be the best paid dividends in 2002 when he placed second overall at the Optimist Nationals. At age 11 he was the youngest sailor ever to be selected to represent New Zealand at the Optimist Worlds at Texas. And that was just the beginning. 
At 13 he moved into the P class and placed second at his first nationals – a remarkable result given that the rest of the top seven sailors were aged 15 or 16. Peter also started sailing the two-handed 420 dinghy and picked up a third in the class as helmsman.
The following year he placed sixth at the Open 420 Worlds in France, and was the top Under 17 sailor winning three starts from 17 races. Back home he won the Youthsail champs in the 420 class (helm) and his first Starling nationals – the youngest winner on record. He went one better and won the Starling match racing champs as well. In fact he won every major Starling regatta.
And things haven't changed this year (2006) either, winning the 420 nationals with Auckland sailor Carl Evans, the Starling matchracing and under 19 Starling nationals, the youngest sailor to ever get the double.
Burling says the secret of his success is consistency and that is only achieved through a long and arduous practice regime that sees him training on the water up to four times a week, while attending regattas or coaching clinics at the weekend.
The Starling is his favourite design. "It's an excellent boat – fast and exciting. The competition is great and, with practice, you can get to the top of the class."
While he agrees most Starlings are competitive, subject to boats being minimum weight, he questions whether all sails and rigs are equal despite being from the same manufacturers.
"Some sails are fuller than others and some masts are softer. It can make a big difference, so it pays to check them out. Tuning for the conditions is also important but you have to try lots of different things to work out what works best."
The Starling is arguably the finest looking centreboard dinghy to come out of New Zealand, it's also one of the sweetest yachts to sail with excellent all-round sailing performance.
Today, the class is as strong as ever, with fleets of up to 150 boats lining up at the nationals every year. Originally designed as a stepping stone from the junior P Class to the adult dinghy classes, the Starling has turned out more national champions than any other design. Now second only in numbers to the international one-design Optimist dinghy, its longevity looks as assured today as it did in the halcyon days of the mid-1970s.
There is no closer association to the Starling class than that of Auckland's Peet family. John Peet commissioned the Starling design from Des Townson in 1968. The first boat was built by John's eldest son David who, at age 19, set out to prove that the dinghy was easily and cheaply constructed.
Townson's brief was to fill the gap between the P class and the then popular adult classes which included the Zephyr, Mistral and Dart dinghies. Based around a crew weight of 50 to 70kg, the dinghy had to be easily handled in fresh conditions with good windward and down-wind planning qualities. Construction was to be straightforward with a measurement tolerance of no more than 6mm. All masts had to be from the same extrusion (Fosters) and the sails from the same loft (North).
After initial testing of the prototype by P class sailors, several minor changes were made – the removal of full-length batons from the sail, a small increase in sail area and a minor construction change. The design was a runaway success and by 1973 the class gained national status from the Yachting Federation of New Zealand. The design was subsequently gifted to the Glendowie club and plans were made available to the public for the sum of $4. The one-design sail cost $32 and a new yacht could be built and launched for $150. The rest, as they say, is history.
Little has changed today. One of the most endearing qualities of the Starling is that performance is derived from a sailor's natural ability rather than the size of his or her wallet. There is no reason why a 1980s Starling cannot successfully race at a national level against top-of-the range fibreglass examples that sell for anything up to $10,000. Brian Peet says it is still possible to home-build a new boat for about $3000.
While ideally suited to teenagers aged 13 to 18 years, the class recognises adult sailors with two national championship divisions; sailors aged 18 and under and an open division which competes for the Des Townson Trophy.
The national championships are held every year in January and managed by Yachting New Zealand. Last year's (2005) nationals were held at New Plymouth and drew a fleet 150 boats.
Starlings are available in either wood or fibreglass. Wooden boats have sail numbers from one to 1999 and GRP boats from 2000. GRP boats are sold by Auckland company Sail One (09) 376 6763, while timber boats can be built from plans or professional built. Plans are available from the Starling Registrar for a fee of $140. This includes building plans, the allocation of a sail number and a copy of the class rules. It also covers the boat's first official measurement. John Peet says there is a vigorous second-hand market with good boats in hot demand. The key is to get a boat as close to the class minimum weight as possible (41kg). The mast and sails are cheap to replace – $150 for a mast and $675 for a new sail (2006 pricing).
With an optimum crew weight of about 60kg, John Peet recommends younger and lighter sailors have a reef point built into their sail and look at fitting a larger rudder and centreboard to help cope in fresh conditions.
Keep up to date with news from Trade-A-boat or like us on Facebook!