New Zealand lifts the America's Cup again
---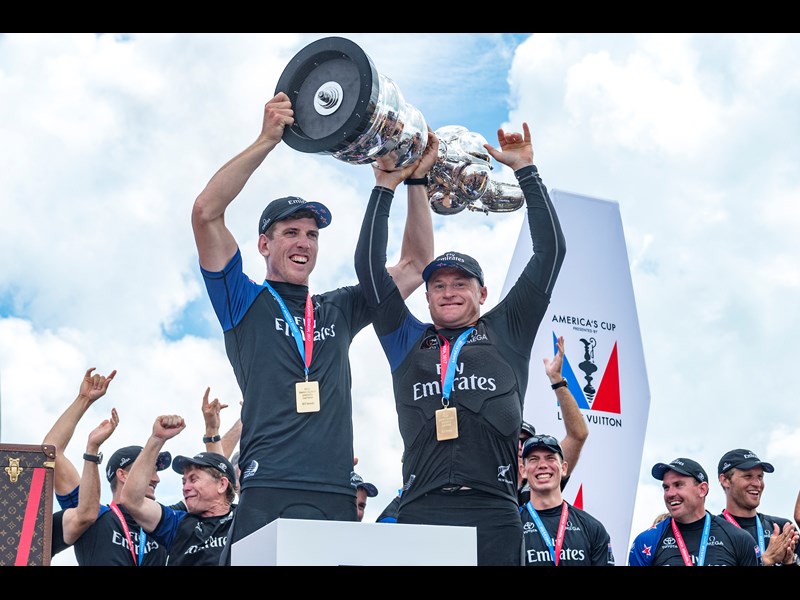 Emirates Team New Zealand defeats defending champions Team USA to win the America's Cup 2017
For the third time, New Zealand claimed the America's Cup after a 7–1 series win over defending champions, Oracle Team USA, on Tuesday at the 35th edition hosted in Bermuda's Great Sound.
After the heartbreaking 2013 defeat in San Francisco where the crew lost to the Americans after a 9–8 defeat, Kiwis had their fairy-tale comeback this year after they crushed Team USA's hopes to win the title the third time in a row.
Twenty-six-year-old Peter Burling—the youngest ever helmsman in the oldest competition in international sports—was euphoric after the win. "It is just unreal. It is exactly what we came here for. We are on top of the world. It has been three years of hard work," he said. "I don't think we would be out here without the heartbreak of San Francisco."
After dominating the best-of-13 contests and securing the overall win by blazing across the finish line 55 seconds before Team USA, Kiwis will now decide where, when, and in what type of boat will the next America's Cup be held.
The America's Cup (named after the schooner 'America' that won the cup in 1851, has till date only been in four countries: USA, New Zealand, Australia, and Switzerland.
Auckland celebrates Team New Zealand's win
Team New Zealand's epic win will be celebrated with a 90-second display of fireworks at the Auckland Viaduct at 6pm on Tuesday, 27 June, followed by a lighting display along the viaduct seawall.
Auckland's iconic Skytower would also be lit up in black and white to mark the occasion.  
Auckland Tourism, Events and Economic Development also confirmed a homecoming parade for the champions next week.
"It's been 14 years since the America's Cup left New Zealand. Emirates Team New Zealand's efforts to reclaim the cup have done our country proud and we congratulate the team on their monumental achievement," chief executive, Brett O'Riley, says.
The date, time, and route of the parade will be confirmed in a few days.
Keep up to date with news from Trade-A-boat or like us on Facebook!