Fullers360 has moved to its peak timetable and has introduced a new ferry service to Waiheke.
Fullers360 has moved to its summer timetable starting Monday, 16 October. This includes 54 additional walk-up sailings to and from Waiheke Island every week and a daily service to Rangitoto Island.
On the Waiheke Walk-up service, there will be the capacity to transport approximately 12,000 – 20,000 passengers per day across 326 services per week.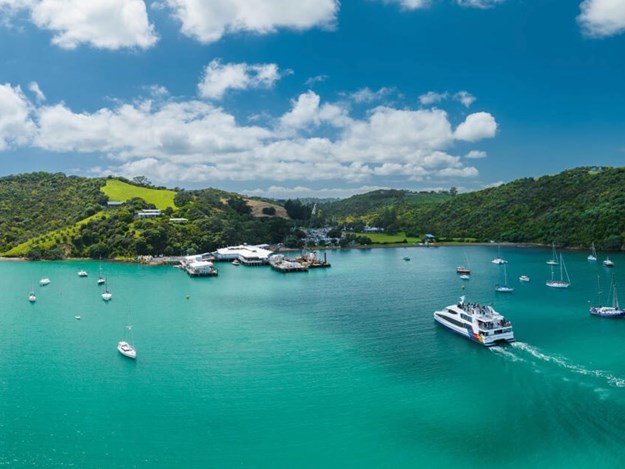 "Fullers360 is pleased to introduce a new ferry service – Waiheke Reserve- to complement our service," says Fullers360 CEO Mike Horne.
He says he's excited for the summer season and looks forward to seeing Waiheke Reserve in action.
"We know last summer was busy and expect to see similar volumes this summer. That's why I'm excited to see Waiheke Reserve launch today as an excellent solution for customers with special occasions or fixed travel schedules requiring the certainty of a booked space.
"Our existing Waiheke Island ferry service has always operated on a demand walk-up basis, albeit with significant frequency throughout the day, and I'm thrilled we are now implementing a complementary service that has been designed to respond to increased visitor demand, operating at key times to transport visitors to the island."
The Waiheke Reserve ferry is a new service available from Fullers360, launching in November to allow visitors to pre-book the date and departure times in advance. Once booked, seats are secured on Waiheke Reserve. Passengers are welcome to board the service any time up to 20 minutes before the scheduled departure time, allowing more flexibility before travel.
The Waiheke Reserve ferry will depart from a different pier, separate from the ferry for the Walk-Up service, which will help to reduce queuing congestion for commuters and visitors.
Tātaki Auckland Unlimited Head of Visitor Economy, Annie Dundas, is thrilled to see Fullers360 implementing a new visitor service to bolster Auckland's tourism economy further.
"Waiheke Reserve is a welcome new offering from Fullers360 that will help support positive outcomes for the Waiheke Island and Tāmaki Makaurau economies and communities," she says.
"Waiheke Island is a much-loved destination for locals and visitors to our region, and we're pleased to see a new bookable service that will contribute to a positive visitor experience while reducing congestion on the Waiheke Walk-up for those that call the island home."
Horne acknowledges the industry maritime-wide-skills shortage has presented.
"The last year, we have been focused on addressing the industry-wide shortage of marine crew. While we're progressing in this space, with several initiatives now underway, including record pay increases, overseas recruitment, and a bespoke accelerated training programme, we still need to be able to operate at full capacity.
"Our summer plans, including introducing Waiheke Reserve, are in place with our available workforce, who are an amazing bunch. Fullers360 is committed to its customers and getting you where you need to be, and I'm so pleased we can continue to provide a peak season timetable for Waiheke Island this year."
Previous summer seasons have been busy for Waiheke Island, and Fullers360 Chief Operations Officer Paul Trotman expects this summer demand for services will continue, particularly as international visitors return.
"As we prepare for the upcoming holiday season, we're looking forward to giving international visitors a Kiwi welcome, along with residents and domestic tourists," says Trotman.
"We know this summer is going to be busy and are asking our customers to plan ahead, buy tickets online, arrive early for your sailing, or consider travelling off-peak. Alternatively, booking a space on the Waiheke Reserve ferry is a great option if you have a special occasion."
"We're excited to get the summer season underway. We've had a bunch of summer ambassadors, and crew recruits through our doors and are gearing up for a busy season. As always, we ask customers to be patient and kind to our teams, working incredibly hard to get everyone where they need to go."
Photography: Fullers