A 25m fishing vessel aground at Red Bluff on the southeastern coast of Banks Peninsula was spilling oil near an endangered penguin colony.
The 25m Austro Carina, owned and operated by Lyttelton-based Pegasus Fishing Ltd, ran aground near Shell Bay on the southeastern side of the Banks Peninsula on Sunday night.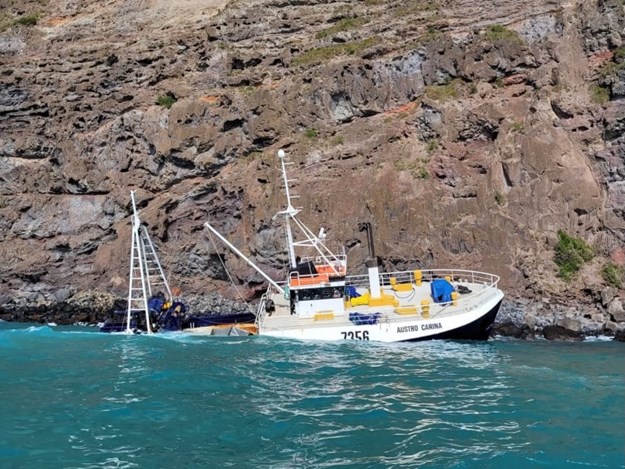 All four crew were recovered by helicopter on Sunday, September 24, between 9pm and 10pm and the Harbourmaster's Office at Environment Canterbury notified.
The vessel had about 10,000L of diesel and 400L of hydraulic oil on board and fish in its hold.
Initial aerial observations showed oil has been released and is on the water heading towards Shell Bay and neighbouring bays. 
Shell Bay is home to a number of species including the endangered yellow-eyed penguin, or hoiho, the white-flippered penguin and little blue penguins, the threatened nationally vulnerable spotted shag, as well as seals and their pups.
The council says the vessel remains in one piece, but the leakage has not been contained. Forecasted conditions continue to make reaching the boat unsafe.
"The current conditions are extremely challenging and unsafe due to the coastline and forecasted weather," says Emma Parr, Regional On-Scene Commander for the Harbourmaster's Office, Coastal Team.
"We are currently monitoring the situation and working with DOC with guidance from Massey University to initiate a wildlife response.
"There is some debris in the surrounding water around the south coast of Banks Peninsula, particularly around the Shell Bay area. We are asking boaties to avoid the area. People should not touch the spill or any affected wildlife."
The Transport Accident Investigation Commission (TAIC) has confirmed it has opened an inquiry into the Austro Carina's grounding, and a dedicated investigation team of two will travel to Canterbury "as soon as practicable".
The owner of the boat, Pegasus Fishing, is working on a salvage plan for the stricken boat and has promised to help manage the environmental impact of any spills.
Pegasus Fishing said it was working with authorities on the best approach to salvage the trawler.
"We are happy to confirm media reports that all our crew are safe and well, although they are still understandably shaken from the events of Sunday night," it says.
"While we cannot comment on those events (as there are investigations underway), we can say we continue to monitor the condition of the vessel and any diesel discharges from it, and are working with ECan [Environment Canterbury ], insurers and salvors on a recovery plan.
"We are conscious of the environmental impact of the grounding and we continue to offer whatever support we can to those who are working to manage the affects [sic]. It is a highly dynamic situation, but best efforts are being made to address the risks. Pegasus Fishing are assisting and cooperating with all the authorities involved. We continue to provide support to our impacted crew."
Photography: Department of Conservation