Press Release: new cruising hydrogenerators packs
---
The newest hydrogenerators from Watt & Sea are lighter, have better hydrodynamics, and are more resistant to corrosion. The Cruising 300 and 600 Models are now available in New Zealand from Kiwi Yachting.
Like their predecessors, a propeller on a retractable stern leg sits on the yachts transom, turning water movement into power, with as little as 2 knots boat speed. Any drag is virtually undetectable, making Watt & Sea the ultimate Green energy solution while underway at sea.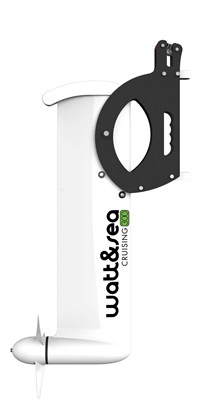 Developed in the Vendee Globe Race and popularised by offshore cruising sailors, theworld's most efficient hydrogenerator for yachts has 2 new cruising models that are even further refined. The new Cruising 300 model is 2kg lighter and is designed for smaller yachts running in the 2-10 knot speed range. It is very quiet, and its brushless technology can generate 300W of power with as little as 7 knots boat speed.

For larger yachts, racing, or longer offshore 
passages, the new Watt & Sea Cruising 600 can create a hefty nominal output of 600W in 9 knots BSP. At this kind of power output, many vessels may require little other generation than an emergency back-up.
The Racing model has also been optimized for use with boat speeds of up to 30 knots.  It is lighter again and has higher nominal power output. The Watt & Sea Racing hydrogenerator comes in Aluminum and Carbone options.
A more advanced convertor automatically adapts to either 12 or 24 Volt systems, and all models are available in long or short shaft for twin-rudder monohulls, catamarans, or almost any sailing application. Furthermore, both the Cruising 300 and 600 are now more affordable, with packages starting off at $4916.00.
More information can be obtained from Kiwi Yachting or at Safety At Sea. Watt & Sea is available through boat builders and marine retailers nationwide.
 Technical Specifications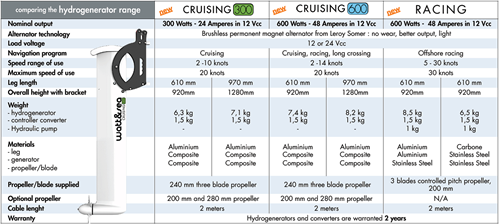 For the latest reviews, subscribe to our Trade-A-Boat magazine here.
Keep up to date with news from Trade-A-boat or like us on Facebook!