Rayglass ProJet on duty at Auckland Airport
---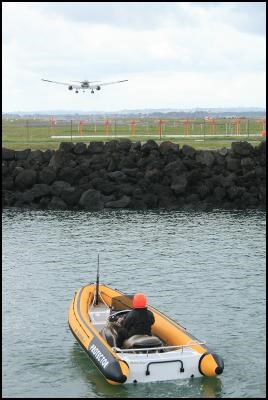 Normally airports and boats don't really mix – but at Auckland Airport a new Rayglass ProJet is helping to protect its airplanes from birds.
Auckland Airport's Rayglass ProJet, named Kaitiaki Rangi or "Guardian of the Skies", operates around the edges of the airport's runways, scaring away the birds – especially swans – that sometimes congregate on the nearby banks.
Kaitiaki Rangi is a unique combination of boat and personal water vehicle (PWC). Created by the Rayglass design team at their Mt Wellington base, the Pro-Jet consists of a powerful Yamaha PWC surrounded by a Rayglass Protector RIB or inflatable boat.
Capable of speeds up to 80 kilometres per hour, the Pro-Jet can quickly respond to any issues that may arise in the waters around the airport.
Rayglass CEO Dave Larsen commented: "Because the jet-powered PWC comes complete with seating, steering, instrumentation and a fuel tank, there is no need to build these into the Protector hull. That means there is plenty of practical, useable cockpit space for a wide range of applications, including wildlife hazard management."
The ProJet, which was adapted by Rayglass especially for its airport duties, now features a moveable front seat, a large transom-wide aft locker for the bird scaring devices and a special mount in the bow.
Auckland Airport wildlife hazard ranger Dave Harris added: "Over the years, we have used a variety of different vessels for wildlife hazard management, including a hovercraft and a PWC. Without a doubt, the ProJet is by far the best. Its speed, comfort, manoeuvrability and ease of use make it absolutely ideal for what we do."
Since being created for the Louis Vuitton South Pacific Series in Auckland in 2010, the Rayglass Pro-Jet has proven popular with a wide variety of enforcement agencies, recreational boaties and superyacht owners both around New Zealand and in the United States and Europe.
For the latest boat news and reviews, subscribe to Trade-A-Boat magazine here.
Keep up to date with news from Trade-A-boat or like us on Facebook!