Repowered 26 Caribbean 'a fantastic boat'
---
You know you're onto a good thing when people keep asking to buy your boat. That's the happy position Andrew Weekes is in after repowering a 15-year-old 26 Caribbean flybridge cruiser with a pair of MerCruiser 4.5L 250hp V6s.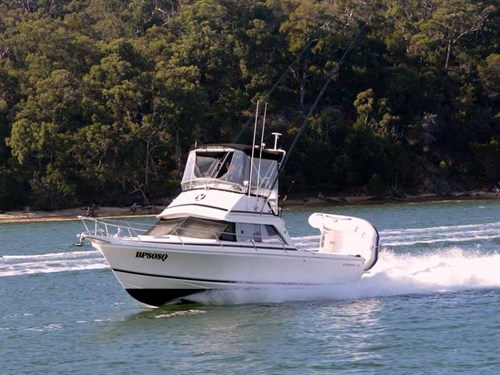 "It's a fantastic little boat. I actually bought it to do the conversion because the MerCruiser 4.5L engine lends itself to that role so perfectly," he said.
A well-known face in the ski racing world, Andrew had just sold a 61' timber displacement cruiser because family boating time was at a premium, and he was after a smaller, faster craft.
"The 26 is a very versatile boat," he said. "It's an open fishing boat with no cooking equipment or internal galley, but a back deck BBQ takes care of that and I mean, really its everything the family needs for a day boat/overnighter. It's all about getting to the fish and catching them... and it's such a pleasure to drive," he said.
Weighing about 4,500 kilograms (with fuel, people and gear) the repowered Caribbean is performing brilliantly.
Optimal cruising speed is around 27 knots at a combined fuel burn of just 62 litres per hour an hour, which gives the boat a range of 185 kilometres, with a comfortable margin.
During testing it reached a top speed on 45 knots at 5,000rpm, and went from 0-20 knots in a meagre eight seconds.
"These new MerCruiser engines have a great power to weight ratio and experience shows they are going to be really reliable," Andrew said.
The new engines have been fitted with Mercury's Digital Throttle and Shift (DTS) technology which delivers smooth, precise shifting and lightning-fast throttle response. Mercury's patented SeaCore anti-corrosion system will provide longer life and better performance.
The all-new 4.5L V6s are also considerably quieter than the 4.3L engines they replaced, giving Andrew and his fellow fishers a more enjoyable on-water experience.
Another great aspect of the boat is that being less than eight metres in length (7.92m to be precise) it is not subject to the six knot speed restrictions in Queensland's rivers.
It's the rare configuration of the tried and trusted 26 Caribbean with the technology, performance and reliability of MerCruiser's 4.5L 250hp V6s which has seen Andrew field so many requests to sell his new boat.
"Of course, there's a big difference between people asking to buy and actually handing over the money," Andrew laughed.
"But it's still a nice compliment to know you've built something that other people appreciate."
For the latest news and reviews, subscribe to Trade-a-Boat magazine here.
Keep up to date with news from Trade-A-boat or like us on Facebook!