Season 4 of Big Angry Fish starts soon
---
Lusty and Blundell and Raymarine will once again be on board when the fourth season of the popular fishing show Big Angry Fish begins at 5pm on Sunday 26 July 26 on TV3.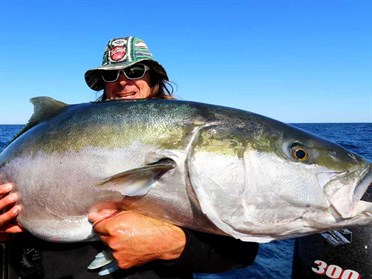 The show, for the first time, will feature 13 one-hour episodes and follow stars Milan Radonich and Nathan O'Hearn on their never ending hunt for trophy fish in the harbours, rivers and coastal waters of New Zealand and Australia.
The first show of the new season features Milan hunting the Murray River cod, while Nathan stays home to set up the superbly-equipped new Big Angry Fish Extreme 750 Game King, Techno Viking.
The following 12 episodes will see the pair using their new vessel to target everything from trout to hapuka (and everything in between), as long as it is big!
Helping them on their quest with be a Raymarine E127 Multifunction Display (MFD). This will be linked to a fish-finding Raymarine bird radar and to a Dual CHIRP digital sonar, complete with high definition CHIRP transducer.
A Raymarine Ray 49E VHF will keep the pair in touch with the shore and other boaties, while the Rule livebait tank system and tuna tubes will help attract those giant fish. Other Lusty and Blundell products on board include the Ultraflex hydraulic steering system, Sea Vision underwater lights (great for attracting baitfish at night), Blue Sea switches and switch panels and Hella navigation and cabin lights.
Big Angry Fish's fourth season, sponsored by Fujitsu Heat Pumps, has a strong focus on sharing Milan and Nathan's knowledge about their favourite fishing spots and the best techniques to fish them.
For the latest news and reviews, subscribe to Trade-a-Boat magazine here.
Keep up to date with news from Trade-A-boat or like us on Facebook!