Queenstown Shotover Jet celebrates 50 years
---
One of Queenstown's first adventure activities celebrated its 50th anniversary this year, firmly cementing its place as a tourism icon.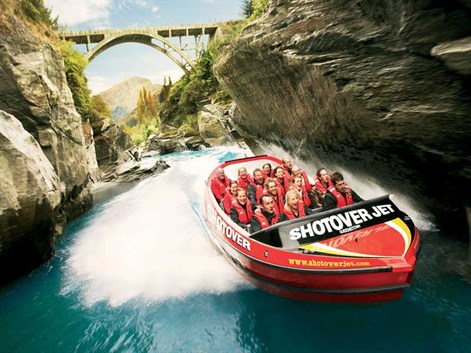 The Shotover Jet commenced operations on the upper Shotover River in 1965, combining the classic Kiwi invention of the jetboat, with the local culture of adventure.
The enterprise certainly rose from humble beginnings though. Not long after the invention of the waterjet unit by Bill Hamilton, two brothers – the Melhops – started a world-first commercial jet boat service on the Shotover River.
The first Shotover Jet boat was the Jet 30, a fibreglass boat that carried five passengers and that pioneering vessel carried 1480 passengers in its first year of operation. In late 1966, after the business had been transferred to Herm and May Palmer, they invested in a new Jet 41 which could carry more passengers.
By the early 1970s, Shotover Jet owner Trevor Gamble found another row of guests could be seated on the engine, which also enabled the rear passengers to get a good view forward.
True to his name, Gamble also dialled up the thrills for passengers.
"We started to get complaints about how dangerous it was from some customers and I thought I'd better back off," he explained.
"But on one trip I had an old lady who was at least 70, with a hearing aid. So I whizzed down the gorge missing everything by at least three feet.
"I turned and stopped at the bottom of the first gorge where I'd say: 'It's a manoeuvrable little boat' or something to that effect, but before I could say anything, she did.
"She explained that it had been so exciting on her trip the previous year, that she had brought her husband back to experience the thrill.
"But this time she had found it boring and demanded a refund.
"So that night my wife Heather and I went home and said: 'Right, we advertise it as a thrill trip, from now on.' We will go as close as possible, to the rocks and that's it!"
In the 1970s, the boats began morphing into today's Big Reds as the concept of adventure tourism grew.
The modern boats can travel at speeds up to 48kts in as little as 10cm of water, each generating up to 660hp from two 5.8lt MerCruiser V8 engines.
Highly trained drivers must undergo a minimum of 120 hours of rigorous training before carrying their first passengers around the hazardous route.
In 2003, the company carried its two-millionth passenger and its three-millionth in May 2011.
For the latest boat reviews, subscribe to Trade-A-Boat magazine here.
Keep up to date with news from Trade-A-boat or like us on Facebook!