Rayglass Boats wins New Zealand export award
---
The on-going success of Rayglass Boats has once again been recognised, this time as the winner of one of the most prestigious categories of the Air New Zealand Cargo ExportNZ Awards for Auckland and Waikato regions.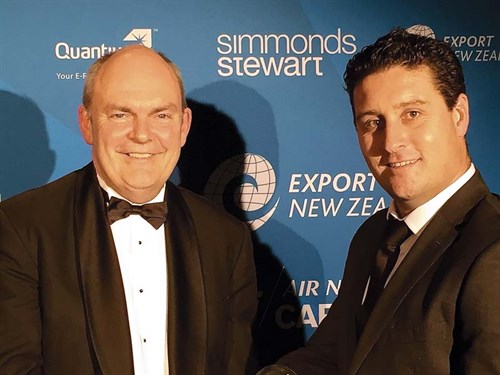 Well known in the New Zealand market and internationally as a leading manufacturer of fast inflatable powerboats and luxury pleasure boats, Rayglass Boats was confirmed as the winner of the BDO Exporter of the Year (export revenue $1 million–$10 million) category at the awards held recently in Auckland.
The awards, presented by the Hon. Steven Joyce, reward companies that help grow and transform the New Zealand economy by achieving exceptional export success.
ExportNZ organises the annual awards to celebrate the success of exporters and demonstrate the importance of exporting to the economy. Entrants in this year's awards covered a broad spectrum of industries, including education providers, high-tech manufacturers, tourism operators, internet-based service companies and agritech companies.
Rayglass CEO Dave Larsen says the ExportNZ Award is recognition of how hard the company has to work to succeed internationally.
"Obviously we are a long way from our key markets but what is even more challenging is that those Northern Hemisphere markets are dramatically different to the domestic market in which we operate here," he says.
Larsen says key Rayglass staff spend an enormous amount of time researching and understanding exactly how their Northern Hemisphere customers want to use their boats — and constantly keep a close eye on any emerging trends.
"At Rayglass, the quality of our product and the efficiency of our operations are defined by the customer. Our success depends on creating the right experience for our customers."
Rayglass export their ruggedly stylish Protector RIBs to 27 countries. They are used in a wide variety of roles: as Coastguard, military, customs, police, patrol and rescue boats; as fast, luxurious tenders to multi-million dollar superyachts; as private pleasure craft and as support boats for major yachting campaigns (such as the America's Cup.
They are also popular in the oil exploration industry, as first responder vessels and in a wide range of other commercial applications.
Rayglass's popular Legend range of luxurious 6-12 metre powerboats is the most successful GRP boat brand in New Zealand. It is successfully exported to markets throughout Australia and the Asia Pacific region.
The company's Pro-Jet (the world's first commercially-manufactured PWC-powered RIB) was selected as a finalist in the prestigious Boat Builder Awards at international marine trade expo, METSTRADE.
Based in the Auckland, suburb of Mt Wellington, Rayglass employs over 60 people in three manufacturing facilities and is one of New Zealand's most successful marine businesses, both at home and internationally.
Keep up to date with news from Trade-A-boat or like us on Facebook!