School students building careers at Rayglass
---
Howick College students Nick Mackenzie (17) and Jayden Prentice (16) are building what they hope will be bright careers at top New Zealand boat manufacturer Rayglass Boats.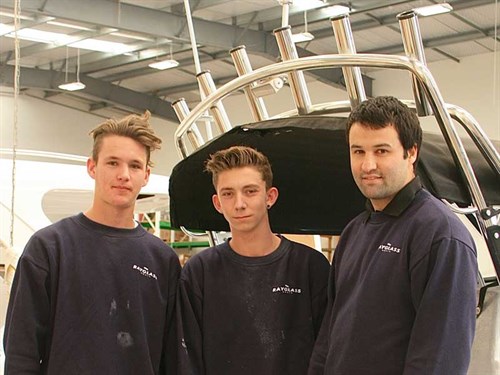 The pair spends the first two days of each week learning a wide variety of practical skills at the world-class boatbuilder in Mt Wellington. The students, two of the first to take advantage of a new School to Work programme, have even been given their own exclusive project.
"We were keen to give Nick and Jayden the opportunity to experience and learn as much as possible while they are with us," says Rayglass CEO Dave Larsen. "We have given them one of our 8.5-metre Rayglass Legend 2800s to restore.
"At the moment, they are responsible for completely stripping the boat (taking out the electronics, the upholstery, even the engine)," he explains. "Then they will rejuvenate the boat inside and out, add the new engine and fittings and complete a totally restored 'as new' pleasure boat for one of our customers."
Nick and Jayden, who both grew up around boats and love boating, say they can hardly believe their good fortune.
"I was looking to get into a trade but nothing really interested me," says Nick. "Then this opportunity came along and it is just fantastic. I love coming to work each day and I am learning so much."
Jayden, who built a boat with his father while growing up, agrees. Both say they are keen to take up the offer of a boatbuilding apprenticeship with Rayglass when their School to Work programme finishes at the end of the year.
Dave Larsen is equally enthusiastic. "Our business is booming and we need more staff," he says. "However, it is often hard to find the right people: people with a good attitude, who love boats and are passionate about what they do. Nick and Jayden tick all the boxes — they are even getting up at 5am to get here on time."
Nick and Jayden were introduced to the School to Work programme and Rayglass Boats by Tracey Eaton, the Schools Transition Advisor for the NZ Marine & Composites Industry Training Organisation.
"School to Work is a great Tertiary Education Commission initiative that allows students to earn credits (to contribute towards their Level 2 or 3 school and apprenticeships) while they are gaining work experience and learning new skills," she says. "We know Kiwi boatbuilders like Rayglass are looking for new staff so we find suitable students, develop an individual learning plan for them and, if it all works out, help them transition into a full time role as an apprentice."
Dave Larsen believes both Nick and Jayden will comfortably make that transition and could be with the company for a long time.
"Most of our staff has been here for 10 years or more and many, like me, started at Rayglass as apprentices. Once they are here full time, we will look to move Nick and Jayden into some sort of leadership role, probably over-seeing the next group of students in the School to Work programme."
Keep up to date with news from Trade-A-boat or like us on Facebook!