Tristram & Mercury R&D teams join forces
---
Tristram Marine and Mercury Marine have been working closely together to develop economical and unrivalled sterndrive packages in preparation for September's Auckland Viaduct Boat Show.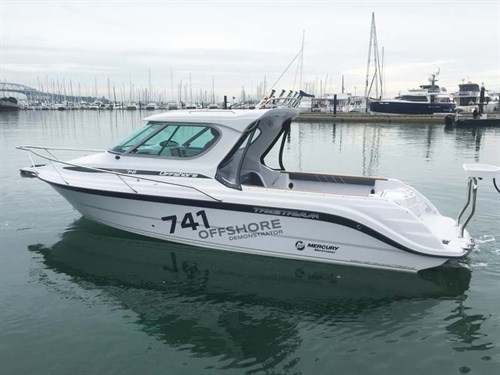 These two industry-leading innovators have joined forces to design and package together a smooth, economical and technologically advanced petrol sterndrive Tristram 741 Offshore, using MerCruiser's very own 4.5 litre V6 petrol engine.
Diesel sterndrive packages have dominated Tristram hardtop sterndrive sales over the past decades, but the recent addition of this sensational more affordable non-diesel option to Tristram's hardtop range could quite possibly change this.
Tested at Mercury Marine's recent Dealer Conference, this 250hp engine proved that fuel efficiency is maintained in the petrol-powered Tristram, and owners are also set to save upon purchase with the engine's lower retail price.
MerCruiser's V6 block has been designed solely for marine use with cast-iron componentry where the engine intersects with seawater, and uses corrosion-resistant aluminium and composites everywhere else.
A new refined Electronic Throttle Body with Adaptive Speed Control (ASC) holds RPM during hard turns and rough seas, allowing the operator to keep both hands on the wheel. Acceleration is significantly more responsive and exciting.
The 4.5 litre's rear-facing throttle body, anti-whistle throttle plate, engine cover and mounts, lightweight flywheel, fuel-supply module, and structural oil pan all work together to deliver superior idle, smoothness and low vibration, resulting in an exceptional driving experience.
Coupled with Tristram's class-leading quality including noise-dampening hardtop panels and seal-free game fishing boarding platform, this Tristram / MerCruiser package is sure to be the talk of the boat ramp.
Tristram has offered MerCruiser's Bravo Three Drive as standard on all sterndrive packages since the early 2000's. This unparalleled drive has once again been chosen as a standard item with the new Tristram 741 Offshore petrol package which gives exceptional steering control in the marina and at high speeds, allows your boat to plane-off at lower speeds for optimal fuel efficiency, and offers incredible open water performance.
Tristram & Mercury's 741 Offshore demonstrator will be on display at the Auckland Viaduct Boat Show from 29th September to 2nd October.
Keep up to date with news from Trade-A-boat or like us on Facebook!