Big Angry Fish partner with Tristram Marine
---
Big Angry Fish TV and Tristram Marine are proud to announce their new partnership for 2017 and beyond.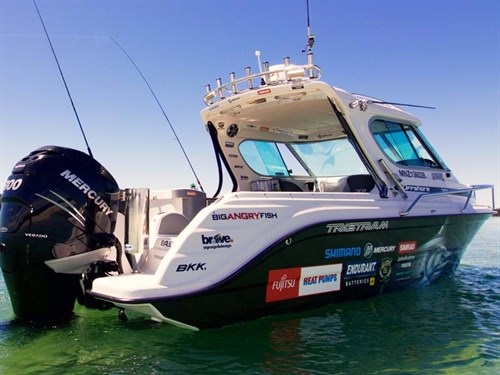 The Big Angry Fish Team's genuine and fun approach to fishing, coupled with Tristram Marine's passion for building the best GRP fishing boats in Australasia has resulted in a new fishing show combination that is sure to lure in viewers come mid-2017.
Collaboration over the past year between the two companies has resulted in the Tristram 701 Offshore and 600 Inshore 'Big Angry Fish Editions', which have become filming boats for Seasons 6 & 7.
Tristram's Big Angry Fish Editions feature industry-leading fishing innovations in anticipation for what is set to be the ultimate in fishing show / trailer boat combinations. Milan and Nathan are now very excited to show New Zealand and Australia how versatile and practical fibreglass boats can be.
Keep an eye out for the Big Angry Fish team as filming begins on their two new Tristrams throughout New Zealand, and enjoy content during the build up to Season 6 by following Tristram Marine and Big Angry Fish's Instagram, YouTube & Facebook accounts.
Keep up to date with news from Trade-A-boat or like us on Facebook!