Auckland on Water Boat Show kicks off next week
---
The 20th edition of Auckland on Water Boat Show will run from 27 to 30 September 2018
Auckland's popular boat show is back for its 20th edition this year with more large vessels on display as the market gears up for the next America's Cup, the organisers say.
"Every corner of the marine industry has been affected by the approach of the 36th America's Cup and the boat show is no different," organiser Stacey Cook says.
"As excitement builds, we're seeing renewed interest in boating and our exhibitors are responding by bringing some of the largest yachts ever seen at a New Zealand boat show."
Launches this year

Large, luxury launches never seen before in New Zealand take centre stage at this year's Auckland on Water Boat show along with New Zealand-built boats, making it the greatest meterage of luxury vessels the show has ever hosted.
Displaying a stunning example of craftsmanship—custom-built to meet the owner's needs—is Lloyd Stevenson Boatbuilders' 18-metre mid-pilothouse Elite, Antiquity, manufactured in New Zealand. It's the company's 50th new build and the 20th Elite project.
Also on display will be Palm Beach Motor Yacht's PB55, appearing for the first time in New Zealand—a classically styled vessel exhibiting a timeless elegance with hand-crafted Burmese teak and smooth stainless steel hardware combining to form sleek exterior lines.
Other boats on display include the new Maritimo X60 (a world first in its class), Napier-based Dickey Boats' 45ft Semifly, and the 58 Fly Absolute Yacht, presented by New Zealand's oldest boat brokerage Yachtfinders Global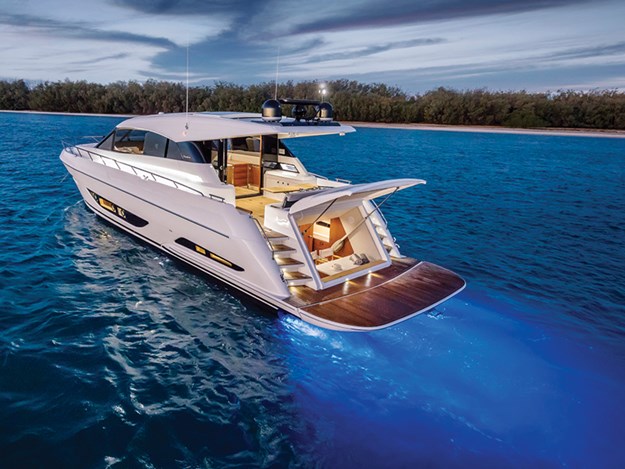 Innovations at the show

Electric is the buzzword across all industries, and this year's show will host the launch of the new electric amphibious technology, Tectrax. This Kiwi-designed system has zero impact on deck space and has been created with recreational, commercial, and rescue applications.
Some of the world's largest outboards will also be on display, including Seven Marine's monster 627 outboards, which have been doubled up on an Intrepid vessel to show visitors the whopping 1254hp—and noise—they're capable of outputting.
New Zealand company Oceanmax will also be showcasing its new product, Lightspeed, a clear silicone coating that keeps underwater lights free of both hard and soft marine growth. 
Albany-based Enertec Marine partnered with the University of Auckland to develop a Li-Ion storage battery for the marine industry. The Juice Li-Ion battery, developed over two years, has been designed to easily retrofit into existing vessels without the need to change or upgrade the vessel's charging system.
Tickets to Auckland Water on Boat Show 2018

Early bird tickets are available now from iTICKET and, when purchasers fill out an online survey, they'll go in the draw to win from a pool of 21 prizes, including one of the best anchors in the world, Boating NZ subscriptions, a Coastguard membership, goodies from Electronic Navigation Ltd, and two inflatable kayaks. 
Keep up to date with news from Trade-A-boat or like us on Facebook!