Work on fully electric Wellington Harbour ferry begins
---
East by West Wellington Harbour ferry service begins work on the planned 19-metre electric ferry
After announcing its plans to go fully electric, East by West Wellington Harbour Ferry service has begun work on its 19-metre 135 passenger-capacity ferry, with a completion target in December 2019.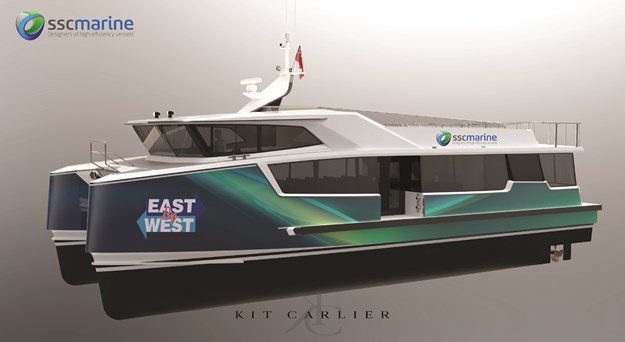 The ferry will cost $4 million to build and will be New Zealand's first all-electric, carbon-free, zero-emission passenger ferry and the first in the Southern Hemisphere.
"The new vessel will be powered by twin electric engines, which will enable a 20-knot operation speed and three return back-to-back peak-hour trips on one charge before a second one-hour charge is required," East by West managing director, Jeremy Ward, says.
"A key to this efficiency is the hull design, which needs to be quite different from conventional diesel-powered vessels, with a displacement hull made from flat carbon fibre panels with only lower hulls requiring moulding."
The all-electric vessel will provide economic benefits to the ferry company by replacing diesel use and thus reducing the annual fuel cost as well as favour the environment by producing zero emissions.
East by West has also taken the initiative to form the Wellington Electric Boat Building Company (WEBB) to be headed by Fraser Foote, who has previously built the company's second ferry in 2006.
The new WEBB warehouse and yard will be supported by Auckland-based SSC Marine along with electrical engineering expertise provided by McKay Electrical.
With the marine transport industry under pressure to meet new IMO targets to reduce CO2 emissions by 50% by 2050, vessels such as this one with zero emissions will help.
East by West has been operating ferry services on Wellington Harbour since 1989 and till date, has carried more than 4.5 million passengers. The company completes more than 200,000 passenger trips annually. 
Keep up to date with news from Trade-A-boat or like us on Facebook!