New Mercury Racing 360 APX outboard to power Formula One tunnel boats
---
The new outboard is an Apex Series four-stroke V8 designed for Formula 1 Tunnel boat competition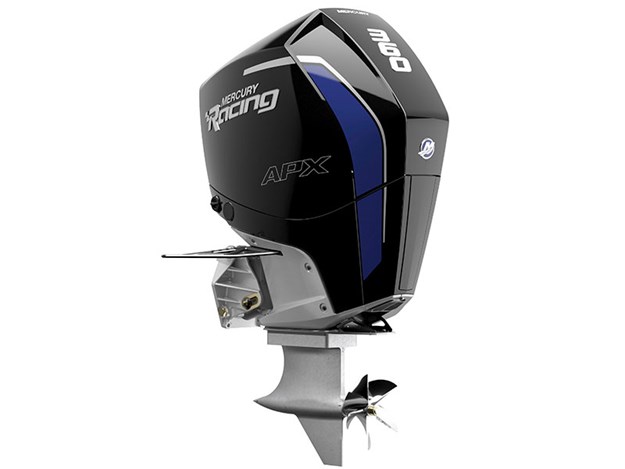 Mercury Racing has released its new 360 APX competition outboard, which it says, is a potent four-stroke V8 designed specifically to power Formula One tunnel boats on the UIM F1H2O World Championship.
The outboard is the first model in a new Mercury Racing Apex Series of outboards designed for closed-course competition and will be available in late 2020 only to qualified racing teams. 
"The 360 APX will usher in a new era of performance for this premier class of tunnel boat racing," says Stuart Halley, Mercury Racing general manager.
"It combines a durable, low-emissions, four-stroke powerhead with amazing performance, and will require much less maintenance than the two-stroke outboard currently in use in the F1H2O World Championship."
The UIM F1H2O World Championship is the flagship international series of single-seater inshore circuit powerboat racing. The series attracts up to 20 of the world's leading drivers competing in tunnel-hull catamarans that hairpin turns at more than 90mph and top 140mph on the straights.
In 2019, nine teams and 18 drivers from 12 countries competed in the six-race UIM F1H2O World Championship. The 2020 UIM F1H2O World Championship schedule has been postponed due to the COVID-19 pandemic.
"I am excited about the arrival of a new low-emissions competition outboard engine from Mercury Racing, focused on the top level of powerboat racing," says UIM president Dr Raffaele Chiulli.
"The engine, designed with input from the UIM and H2O Racing, significantly reduces exhaust emissions while at the same time providing the speed and excitement that powerboat racing fans expect from our flagship series in circuit racing. The UIM supports full implementation of this engine, which demonstrates our commitment to lowering carbon levels in our sport."
The 360 APX is based on a modified version of the Mercury Racing 300R 4.6-liter V8 powerhead. The engine is normally aspirated and retains its double overhead cam/four-valve architecture. The compression ratio is increased from 10:1 to 11:1 and peak rpm is boosted from 6400 to 7000rpm. Mercury adds that the engine offers 90% lower emissions than current two-stroke racing engines.
"The primary purpose of the overdrive is to increase the input speed to the gearcase," says Mercury Racing director of engineering Jeff Broman.
"While the 360 APX produces about 45% more torque, it doesn't match the RPM of the 2.5-litre two-stroke. With the new 360 APX we can trade some torque to increase propeller RPM via the overdrive, which will also improve the life span of the gears."
The outboards are available for order now with shipments scheduled to commence in early November 2020.
Keep up to date with news from Trade-A-boat or like us on Facebook!