2021 Sanctuary Cove International Boat Show launches
---
The 32nd edition of the Sanctuary Cove International Boat Show (SCIBS) will return to The Marine Village from 20 to 23 May 2021
Building on momentum from the recent Sanctuary Cove Boating Festival, held as a precursor to the main event in 2021 and attracting an impressive 20,000 visitors, SCIBS is the southern hemisphere's premier marine event and will be home to a stellar display of the latest products and innovations, the organisers say.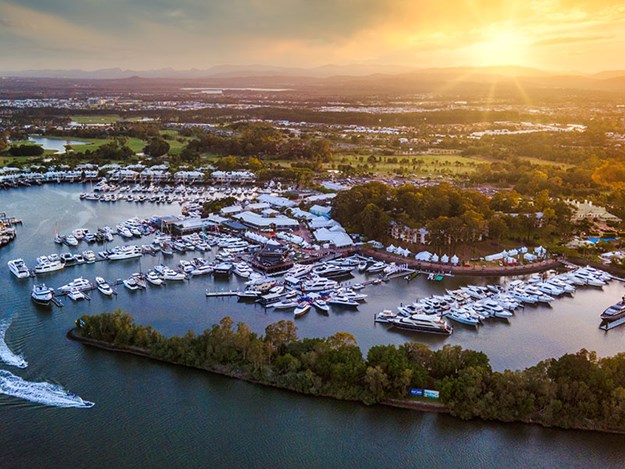 With exhibitor registrations already open, SCIBS sales and partnership manager Dominic O'Brien says the race was well and truly on for exhibitors to secure their preferred spots on the water and within the vibrant Marine Village.
"In recognition of the ongoing loyalty and support of our exhibitors, brands that exhibited in 2019 will have preferential allocation to the same or similar type site for two weeks within launch. Remaining spaces will then open to the general marine industry," he says.
"At the upper echelon of luxury lifestyle, SCIBS will showcase prestigious superyachts, powerboats, catamarans and sailing boats, as well as RIBs, day boats, fishing boats, sports, ski and towboats for recreational boaties.
"We're also thrilled that the popular Sports, Leisure and Fishing precinct is back—a 20,000 square metre space dedicated to trailerable boats—alongside the latest gear and gadgets on display in The Pavilions."
SCIBS general manager Johan Hasser says the team was thrilled to be planning a COVID-safe show for 2021, buoyed by Mulpha Australia's ongoing support.
"Mulpha Australia is committed to investing in the ongoing success of the marine industry, as seen with the $12 million expansion of the Sanctuary Cove Marina, which enables us to accommodate premium recreational vessels from 50 feet to superyachts up to 165 feet.
"More premium on-water displays, coupled with significant space for the growing trailer boat segment, means SCIBS 2021 will expand both ends of the market.
"We're also further enhancing the visitor experience by expanding the Show's footprint to incorporate the luxurious InterContinental Sanctuary Cove Resort, which recently underwent a $9 million upgrade."
Networking and socialising go hand-in-hand at SCIBS with various opportunities for exhibitors to combine the two, such as marine conferences pre and post-event, the International Business Lounge supported by the Queensland Government, and five-star VIP Lounge overlooking the new marina, providing the perfect setting for securing new business leads.
Access is made easy with the free Park 'n' Ride service from Warner Bros. Movie World and limited on-site parking.
Tickets to the four-day event will go on sale in February, with free entry for children under the age of 16. Event organisers continue to work with Queensland Health to ensure SCIBS complies with COVID-safe practices.
Keep up to date with news from Trade-A-boat or like us on Facebook!