America's Cup 2021: Team NZ retains the Auld Mug
---
Emirates Team NZ wins the America's Cup for New Zealand for the fourth time
In a dramatic final race of Auckland's East Coast Bays on course A, Emirates Team New Zealand scored the seventh point needed to raise the Auld Mug.
The America's Cup defender beat Italian challenger Luna Rossa, finishing 46 seconds ahead and claiming the title 7–3 in the best-of-13 series.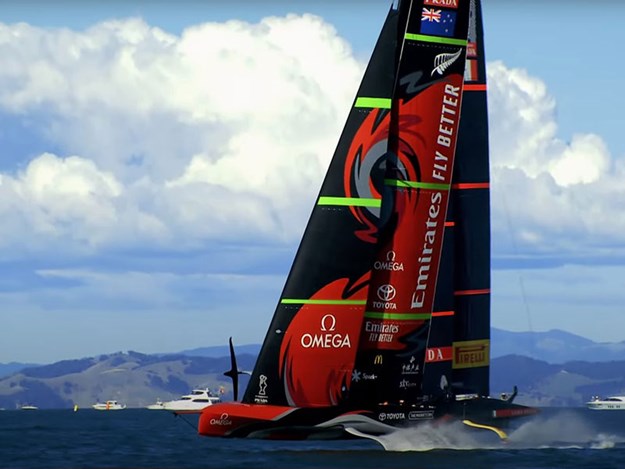 The race was twice delayed and started half an hour later than expected.
It was a spectacular achievement for Emirates Team New Zealand and the yacht club they represent, the Royal New Zealand Yacht Squadron. Another confirmation that – in sailing – the Southern hemisphere country of 5 million people can punch way above its weight.
At the prize-giving ceremony, the Luna Rossa team was introduced to the stage first, with team skipper Max Sirena saying it "has been a pleasure" to compete against Team New Zealand.
"New Zealand is like a second home for me and the guys… I am proud to be involved in this group and everything they give me."
Describing the win, Team New Zealand helmsman Peter Burling said it was "absolutely unreal".
"To do something like this on home waters is something that I think our whole team is incredibly proud of.
"We're obviously absolutely blown away by being able to achieve what we have as a group and win another America's Cup."
Race 10 details 
Start: 1630
Port: ITA
Stbd: NZL
Course: A
Axis: 040
Length: 1.85nm
Current: 0.3 knots @ 352
Wind: 10 knots 065 degrees
Winner: Emirates Team New Zealand 0.46
​No victory parade
There are no plans to hold a parade in Auckland despite Team New Zealand's victory, following a request made by Team New Zealand to Auckland Council.
After a tough year, Team New Zealand said they didn't want to put any further costs on to the host city of ratepayers.
"Emirates Team New Zealand specifically r​​equested we not have a parade and so we support that request that they've made," a spokesperson for Auckland mayor Phil Goff said.
"It was a request they had made themselves and one that the city was happy to support."
Keep up to date with news from Trade-A-boat or like us on Facebook!