The stage is set for the 36th America's Cup
---
The first race of the match starts today, 10 March 2021, amid Alert Level 2 restrictions in Auckland
After four years of planning and three months since the first official race of the new AC75 class, the 36th America's Cup will see its first race of the match starting at 4:15pm local time on 10 March 2021.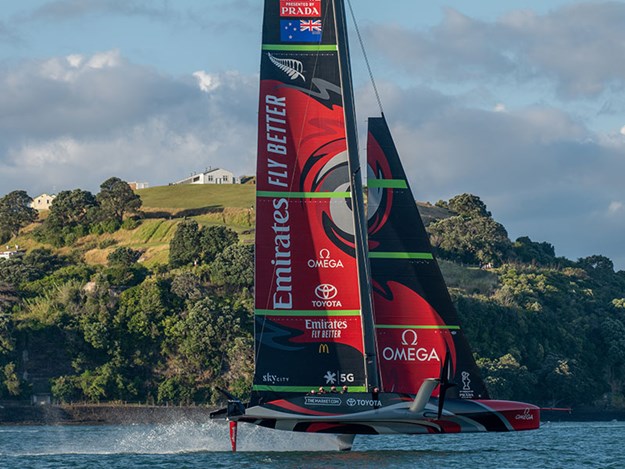 The highly anticipated Race 1 will see the defender Emirates Team New Zealand go up against challenger Luna Ross on Course E, with about 12–15 knots of wind expected for race time—dubbed as 'ideal conditions' by the organisers.
The match, which was scheduled to being on Saturday, was pushed back to Wednesday when Auckland moved to Alert Level 3 after a small community outbreak
While Auckland has now moved to Alert Level 2, it comes with certain restrictions. Events at the America's Cup Race Village have been cancelled. Big screens will no longer broadcast the live action from the harbour to avoid gathering of more than 200 people. However, bars, cafes, and restaurants and other retail outlets within the village will be open and will operate within Ministry of Heath guidelines.
As the teams go into the first day of racing, Luna Rossa Prada Pirelli has completed 18 live races while Emirates Team New Zealand's tally stands at just six.
At the press conference held a day before the match, Emirates Team NZ said, "From the moment the America's Cup landed in New Zealand nearly four years ago, our designers, engineers, boatbuilders, shore crew, and sailors have been focused on one thing—creating a boat to beat all comers.
"To achieve this our team has been working quietly away, doing everything possible to squeeze every ounce of performance out of the boat, the sail plan, and the eleven athletes onboard."
After today's races, Thursday will be an off day and racing will continue from 12 to 15 March until one team wins seven races.
Maritime NZ encourages on-water safety as America's Cup resumes
Maritime NZ is reminding boaties and spectators how to be safe as America's Cup racing kicks off today.
Neil Rowarth, northern compliance manager, said his team has already interacted with more than 1000 boaties and operators providing safety advice on the boat ramps and marinas, making it the biggest single event safety campaign Maritime NZ has ever run.
Maritime officers will be back interacting with boaties during racing when Auckland returns to COVID-19 Alert Level 1.
"While Auckland remains at Alert Level 2, we want to remind boaties heading out to watch the America's Cup that lifejacket wearing and keeping a safe speed are crucial," Neil said.
"If you're the skipper, you're legally responsible for the safety of the boat and everyone on board.
"Wearing your lifejacket is the single most important thing to do to help keep yourself safe on the water. Skippers must carry correctly-sized lifejackets for everyone on-board.
"We're also telling boaties to understand and comply with the established course boundaries and follow the speed limits.
"The maximum speed permitted for all boats is five knots—about nine kilometres an hour—within 200 metres of shore and within 50 metres of any other boat or swimmer. There is also a five-knot speed restriction within the harbour and in the vicinity of the racecourse. Listen to VHF channel 16 for details. When you get to the racecourse, listen to VHF Channel 4 for updates on race details.
Spectators choosing a charter vessel to watch the Cup are reminded to 'Look for the Flag'. Maritime NZ has handed out 107 of the distinctive pink and yellow flags that shows the operator is in a recognised safety system or has an exemption.
Keep up to date with news from Trade-A-boat or like us on Facebook!