Emirates Team NZ launch hydrogen-powered foiling chase boat
---
Emirates Team New Zealand has launched its prototype hydrogen-powered foiling chase boat in Auckland.
Chase Zero is the first boat to be launched in this America's Cup cycle, and one that is hoped will set the foundations of a seismic shift towards a cleaner more sustainable future in powerboating around the world.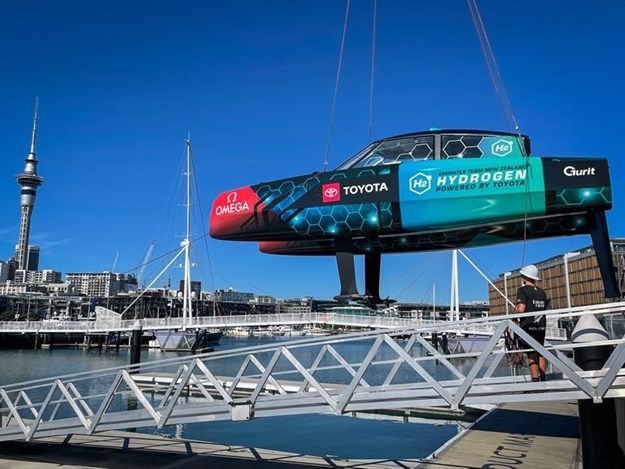 "I hope we can look back on this today as the start of a hydrogen motorboat revolution," said Sir Stephen Tindall—ETNZ's sustainability ambassador and supporter of the project, before the boat was craned into the water for the first time.
With the AC75 class already locked in for the next America's Cup and with a continued drive towards a more sustainable future, the focus shifted to the on-water chase boats. During the measurement of the carbon emissions of the team's last campaign to become carbon zero certified, Emirates says it was obvious the chase boats were a sizable contributor to the overall emissions.
Initial consultation received suggested this was not the 12-month project the team was looking for.
"We were basically told something as audacious as Chase Zero would take 3.5–4 years, but this has effectively taken us just over nine months," says project manager Geoff Senior.
"We certainly weren't expecting to be working so intently straight after AC36. But I guess that's just part of our culture and how we work best at Emirates Team New Zealand so it's pretty exciting to get to this stage, a huge milestone for the team," he says.
"It was a big effort to get the boat built at our build facility and then it's been a massive effort from the fit-out team here at the base, just getting all these powertrain components in and all the respective bits of hardware."
Senior says he did not think there were many other boats like this around.
"The next boats like this are still a long way away, so I think once it's in the water and running, we will realise just how important it is on the world stage."
Chase Zero will cruise at 35 knots with a top speed over 50 knots and is the culmination of the collective input of the team and several vital partners.
It will now go through an extensive commissioning and testing phase in the dock over the next week or so, testing and running the prototype systems before being set free on the Waitematā Harbour in the coming weeks.
Keep up to date with news from Trade-A-boat or like us on Facebook!