Coastguard South Canterbury welcomes new high tech rescue boat
---
Coastguard South Canterbury has bid farewell to its rescue boat of the last 20 years, now welcoming a new high-tech Coastguard Rescue Vessel that will enable crew to perform more night rescues.
Named Timaru Rescue/Waka Ora Te Tihi-O Maru, the new CRV is one of 26 high-spec craft that were first used as chase boats at last year's America's Cup.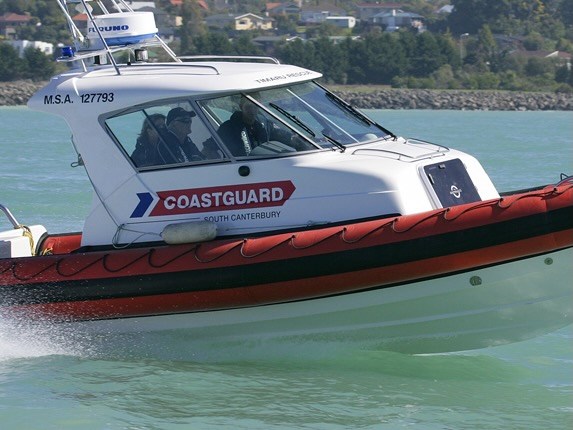 Through a partnership between Lotto NZ, Coastguard and Emirates Team New Zealand, and a $9.8 million lottery grant, these boats have been reskinned and refitted for Coastguard units across the country.
Priority was given to units identified as having ageing vessels, a limited capacity to fundraise - and in the case of Coastguard South Canterbury, a vast area to look after.
Coastguard South Canterbury president Nigel Adams says the unit is incredibly grateful to receive the modern vehicle though the 4UNZ Lotto partnership, which will allow them to head out on the water at any time thanks to the high-spec fit-out including night vision technology.
"The new technology will help us on our callouts. We have such an open body of water uninterrupted by islands, so responding to incidents during the night is even more challenging without any navigation points," he says.
"Our old boat has served us well for these last two decades, but this new boat will really change everything for us. With this new equipment, we'll be able to do our job more efficiently and help people at all hours which is something we're stoked about."
Coastguard New Zealand CEO Callum Gillespie said an upgrade to South Canterbury's vessel is long overdue.
"While the South Canterbury unit is one of the smallest in the South Island, volunteers play a critical role in responding to major incidents across Canterbury. We're delighted that through this partnership, South Canterbury volunteers can enjoy an upgraded vessel that will serve their community well for many years to come."
Keep up to date with news from Trade-A-boat or like us on Facebook!