40 years of Riviera celebrated in new book
---
Riviera is celebrating more than 40 years and the launch of more than 5,800 yachts with the publication of a new coffee-table book.
Riviera - 40 Years of Evolution is a 280-page hard-bound sleeved book that charts the course of Riviera, where it started from a small factory in the northern beaches district of Sydney in New South Wales.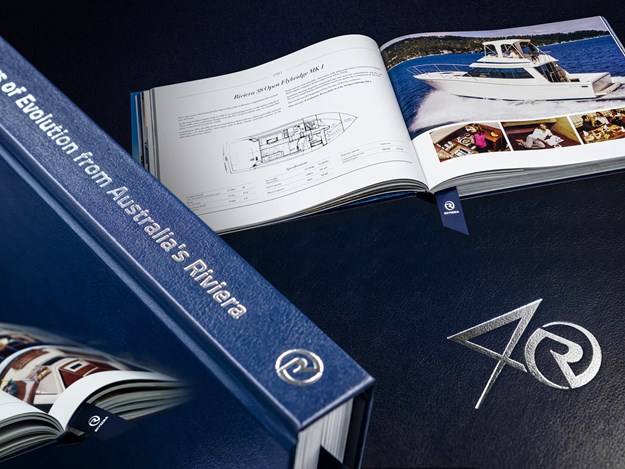 "This exceptional book encapsulates everything that drew me to be a part of Riviera in 2012, from the global family of Riviera owners to the highly skilled and experienced team who have built the yachts we celebrate in Riviera - 40 Years of Evolution," said Riviera Australia owner Rodney Longhurst.
"I am proud of the passion for Riviera shared by so many of our owners and our craftspeople, some of whom have been with us for decades," he said.
"We learn from them all each day, speaking of their ownership experiences on board or our team working to build our finest yachts ever while mentoring young apprentices eager to learn the craft and to build on the legend they are inheriting."
Longhurst said every Riviera enthusiast will revel in the informative and detailed descriptions and data collated in this book about Riviera.
"I believe that Riviera - 40 Years of Evolution belongs in the library of every Riviera owner and admirer," he said.
The book travels though time to follow the course of Riviera from humble beginnings to great international demand, through changes of ownership, the tumult of the global financial crisis and its rise to world-class yacht-building status under the Longhurst ownership.
Each of more than 100 individual models - from the very first 38 Open Flybridge launched in 1981 to the 78 Motor Yacht that premiered in March of this year - is described in detail including photographs, layout drawings, specifications and production information as well as comments by boating journalists.
A 42-year timeline at the end of the book lays out every model over every year - a real treasure trove of reference data.
The book includes a collection of fascinating images created over those years, from early black-and-white to the superior quality that reflects current Riviera technology. In addition, there is a collection of front covers of several boating publications, visually charting a course of the development and technological improvement of the brand.
Riviera - 40 Years of Evolution is is available to order online here.
Keep up to date with news from Trade-A-boat or like us on Facebook!