Ngāi Tahu unveils climate change action plan with electric jetboats
---
Te Rūnanga o Ngāi Tahu has unveiled the world's first electric jetboat designed solely for tourism.
The iwi has unveiled an ambitious 88-point action plan to tackle the causes and effects of climate change and a host of other environmental issues.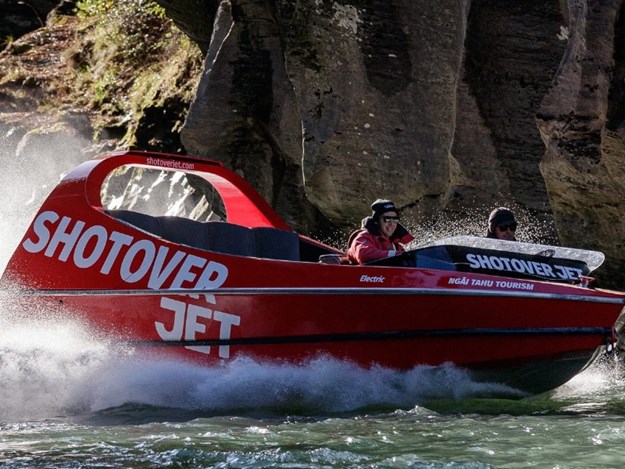 Te Rūnanga o Ngāi Tahu Kaiwhakahaere Lisa Tumahai said over the next nine years the iwi will be taking major steps to cut greenhouse gas emissions, embrace renewable energy, optimise resource use, reduce water and ecosystem impacts, and create a resilient future for whānau.
"As mana whenua we are putting into action the core principles of kaitiakitanga and rangatiratanga," she said. "We look after our whenua, we care for our whānau and we take ethical actions and decisions for the future of our mokopuna."
Once the jetboat prototype is put into service – the Shotover experience will be a whole lot quieter and more environmentally sound, running on rechargeable electric batteries rather than fossil fuels.
Ngāi Tahu Tourism general manager Jolanda Cave said the aim is to make all its operations carbon neutral by 2050.
"It is of utmost importance to us at Ngāi Tahu Tourism that we are true to our iwi values. We all have a role to play in ensuring our world is healthier for future generations and while there is a long road to travel, the electrification of our jetboat fleet is an incredible step."
The wider 88-point action plan is known as Te Kounga Paparangi – Leading change for the future. It sits alongside Te Tahu o te Whariki | Anchoring the Foundation – the Te Rūnanga o Ngai Tahu Climate Change Strategy, which was released in 2018.
Electric Jetboat Prototype:
Shotover Jet is one of the multiple experiences on offer from Ngāi Tahu Tourism.
The prototype project began in 2019 when Ngāi Tahu Tourism entered a co-funding agreement with the Energy Efficiency and Conservation Authority (EECA) under the 'Technology Demonstration Programme' and was awarded up to $200,000 to convert one of our petrol-powered jet boats to run on electricity.
The four main components that form the electrical functionality are the battery packs, battery management system, power delivery, and electric motors.
Gasoline has an approximate energy density of 12,000Wh/kg which is 100 times the energy density of Lithium based batteries which can store 100-265Wh/kg
Many of the components are common to petrol and electric boats, for example water jet units.
Initial water testing occurred on Lake Whakatipu in May 2022, following by tests in the Kimiākau (Shotover River) in June 2022.
It will take several years to confirm the commercialisation of the electric prototype.
Keep up to date with news from Trade-A-boat or like us on Facebook!