NZ's ZeroJet set to take its electric boat motors global
---
New Zealand start up ZeroJet will use funds from A Series A capital raise for mass marketing and the commercialisation of its turnkey electric jet propulsion system for boats.
With orders from boat builders around the world, ZeroJet's engineering team is "set to rewrite what's possible with high performance electric motors".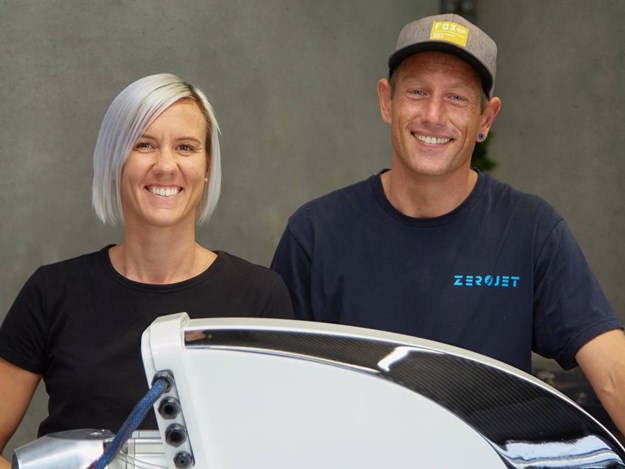 Led by Movac, the oversubscribed round also garnered support from Australia's Investible Climate Tech Fund, the NZX listed Booster Innovation Fund as well as family offices, high net worth individuals and repeat investment from NZGCP, Impact Enterprise Fund and K1W1.
"Within the nascent marine electrification niche, the time is right for disruption and ZeroJet has a significant opportunity to capture value on both the strength of our product; and a proven go-to-market strategy," said ZeroJet CEO & co-founder Bex Rempel.
The company's initial application of its jet propulsion system to tenders delivers material improvements to boating safety (no propellers), usability (fully enclosed and silent system) and performance (up to 50% better than an equivalent rated outboard) while simultaneously ensuring time spent on the water is cleaner and better for the environment. No fossil fuels and the low profile jet system means the tender is safe for shallow reef ecosystems as well.
Its sold-out pilot production run has helped prove its speed-to-market as well as supply chain reliability, with propulsion units and tenders delivered multi-country and as far afield as the Bahamas, Finland, Singapore and Fiji.
In addition, it plans to announce significant partnerships with three internationally renowned boat builders, one of which is amongst the world's largest. These multi-year contracted minimum orders will drive repeatable sales and an accelerated path to scale, in addition to developing the product for larger boats.
Mark Stuart, partner at Movac, added, "ZeroJet's technology is an innovative answer to a global trend toward electrification.
"They're at the cutting edge of marine electrification with significant hardware IP and well-positioned to take a global leadership position, particularly given New Zealand's strong history of innovation in the marine industry," he said.

The boat building industry is highly fragmented and spread across thousands of companies and brands worldwide.
ZeroJet CTO & co-founder Neil Mans said regulations are changing fast and in less than ten years, it's possible that all new boats with engines below 40hp will be electric.
"ZeroJet's goal is to provide boat builders with a high-performance turnkey electric jet propulsion system that they can install in less than two hours," he said.
"Up until now, there simply weren't enough options for climate conscious boaties. We have solar panels and battery packs for our houses; and we have a myriad of choices when it comes to electric cars - but high performance electric motors for those wanting to enjoy their boats more responsibly are still a rarity.
"There is, quite literally, a ready-made market out there for products that can deliver an experience equal to or even better than combustion engines."
The funding will be used to productionise ZeroJet's 20HP system, ramp up sales and marketing internationally and expand the team to support R&D and global sales growth.
"We're excited to be on this journey and to reach our ultimate audacious goal of eliminating the need for combustion engines," said Rempel.
"There really is a far better way to power boats - and ZeroJet is pioneering that future."
Keep up to date with news from Trade-A-boat or like us on Facebook!