Waiheke's Kennedy Point Marina taking shape
---
Waiheke's Kennedy Point Marina is starting to take shape, with the first boats expected to slip into their berths in May next year.
Catering for vessels between 12m and 30m LOA, the 181-berth marina is almost fully subscribed, with only a handful of the larger sizes now available.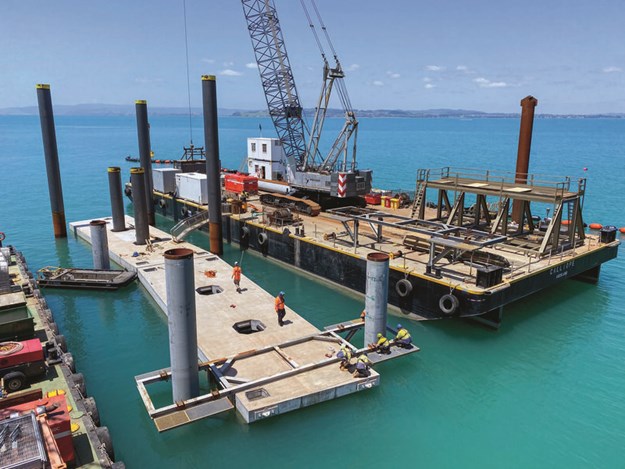 Though the Covid pandemic created enormous logistical challenges and severely disrupted construction, the project also resulted in a number of unique build strategies and New Zealand construction 'firsts'.
"While floating wave attenuators have been used in a number of New Zealand marinas, this is the first time they've been used on this scale," said project manager Scott Fickling.
"Traditionally, marinas have used rock-pile breakwaters which can affect tidal patterns and interfere with ecologically-sensitive environments.
"A floating breakwater, by contrast, allows for a natural, unencumbered twice-daily 'tidal flushing' of the site and is widely-used here and elsewhere in the world," he said.
"The relatedly deep water throughout the marina basin at KPM also lent itself to floating structures."
The floating design is the brainchild of a Swedish-based company, SF Marina Systems AB, with coastal engineering design support from three different continents.
KPM uses 23 pontoons forming two, separate attenuation breakwaters. Each pontoon measures 20m x 6m x 4.2m and weighs over 200 tonnes.
"We initially envisaged shipping the completed units from Sweden," said Fickling, "but that was a daunting prospect and having them built locally seemed a much better idea – particularly as it would benefit the local economy."
To that end Whangarei's Heron Construction entered into a manufacturing license agreement with SF Marina and developed a purpose-designed site for producing the mammoth units. It's an intricate process – each pontoon requires 23 truck-loads of concrete and must be formed in a single, uninterrupted pour.
Getting the completed units to the Waiheke site presented an additional challenge: each pontoon is launched into the sea and towed 90 miles to the island by tug – at a sedate two knots – a voyage that's very weather-dependent. About half of the pontoons are already in place – the last will be manoeuvred into position in September.
Each pontoon is secured in position with two, 35m+ long steel piles – driven through the pre-cast pile guides from above using temporary construction barges and some of the biggest piling equipment in operation in New Zealand. Installing the marina berths – piles, fingers and piers – will be tackled once the attenuator structures are complete.
These components are being built by Glendene's Total Marine Services Ltd.
"About twenty percent of the structures have already been cast and start arriving on site in October. Stockpiled on a large barge they will be lifted into positon by crane. This construction phase should come together very quickly."
Other key components of the project include a 72-spot carpark and a building comprising the marina office, services, a public café and a small boat launching deck. As with the rest of the KPM design, these structures are built on floating pontoons – rising and falling with the site's 3.5m tidal range. The office building is being erected on its own pontoon structure
and will be towed as a completed unit from Whangarei.
The marina will have Wi-Fi and each berth is equipped with 240-volt power and water. Marina services and facilities will be provided to berths on a user-friendly interface with access via a swipe card and PIN. Users will also be able to use a smartphone app for access. The same card/technology applies to the showers and laundry in the marina building.
Who's bought the berths?
It's a mixed bag, said KPM director Sarah Mair.
"Aucklanders, a few out-of-towners, but mostly Waiheke locals
who either live or have a bach here. While different factors are behind the rapid uptake, the acute shortage of marina berths in
the greater Auckland region is obviously a major driver.
"We believe the 'destination marina' concept also holds plenty of appeal – it's the country's only 'island marina' and people keen to visit the island for a weekend break (or longer) want to have their boats in a secure berth. I think many will use the marina as a convenient base or launching pad for exploring the greater Hauraki Gulf."
Thanks to seasonal fluctuation and the transient boating lifestyle of some berth holders, any vacant berths will be available to rent for short- and long-term stays. The marina will also cater to visiting boaties in small runabouts – day-trippers who want to be able to leave their vessel in a secure marina while visiting the island.
"There are dedicated pontoons on the edges of the marina which offer plenty of mooring spots for trailer boats," said Mair.
"I think the facility will appeal to visitors who don't want to be tied to the ferry schedule. There is also a public drop-off berth."
Berths are sold with a 35-year license – a period tied to the term of the coastal occupation permit granted by the Council.
Keep up to date with news from Trade-A-boat or like us on Facebook!