Aqualite 601RV
---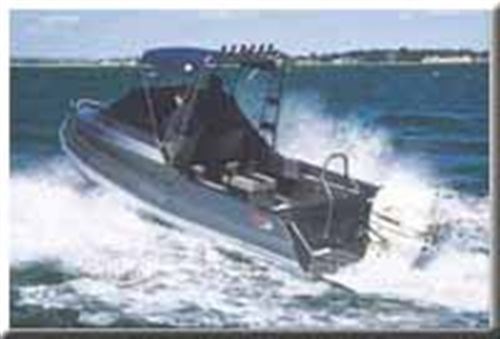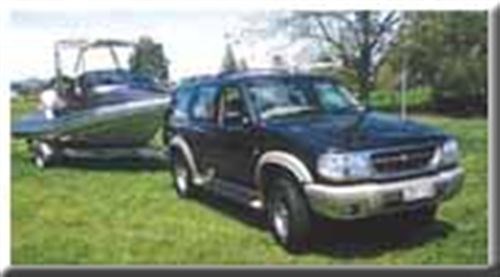 I had no intention of writing a boat review when I stepped aboard the Aqualite 601RV. Family Boats had supplied it as the photographic boat and I hardly gave it a second thought when I boarded it at sea.
The water conditions were very choppy to moderately rough and we made run after run trying to capture the Buccaneer 550 on great film. Running around 22 knots, the Buccaneer burst through waves, sent showers of sparkling spray arcing out and occasionally displayed a good measure of its keel. It was a boisterous day and our course - taken to achieve the best natural light - made no allowance for comfort or boat handling.
As I worked to capture the lively Buccaneer I took one uncontrolled tumble and a few hard knocks, but while holding the camera to my eye, I began to register the Aqualite's soft and progressive ride.
Clearly the Aqualite 601 was a boat worth writing about, so I transferred back to the Buccaneer and shot a roll of film before continuing on my walk-around way. When the film was processed, the photos showed water peeling down from the entire length of the Aqualite's chine. They confirmed other fleeting inputs that had penetrated my photographer's tunnel vision and coalesced into a single, cohesive thought. "This boat's pretty dry as well."
My photographic encounter left me with very good impressions so I put in a call to Family Boats to see if I could secure the same boat for an Aqualite-only day. "Sorry, it's sold," was the reply, "but we can set up the same model with a 150hp Johnson and slightly different seating. It will be ready in two weeks."
Having an extra 15hp on the back (the first boat was powered by a 135hp Ficht Evinrude and the second the carburetted Johnson), and pedestal rather than king and queen seating, wasn't going to make any difference to the big picture, so I gratefully accepted their offer.
As luck would have it, the water conditions encountered during the second Aqualite outing were similar to the first, although not quite as boisterous and telling. A 15-18 knot north-easterly with strong mid-afternoon pressure kicked up a moderate chop in the inner-harbour and a few more interesting rollers in the mid-gulf where the waves had the benefit of a 40-mile fetch.
Generally, the Aqualite handled everything in its stride - easily. Sure it did bang and pull up hard on occasions, but with less frequency than most other boats. I was intentionally trying to make it misbehave but, in the end, the boat got the better of me and I ended up just having fun.
Lightly loaded with myself at the helm, three-quarters of a 140l fuel load and three dive bottles and two weight belts in the aft underfloor locker, the 150 Johnson really made the Aqualite rocket along. It was fast out of the hole, very responsive and is at the very top-end of the Aqualite's horsepower range (150hp maximum, 90-135hp recommended) and perhaps more than most people will want or need to fit. But if you like lightly loaded speed and the cobweb banishing fun that goes with it, or are going to put lots of divers in the boat, go for it.
And fly in true Scott Robson style it did. Scott's boats tend to run better the faster they go, mainly because they climb up on his signature deep vee and the deep forefoot provides a more progressive entry as it does. The Aqualite 601RV, with a 23 degree deadrise at the transom, is no exception. At 26 knots it rides well, at 35 knots it rides better and at 44 knots it's great.
Don't interpret my comment "at 44 knots it's great" too literally. Yes, it rides very well at 44 knots, but any boat travelling this fast in rough water is going to leap and bang about. It's just that the Aqualite 601RV is more surefooted and comfortable to drive at this speed than many other boats.
Considering the Aqualite is aimed at fishermen and divers, its not likely you'll be running at 44 knots, or 35 knots for that matter. It's more likely you'll be operating around 28 to 30 knots, which is the speed I gravitated to after my high-speed hooning. Lightly loaded, it's a very comfortable transit speed.
The 601RV has sealed reserve buoyancy in the side tubes and it hardly moved when I walked from side to side. The pontoons that generate the stability are a half-round shape. The largest diameter section is found in the rear-third of the boat (it touches the water at rest), then the pontoons taper in size and sweep up from the waterline. The tapering segments follow the curve of the hull and there are six sealed chambers per side.
With the taper and sweeping lift, the forward pontoon sections have good sea clearance and less shoulder to pull the boat up hard if it should bury the bow. The reducing volume also gives the boat quite stylish lines for a pontoon boat.
The relatively stylish lines are also generated by smart graphics, rounded screen and flowing foredeck line. As a result, the cuddy is small but useful. At 1.83m (6ft) tall I could just sit against the aft bulkhead, but the room diminishes as you move forward.
Two under floor cockpit lockers are provided as standard. The biggest - which takes three dive bottles and weight belts and still has room for a wet suit - is positioned aft, immediately in front of the transom locker that houses the battery, oil reservoir and master battery switch.
The 140l under floor fuel tank was positioned between the aft locker and forward locker. Id say it was pretty much over the centre of buoyancy and so the boat's trim is not going to change much as the fuel load changes.
The front under floor storage locker provided a very useable space. A hole let water drain from the cuddy into this locker, then under the fuel tank into the aft locker and on to bilge. A couple of bungs to isolate the lockers would be good, otherwise the day's catch could spread itself around.
So, how do I summarise this boat? Well, its another bench mark boat for me (two in one issue is unusual, see East Cape Benchmark). I think it rode and handled well, it was relatively dry, it was stable and well built. I have no issues with it.
Specifications
Aqualite 601RV
LOA: 6.03m
Hull length: 5.49
External beam: 2.44m
Internal beam: 1.91m
Deadrise at transom: 23°
Fuel capacity: 140 litres
Construction: Aluminium, hull 5mm, pontoons 3mm
Towing weight: 1300kg approx
Recom. Horsepower: 90-135hp
Boat supplied by:Family Boats, Ti Rakau Drive, East Tamaki. Ph 09 274 0511.
Keep up to date with news from Trade-A-boat or like us on Facebook!