Bavaria 41
---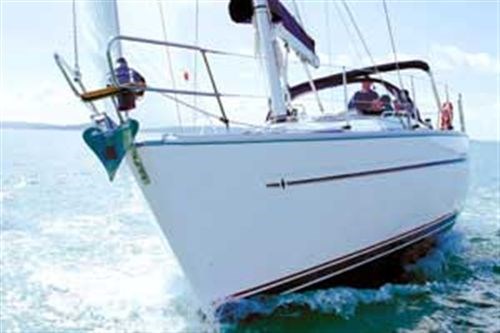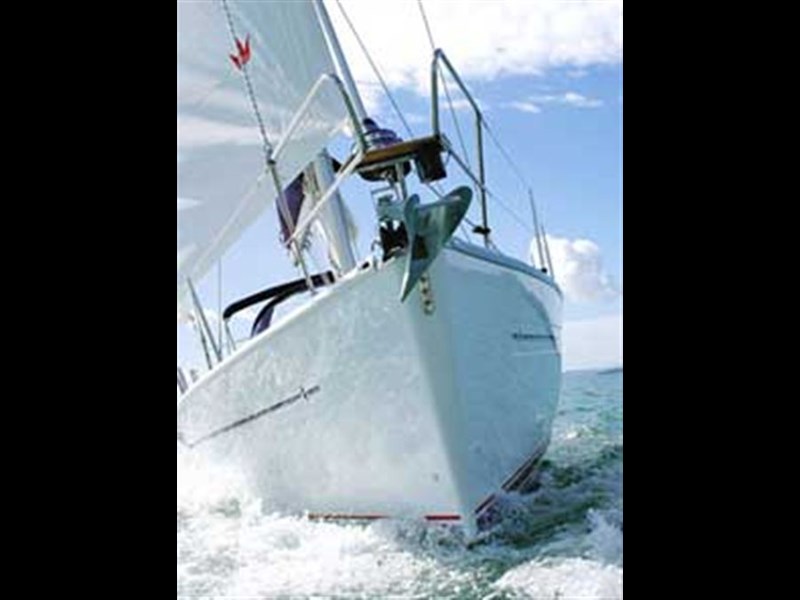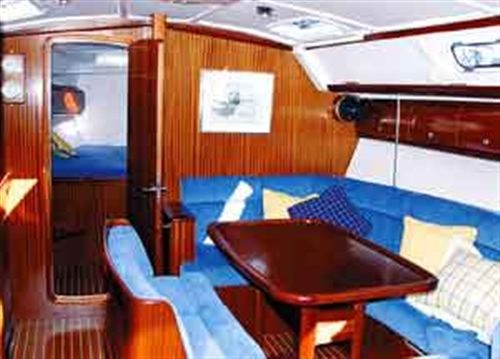 As quick as you can say "Achtung", global yachting giant Bavaria Yachts will have launched another Bavaria - one of 3000 yachts and powerboats that will roll off the production line this year.
Bavaria's production schedule is nothing short of remarkable. The German manufacturer is now one of the world's most prolific production yacht builders and shows no sign of slowing up. Conversely, Bavaria Yachts has recently opened a second giant factory at Giebelstadt that will allow yacht and powerboat production to increase to 4000 units by 2005. The company now exports its boats to more than 40 countries with large fleets throughout Europe and Britain, where there are active owners associations and keenly contested class racing up and down the eastern seaboard.
The Bavaria recipe - solid construction, generous volume and very keen pricing - has not been lost on the New Zealand market, where Bavaria has been the dominant player in the new-boat market since 1999 when International Marine Brokers principal Roger Wilson acquired the Bavaria dealership. Since then, Wilson has sold 40 yachts into New Zealand ranging from 34 to 49 feet. It is an enviable sales record given that three years ago New Zealand sailors hadn't heard of Bavaria let alone experienced first-hand the sumptuous and roomy interiors that are part and parcel of modern European yacht design. Interestingly, the Bavaria 44 has been the biggest seller in New Zealand, which says something about the sort of buyer looking to move into a new production yacht.
Although German-built, Bavaria yachts are something of an international melting pot of technology. They are designed in Slovenia (J&J Yacht design), carry Elvstrom sails from Denmark and Selden spars from Sweden. The winches are from the US (Harken), and much of the deck gear is from the UK. It is almost fitting, therefore, that the first Bavaria 41 to enter New Zealand should be named Copplestock by her owners, after a small town in Holland.
The Bavaria 41 replaces the Bavaria 40, which was withdrawn from production in July last year when Bavaria released an updated model range for the new millennium. The new designs have seen, among other things, increased waterline lengths, taller rigs and deeper keels - refinements to increase sailing performance without compromising the yacht's appeal as voluminous and comfortable ocean-capable keelers. The Bavaria 41 is an excellent example of modern yacht design and a worthy proponent of Bavaria's way of thinking when it comes to long-range cruising yachts. The new 41 imparts a genuine sense of liveability with its three large private cabins, twin heads, generous saloon and a cockpit big enough to swallow up the biggest crew - all in a package manageable enough for a couple to head off for a day, a weekend or an extended South Pacific cruise. Ocean cruising aspirants can take heart from Bavaria's build quality and the many thousands of ocean miles sailed by Bavaria owners around the world. Even in New Zealand, owners have sailed their boats hard and without incident. Notable achievements include a division win in the recent Auckland to Musket Cove (Fiji) Yacht Race by the keenly campaigned Bavaria 44 Bavarian Wave. Even as we speak, a New Zealand couple is cruising the Med in their new Bavaria 41 and plan to sail home via the South Pacific.
Much has been written about Bavaria's construction by boat building experts and they have generally received favourable reviews. The only criticism is the quality and finish of internal joinery, which, being kitset, is not perhaps to the same level as that found in custom-built yachts. That said, the overall finish is pleasing to the eye and the attention to detail is obvious. So, although there might be a little more filler in places and few less wooden plugs than what we are used to, value-wise it would be hard to beat a Bavaria.
A love of mahogany will also go a long way, too, because when it comes to choice - well there is none. It's mahogany or ... mahogany. While some might find the overall look a bit too rich - or dark - it is nothing that a few colourful prints or scatter cushions won't fix. Structurally speaking, Bavaria hulls and decks are robust and solid and have stood the test of time. As a test of strength, Bavaria recently drove one of its yachts over logs, oil barrels and then into a rock wall. What's more they did it three times. The crash-test hull came away scratched, but unscathed. And in a separate incident in the UK, a Bavaria 38 was T-boned by a runaway army barge that took out two wooden piles and a jetty before coming to a rest. The yacht survived to sail another day with little more than cosmetic damage. All Bavaria hulls are hand-laid in solid glass to the waterline with a GRP/closed cell foam sandwich topsides and decks. Aramid cloth is used in forward sections for additional strength. A structural grid and GRP stringer support the rig and keel loads and all bulkheads are glued in and glassed to the hull to strengthen the entire hull structure. Bavaria also uses solid stainless steel chainplates thru-bolted to oversized knees.
The real beauty of the Bavaria lies in its internal hull dimensions and layout, which includes a two- or three-cabin option. And the cabins are true cabin size, with full-standing headroom, hanging lockers and drawers and opening hatches for cross-flow ventilation. The cabin berths are a genuine double with enough storage and light to make them a nice place to retreat from the midday sun. If entertaining is more your style then the Bavaria 41 will not disappoint with its large galley and saloon table complete with island settee. Unlike some designs, the galley runs the full length of the saloon giving excellent bench space. A 12-volt fridge/freezer is recessed into the countertop with a three-burner oven, twin stainless sinks and counter to ceiling storage lockers. While modern, Bavaria's designers have recognised that ocean-going mariners still like to mark off the day's run on a chart and to this end sailors will appreciate the full-size chart table on the starboard side immediately inside the companionway. The electrical switch panel and circuit breakers are set in against the starboard hull and there is ample room to mount radio gear and instrument repeaters in the mahogany facia above the chart table. Showering is often a hit and miss affair on yachts of this size, but again Bavaria's designers have got this facet of liveaboard cruising well-sorted with a user-friendly cockpit shower that runs off both engine and shore power. And while there are two heads, one aft and one in the forward cabin, Bavaria has resisted the temptation to put showers in both, reserving a full-size and fully moulded cubicle for the aft head. The yacht carries an imitation teak and holly sole that looks the part, but was a bit squeaky in places. There are no such problems overhead with a well fitting and fully moulded headliner that will retain its looks and colour for years. The forward cabin has a standard double V-berth with hanging locker and drawers. It is the cabin of choice when retiring at anchor, but the aft quarter cabins would be my pick in a seaway. The 41 is also available in a two-cabin layout, which means a stately sized double aft. Two or three cabin, the new 41 is a big boat by anyone's measure with accommodation for six to eight people.
It was that volume and comfort that attracted Maartin and Wendy Blind to the Bavaria 41. Both keen weekend cruisers, they were finding it increasingly difficult to squeeze the extended family onto their trusty Farr 1020. Something had to give. Maartin viewed the 41 at the Sydney Boat Show last year and, after looking at other brands, decided the Bavaria offered everything required of a gulf cruiser with the potential to cruise offshore if and when the mood should strike.
Meanwhile, they plan to use Copplestock for weekend cruising until the weather breaks when you'll probably find them swinging on the anchor at one of their favourite spots on the Coromandel coast.
Words and pictures: Steve Raea
SPECIFICATIONS
Design: J&J Design
Construction: GRP/Closed cell foam
Length overall: 12.55m
Waterline: 11.05m
Beam: 3.99m
Draft (shoal): 1.70m(deep)2.10m
Displacement: 8300kg
Ballast: 2550kg
Engine: Volvo Penta 55hp
Water capacity: 300 litres
Fuel Capacity: 150 litres
Price as tested: $NZ350,000
Boat supplied by: International Marine Brokers, 127 Beaumont St, Westhaven, Tel (09) 366-6170, www.internationalmarine.co.nz, E-mail: info@internationalmarine.co.nz
Keep up to date with news from Trade-A-boat or like us on Facebook!