Beneteau First 36.7
---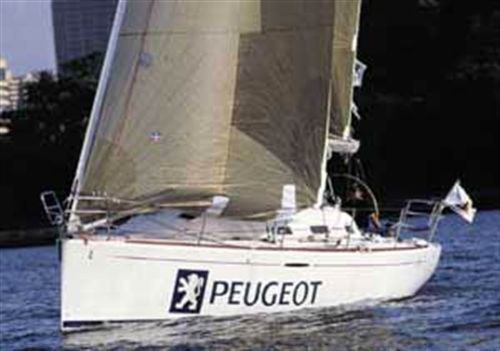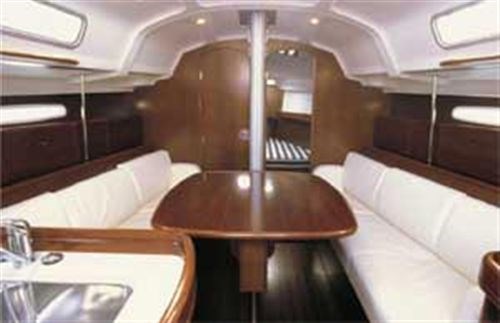 The latest model in Beneteau's First cruiser/racer range looks set to follow the successful path carved out by its larger, Farr-designed sisterships. Vanessa Dudley reports.
When you're on a good thing, stick to it. That sums up the approach taken by major French boatbuilder Beneteau with its recent First models.
And who can blame the company, given the runaway success of the First 40.7 model it introduced in 1998.
The Farr 40.7 bears the highly-regarded Farr Yacht Design stamp and offers a sophisticated approach to the challenge of combining racing performance with interior comfort. The boat sold like hotcakes and notched up many major regatta victories in the hands of serious campaigners like Sydney's Neill and Simon Whiston, both within Australia and overseas.
As a high displacement boat with low stability and its longitudinal centre of buoyancy aft, the boat proved to be favourably handicapped under the International Measurement System (IMS), as well as receiving a generous dynamic allowance (for pitching) associated with its cruiser/racer status.
Modifications to the IMS have whittled away this handicap advantage, but the 40.7 continues to feature amongst the placegetters at major local events, where there are also now sufficient boats for keen class rivalry within the IMS or IRC fleets. An astonishing 29 of the boats have been sold into Australia.
Next came the First 47.7, introduced in 2000 and again carrying the Farr Yacht Design cachet. With its spacious and well-equipped interior, the 47.7 attracted a more cruising-orientated set than the 40.7, although it has figured in European regatta results and can frequently be sighted around the twilight and weekend club racing tracks. The fact that local sales are up to 17 seems just as astonishing as the volume of 40.7 sales.
Having re-read my review of the 40.7 upon its Australian release, I'm embarrassed to confess that my reading of the boat's potential was lukewarm.
"It would be unrealistic to expect a yacht with all this interior and a compromise rig to beat more racing orientated boats of similar size," I said, while also sternly advising the importer to foster the development of one-design class racing.
Time has borne witness to the success of this style of production cruiser/racer, now such a dominant force (think also IMX 40, Jeanneau Sun Fast 40, Grand Soleil 40).
What also strikes me is how much our expectations of racing yachts have changed during the four years since then. I praised the boat for the lack of running backstays on the sweptback spreader rig, a feature which most crews simply take for granted these days.
There is every reason, then, to expect that the Beneteau First 36.7, designed by Farr Yacht Design as a baby sister to the 40.7 and the 47.7 and released this year by Beneteau, will be another big hit. In the United States it has already been named the 2002 Sailing World Magazine Boat of the Year in the Best Value category.
Beneteau - Vicsail reports high interest with Australia, with seven orders already taken.
The one fly in the ointment on the local scene may be the phenomenal growth of the Sydney 38 one-design class, particularly in Sydney, the biggest Australian market for production cruiser/racers. Although the Sydney 38 offers a different package, with its greater emphasis on class racing, big cockpit and less interior space and comfort, it nonetheless provides an attractive alternative in this size range for more performance-orientated buyers.
The 36.7 is more likely to appeal to owners who do want to fit in some comfortable holidays afloat with family and friends, and are either not ready for or interested in the heat of one-design battle.
Little sister

Imagine a slightly scaled down First 40.7, and you have the 36.7. Vicsail managing director Brendan Hunt describes the boat as "a very conventional 37-footer". Nonetheless it offers a fresh, modern production version.
Again there is the three double cabins, one bathroom, plus saloon with nav station to starboard and galley to port interior layout, offering a surprising amount of space for a 37-footer.
The interior looks good, with cherrywood veneer panelling, white liners, white leather-look settees and blue and white furnishings.
The galley has all the facilities you would expect, including hot/cold pressurised water supply, twin sinks, stove and oven and 12v 90lt fridge.
The deck layout is also similar to the 40.7, again incorporating features such as aft cockpit seat/locker mouldings that can be removed to make more room for crew work when club racing.
One change, however, according to Hunt, is that the 36.7 has been configured with the IRC handicap rule in mind, reflecting the shift in fleet sizes towards this simpler rule, away from the IMS. The impact of this changing focus is a relatively smaller sail area, although the rig configuration is again fractional with sweptback spreaders, a powerful backstay and overlapping headsails. The anodised aluminium mast is keel-stepped.
While the 40.7s use a hydraulic Navtec backstay tensioning ram, the 36.7 rig is small enough to control with a highly-purchased block and tackle backstay arrangement, leading to each side of the cockpit within easy reach of the driver and mainsheet trimmer.
Like the 40.7, the 36.7 has a solid fibreglass hull which is strengthened by an integral fibreglass structural hull grid. The deck is GRP/balsa sandwich.
Peugeot power

The first 36.7 to arrive in Australia has been sponsored by Peugeot Automobiles Australia for a racing campaign. Races include the Cruising Yacht Club of Australia's Winter Series on Sydney Harbour, the Sydney to Southport Race, the Hahn Premium Race Week in Hamilton Island and the popular Beneteau Cup, already sponsored by Peugeot.
Soling Olympian Neville Wittey is skippering the boat, which is set up with Lewmar deck gear and racing sails from the Sydney Ullman loft (using Contender AKS Kevlar scrim laminate cloth for the working sails).
According to Brendan Hunt, all 36.7s brought into Australia will, like Peugeot Racing, also have the IRC configuration, full race version with deep keel and S-glass rudder (a lot of work has gone into this area since several Australian 40.7s suffered rudder shaft breakages).
Fast drift

There wasn't much wind for our test sail on Sydney Harbour but enough to discover that this is a responsive, easily manoeuvred craft that is quick to accelerate and fun to drive.
The steering seems more direct than that of the 40.7, requiring less work at the wheel to keep the boat tracking straight. In fact, the helm is so light that you need to keep concentrating on the job or it's easy to lose track. Perhaps with more breeze the helm becomes more positive.
The deck gear all worked smoothly, allowing us to set and dip-pole gybe the spinnaker with only three onboard. This would be a manageable boat for a two-handed crew, but judging by its response to the gusts, it will race best with plenty of crew on the rail upwind. Nev Wittey said he has been experimenting with crew numbers, so far finding six to eight pretty good.
New wave

According to Brendan Hunt, the Beneteau First 36.7 seems to be attracting a new wave of keelboat buyers - people who are moving up from sportsboats and big trailer sailers like the Noelexes, as well as from smaller First models like the 31.7 and the 33.7. He sees it as "a perfect Pittwater to Coffs Race boat".
The pricing seems competitive for all the boat has to offer above and below decks, and given the success of the 40.7 and the 47.7, there's every reason for Beneteau to keep sticking to such a good thing.
Highs
Three double cabins and a spacious saloon provide impressive comfort and amenities for a 37-footer.

Strong bloodlines (First 40.7 and 47.7).

Deck and cockpit layout works efficiently, drawing on experience with the previous models.

Steering is very responsive and direct.
Lows
Overlapping headsails provide good horsepower in light airs, but are starting to seem like a hassle in this era of non-overlapping jibs.

Light coloured settees seem impractical; other options are available.

Don't expect a big bathroom.
Specifications
Price as tested: $A300,000
Options fitted: Racing sails and electronic wind/speed instruments
Priced from $A272,000
General
Material: GRP hull, GRP/balsa cored deck
Type: Monohull
Length (overall): 11.0m
Length waterline: 9.23m
Beam: 3.45m
Draft: 2.2m
Displacement: 5870kg
Ballast: 1785kg
Capacities
Berths: Six/Eight
Fuel: 75lt
Water: 300lt
Engine
Make/Model: Volvo Penta
Type: Marine diesel saildrive
Rated hp: 28hp
Sail Area
Mainsail: 38sqm
Genoa: 40.5sqm
Spinnaker: 90sqm
I: 14.15m
J: 3.97m
P: 13.85m
E: 4.75m
Supplied by: Beneteau - Vicsail, Rushcutters Bay (NSW), tel (02) 9327 2088.
Keep up to date with news from Trade-A-boat or like us on Facebook!