Benny 53
---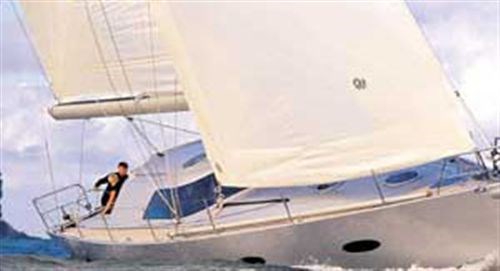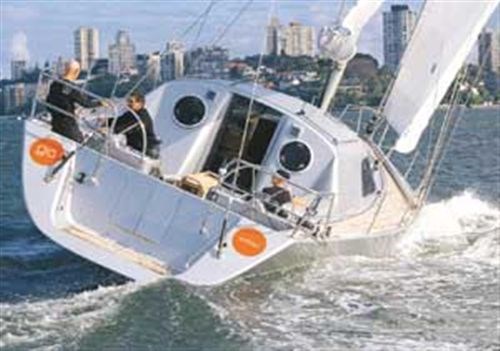 The epitome of design, the Benny 53 go offers the same level of style and comfort as a Sydney penthouse.

Every now and then a new yacht hits the water that raises the bar in terms of design, look and feel. The recently launched Kiwi-built Benny 53 go is one such yacht. Whether you're a traditionalist or not, the yacht's imposing gunmetal grey hull and futuristic cabin top structure demands attention. Not since the launch of the charter cat Earthling has a boat demanded such close scrutiny. For those familiar with modern yacht design, it is not hard to deduce that New Zealand designer Greg Elliott has had a hand in there somewhere. In some respects, the overriding design philosophy applied in the creation of go can be seen in Elliott's recent 1250 Tourer production designs (TAB August) that are finding such favour in the Australian market.

Why then does the yacht carry the design tag Benny? Enter Australian businessman John Cameron and his partner Annie Laurence. Cameron and Laurence are long term Sydneysiders and have built up successful businesses, Cameron in IT and Laurence in pathology. After years of hard work the call was made to put down the tools and take time out to travel. And what better way to travel than by yacht. Sailing has always been Cameron's passion, and when time allowed, he could be found racing his Etchell Class day racer around the buoys of Sydney Harbour. Laurence, meanwhile, was not a sailor. Despite some initial hesitation, she bought into the dream and together the search for the perfect boat began.

Being a sailor, Cameron's initial criteria was for a fast, well-mannered and easily managed yacht capable of being sailed to its near-maximum potential two-handed. It was a big ask. Laurence's needs were similarly demanding. Despite having spent little time on yachts, she was clear about one thing. The boat had to offer the same level of comfort and style that she would reasonably expect in an up-market Sydney penthouse apartment. The sea views were a given, but the rest of her criteria was going to be hard to find. The ensuing search for the perfect boat was a harrowing exercise. While Cameron's need for performance could be met in several existing designs, his requirement for short-handed sailing ability could not. Fast boats need crew and there was no room for crew in their sailing schedule. Laurence, meanwhile, found nothing that came close to her requirements. She didn't want companionways, stairs or dark mahogany-lined cabins tucked in under the cockpit. She wanted an open plan layout where, as a couple, they could enjoy the whole boat without having to shut themselves away in pokey dark spaces.

It quickly became obvious that they were going to have to design their own perfect yacht, but as they both concede, neither was a naval architect. It was while strolling the piers at the Sydney International Boat Show that they found the yacht that most closely matched their needs. And that was Elliott's recently launched 1250 Tourer design. The pilothouse layout drawing the cockpit into the saloon on a single level was what Laurence had been envisaging. For Cameron, the performance aspect of the 1250 with its moderate displacement, fine entry and powerful aft sections suggested that Elliott was their man. They had found the perfect platform on which to model their perfect yacht.

Elliott's philosophy is to design boats that sail and sail fast. And while he is not the only designer to achieve that goal, he has proved time and again that he can design performance into boats that does not require a crew of rock stars grunting on the rail to get the right numbers. Many of Elliott's offshore racing successes have been two-handed events such as the recent Round the North Island Yacht Race and the Melbourne to Osaka Two-Handed Classic.

Elliott's design brief was to create a sea-kindly and stylish yacht capable of easy 200-mile days, yet with enough internal volume to carry a full compliment of cruising gear including bicycles, tenders, dive gear and the like. The boat had to have a lifting keel, providing deep draft for efficient offshore sailing yet shoal draft for marinas and anchorages. The systems had to be simple and efficient and include a furling headsail and main, remote anchoring and a serious electronics package including fail-proof self-steering systems. While the requirements for volume were well established, it had to be remembered that the boat was only going to be sailed by two people and therefore could not be too big. Between Elliott, Cameron and Laurence, an overall length of 53ft was set and all systems were go.

While Cameron had settled on a design that met his criteria, it was then Laurence's turn to create an interior - and create she did. Go boasts perhaps the most innovative and stylish interior I have ever seen on a boat of this size. The brief was for open plan living with wide-open spaces within the confines of the hull shape. Oh, and a full-length, deep-sided bath.

While the concept was there from day one, Laurence chose to commission top Sydney designer Ian Halliday, of the firm Burley Katon Halliday, to draw it up. Halliday was employed to design, among other things, two Sydney apartments for Cameron and Laurence and they loved his work.

Halliday's brief was to maximise interior volume with the extensive use of curves and modern, almost futuristic materials. There is not a scrap of mahogany or teak anywhere, but plenty of highly polished stainless steel. Halliday was further assisted from a design point of view by the simple fact that he was designing a boat for a couple and not a crew. No doors required.

While not a boatie himself, Halliday says he has always admired boats for their elegance and their craftsmanship.

"I love the whole pared-back quality of fast yachts. The problem as I see it is that traditionally, interiors do not match exteriors. Far too much is usually asked of the physical shape available. "People try to cram too much into the interior and you tend to end up with something that might be very nicely crafted, but is very often very hard to look at or to live with."

Accordingly, the approach to the Benny 53 has been to produce an interior that complements the elegance and functionality of the exterior. This first required an examination of what boats of this nature are principally used for.

"Most of the time, a boat of this type is sailed by two people. So the real question is how to best make use of the space for the way the boat will be used 90 per cent of the time while maintaining the ability to accommodate occasional guests."

The answer was to create an interior layout taking full advantage of the spacious pilothouse with its panoramic views from the lounge, dining and galley areas. For the accommodations, there are two permanent cabins, one forward and one aft.

Then, by introducing a system of hinged bulkheads, two additional temporary cabins can be created by closing off sections of the passageway to the forward cabin.

Halliday says the overriding objective of providing space and light was greatly assisted by Elliott's design, which is unusual in so much as the cockpit and pilothouse floors are on the same level. This integrates the inside and outside areas while providing open sightlines throughout the boat.

Go's main living area is the saloon that flows in from the cockpit. The overwhelming impression on entering the saloon is the amount of natural light and unrestricted visibility from the wrap-around saloon windows and overhead opening hatches. The galley is immediately to port and runs lengthwise along the hull. It features a brushed stainless steel bench top with twin sinks and every conceivable appliance including gimballed Italian stove, trash compactor and microwave. The saloon is divided into two distinct yet seamless spaces by an oval, stainless steel island-style bench top bar, which houses the fridge while providing useful and usable galley storage. A separate freezer is cleverly located in the sole and accessed through an oval opening. To starboard of the island bench top is the main settee, which hugs the topside contour like a glove. An oval dining table finished in Euro-beech veneer and relocatable drop-in bar stools completes the saloon. The nav station is immediately forward of the galley and features a curved timber bench top cum navigation table. A day head, shower and washing machine is located on the port side just inside the saloon, and opposite to starboard, the primary guest cabin. The view forward from the saloon is directly forward into the master cabin in the bow, obstructed only by the shapely stainless steel casing for the drop keel. To port of the casing is another guest cabin/storage area that features doors that swing out 90 degrees and butt into the keel casing, thus giving privacy both forward and aft. Directly opposite is Laurence's bath which, when not in use, doubles as a comfortable single berth. This again is hidden behind swing doors that lock into the keel casing. Forward and to centre is the main shower. This is an artwork in itself - round and made of safety glass; it provides a stunning view through the many deck hatches overhead. Cameron and Laurence's queen-size island-style berth is set low in the forepeak and set off with oval viewing hatches set low in the hull. The internal layout is simple yet ingenious and is testament to the fact that in the case of go, less is definitely more. Moreover, it works.

Cameron and Laurence have now sailed more than 10,000 miles together in go, making a successful double-crossing of the Tasman and, more recently, a circumnavigation of New Zealand. Their comment: brilliant. Perfection, however, is illusive and together they have combined forces with Elliott once more in the creation of their second Benny, a very similar but slightly larger yacht measuring 54ft. The new yacht, due for delivery later this month, will take them around the world. Construction is as per go with a carbon, e-glass and epoxy lay-up. It will feature the same aluminium runner-less rig with swept spreaders. Go is now seriously for sale and is being marketed by Terry Needham's new company, All Boat Brokerage and carries an asking price of $1.6m plus GST.

Words: Steve Raea. Pictures: Sharrin Reess/Andrea Francolini.

 

Keep up to date with news from Trade-A-boat or like us on Facebook!