Breezecraft Sports Catamaran 4.1m
---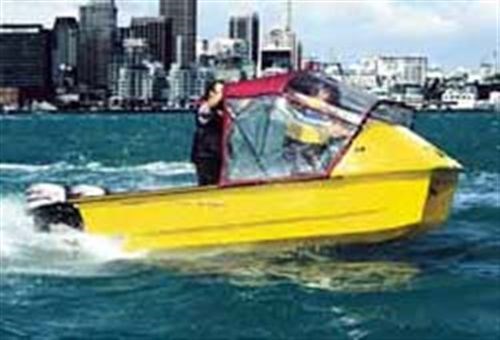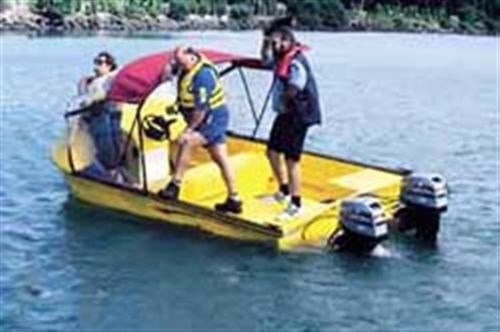 Breezecraft have added a 4.1m sports catamaran to their range of moulded polyethylene boats. Geoff Green took one out for two runs on a choppy Auckland harbour.
Charles and Sharon Bree build the Sports Cat in their Mercer factory adjacent to the Waikato River. Charles says he has been manufacturing rotationally moulded polyethylene boats for about 15 years and Breezecraft recently bought new premises beside State Highway One to allow further expansion. My first contact with the brand was five months ago when I reviewed their 4.9m dory.
The Sports Cat is 4.1m (13ft 6in) from the bow to the aft edge of the engine brackets. The useable interior space is carried well forward and this, coupled with the boat's relatively wide beam of 2.15m (7ft), develops generous internal space for the boat's size.
Charles says it was designed to provide a wide, stable platform and carry a large load.
The review boat was the first out of the steel mould and the owner selected twin 25hp electric start Mariners to power it. The engines are mounted close to the centre line of each hull and this gives wide thrust separation and excellent manoeuvrability. There shouldn't be any difficulty placing this boat alongside a wharf or floating dock.
Each engine has its own tote tank and they share a single starting battery mounted against the transom in the centre of the boat. Manual-start backup on each engine provides operational independence should the battery let you down and Charles says the safety aspects of a twin rig are a major plus for many prospective buyers.
He says the boat can also be set up with a single, centre-mounted engine and it will easily take a 40hp or 50hp model. "The cost analysis of setting up a twin rig versus a single engine favours the twin installation if you add an auxiliary engine and bracket into the equation. With independent twins you don't need an auxiliary engine."
The boat shown was set up as a general-purpose family runabout but Charles says the boat can also be set up in various combinations suitable for various types of commercial work and recreational pastimes. "With a centre console unit and no foredeck moulding the boat is ideal for commercial netting. The net can be run in and out over the smooth surface of the bow and be stored across the boat with the floats in one hull and the weights in the other.
Fly fishermen are also showing strong interest in the boat. "The height of the second chine matches the height of the tunnel and this allows us to install a raised floor that runs from the bow to the stern and from side to side. Fly fishermen think the single level floor combined with the boat's stability makes it an ideal fishing platform.
"Duck hunters are also interested in it as a mobile maimai and we are producing one in camouflage colours for this purpose.
The Sport Cat's hull is constructed of a single skin, one-piece polyethylene moulding with an average thickness around 12mm. Charles says it's a lot thicker along the chines and keels. "Polyethylene is able to absorb impact better than fibreglass or aluminium and it produces a tough boat that is able to combat rocks, docks and divers," he says.
Polyethylene is a naturally buoyant material but, to ensure there is enough reserve buoyancy to float the passenger load and engine should the boat be swamped, airtight boxes are fitted in each stern quarter (the tote tanks fit under them). The full width seat that straddles the tunnel is a sealed unit and two buoyancy chambers are also bolted under the engine bracket.
During last year's outing with the 4.9 dory, Charles said, "We are aiming at the hard wearing end of the market, not the flash high gloss segment. The boats are built to be operational work horses through to comfortable pleasure boats with a focus on reserve buoyancy and long life."
His comments also apply to the Sport Cat and so does one that I made; that the boat's appearance is somewhat agricultural. I use the term because the Sport Cat appears to be strong, reliable and functional, just like a piece of hard working farm machinery. The chunky components, big tolerances and basic construction methods confirm this style.
Out on the water I was at a bit of a loss to compare the Sport Cat with a similar design. As far as I am aware there isn't another boat like it on the market. To gain some perspective I compared it with my nine-year-old Allicraft. It's a full-bowed tinny the same overall length as the Sport Cat and it was designed with similar load carrying ideals.
I have to say the Sport Cat has superior interior space, it is much more stable, rides better in a chop and would probably outlast the Allicraft if I gave it identical rough water beatings. The Allicraft's full bow makes it wet, but I think it's drier than the Sport Cat, which also carries the hull volume and passenger weight well forward. And it has two bows to generate twice the spray.
The price of a basic Sport Cat hull is $5995 including GST. For this you get the hull, foredeck moulding, main seat, steering console (but no steering), rear buoyancy boxes and an engine bracket to suit your twin or single engine selection. The review boat was privately owned and it had numerous factory extras fitted. These included a windscreen, canopy, navigation lights (though the side lights needed packers under them to make them comply and I didn't see an all round white light) anchoring system, twin bilge pumps, carpet, various hatches, VHF and depth sounder. All up, including the road-ready galvanised trailer, the package retails at $19,800 including GST.
I found sitting to drive the Sport Cat was most comfortable if I sat off to the throttle side of the central console so that I could place both feet within one hull (otherwise you have to straddle the tunnel with your feet).
As with all small boats, it was more comfortable to stand in rough water. Back at the dock I had Charles Bree, Bill Poole (Breezecraft's sales manager) and Nigel Wallis (the boat's owner) stand on one side to demonstrate the boat's stability. The photo speaks for itself and you would probably have to select a pontoon design or inflatable to get better stability in the same size boat.
Specifications
LOA: 4.1m
Beam: 2.15m
Weight: 225kg basic hull, foredeck, seat and bracket.
Rec power: 25-50hp
Price: $5,995 incl GST. Includes hull, foredeck, seat, aft buoyancy boxes and bracket to suit engine selection.
For more information contact: Breezecraft Ltd, PO Box 204 Pokeno, Ph 09 232 6500, Fax 09 232 6547, Email: defa@pop.ihug.co.nz
Keep up to date with news from Trade-A-boat or like us on Facebook!