Breezecraft Tuff Cat
---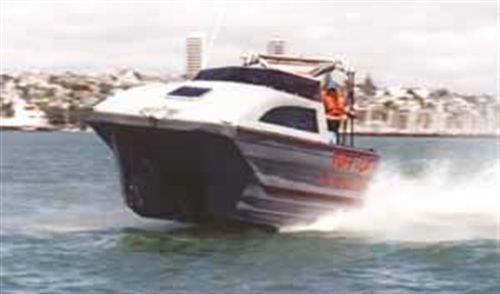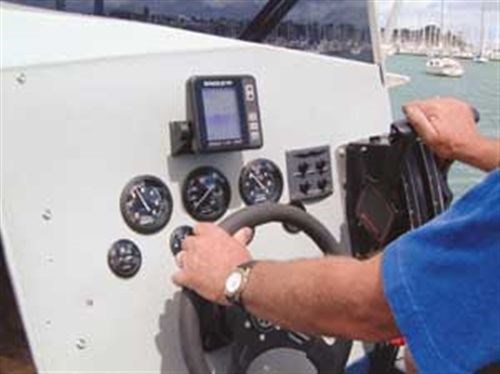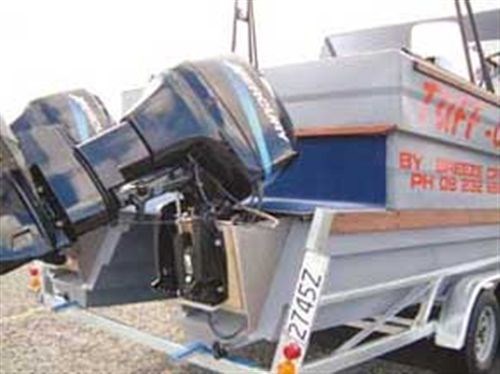 Robust construction and pragmatic design are the dominant features of the latest and biggest catamaran to roll off the Breezecraft production line - the 6.3m Tuff-Cat. It's bound to attract interest from the fishing and diving fraternity. Lawrence Schäffler reports.
Auckland's Breezecraft specialises in polyethylene boats, a tough material indifferent to arguments with jetties, beaches and rocks. The company uses a rotational moulding process for construction, where the polyethylene (supplied in powder form) is heated and allowed to form as one piece inside a steel mould.
The Tuff-Cat, says Breezecraft managing director Charles Bree, is a direct response to market feedback.
"It follows on the success our of earlier [4.1m] catamarans, and has been designed to maximise functionality, to optimise space on a trailer boat, to offer stability and provide a soft ride."
Those objectives have all been achieved with the Tuff-Cat. With a 2.4m beam, she offers an enormous (and very stable) aft deck area, ideal for landing snapper, wrestling into dive gear, or simply lying back and watching the sunset. A semi-enclosed cabin extending all the way to the bow complements the aft deck. It contains three seats/bunks in a U-configuration and a fold-down table in the centre. Under each seat is a vast storage area. The Tuff-Cat's construction comprises four separate, moulded sections bolted together - the two pontoons, the deck and the cabin. And it is the pontoons' design that immediately catches the eye. Defying traditional lines, the bow entries are relatively blunt and sheer.
"Our experience shows the cats are better at going over the waves rather than through them," says Bree. "So we provide more buoyancy up front."
What the pontoons lack in conventional styling is more than compensated for by the ride. We took the Tuff-Cut out on Auckland's Waitemata Harbour where a two-day-old, 25-knot southwesterly and a counter-current had brewed a vicious chop. At 40mph, with the twin Mercury 90s turning over at 5,200rpm, the chop's effect was insignificant. The ride was smooth and relatively quiet, with no hint of the mind-numbing pounding evident in many mono-hulls.
The boat climbs on to the plane very smartly. In fact, you could argue the Mercury 90s are even a little excessive and she would perform equally well with a pair of 50s.
"We fitted her with the 90s largely for convenience," says Bree. "The boat's designed to have the power delivered further down and the 90s are fitted with a long shaft as a standard feature."
Though not a standard feature, 50hp Mercurys are available with long shafts.
Robust
But perhaps the Tuff-Cat's most striking characteristic is its robustness and pragmatic, spartan styling, a clear statement that this boat is built to be used rather than pampered. For example, the 15mm polyethylene hull eliminates any concerns about the aesthetics and vulnerability of a gel-coat. So exploring hard-to-reach dive spots in rocky coves is a much more realistic proposition.
"They're built to be knocked around," says Bree.
That tough, no-nonsense philosophy extends to every feature of the boat.
Hydraulic steering (supplied by HyDrive) keeps the twin 90s under strict control and saves your arms for fighting kingies.
It applies equally to the cabin's simple, cutaway entrance, the timber rubbing strakes, the easy-to-lift-and-clean carpeting and the down-to-earth seat/bunk arrangement that sleeps four soulmates in comfort.
With clip-on side covers for the Bimini, and a plastic entrance cover to keep wind and moisture out of the cabin, the Tuff-Cat is a good overnight boat.
Large windows set into the side of the cabin account for its light and airy sense of space. A forward-opening hatch near the front also funnels in fresh air when the smell from your soulmates' socks becomes overpowering.
Flexibility
The Tuff-Cat was designed around the needs of fishermen and divers, and the production line environment notwithstanding, prospective customers are offered a reasonable amount of flexibility in specifying the vessel's look and configuration.
For a start, hull colour is simply a matter of choosing the required shade of polyethylene powder. Likewise, colour options for the Bimini cover are limitless, and its framework can be either stainless steel or anodised aluminium.
The standard boat is equipped with a single (pedestal) driver's seat, but any seating configuration can be fitted to the aft deck. It's not difficult to imagine a pair of gamefish fighting chairs, for example, or two thwart benches. With the single seat, the aft deck area is particularly well suited to dive operations. The Tuff-Cat's stability allows divers to kit up without fighting to maintain balance. A step-through section in the transom leads onto a large dive platform that sits comfortably between the motors.
Standard items supplied with the boat include a stainless steel Danforth anchor with warp and chain, twin rod holders, a folding Bimini, a windshield and a galvanised, twin-axle trailer. Instruments and electronics include a VHF, a fish finder (Eagle Fish ID 128), Mercury's array of rev counters, fuel, speed and temperature gauges - and running lights.
Bree says extra options are being developed for the Tuff-Cat. Future models, for example, will have fuel and freshwater tanks built into both pontoons, giving the boat a 250-litre capacity of fuel and a similar supply of water. The boat's current fuel supply is stored in twin tote tanks. An electric windlass and an anchor locker are also planned.
So, if you're tired of pussy-footing your way around rocks and coves to get to those awkward holes where you just know an entire colony of crays has been living in innocence since time began, you might want to consider using a Tuff-Cat. Hell, if all else fails, you could probably drive over the rocks to get really, really close.
Specifications
Breezecraft Tuff-Cat
Length: 6.3m
Beam: 2.4m
Motors: 2x Mercury 90 hp
Hull weight: 1,200 kgs
Hull thickness: 15mm
Deck thickness: 12mm
Cabin thickness: 10mm
Trailer: Twin axle, galvanised (R&B Engineering)
Keep up to date with news from Trade-A-boat or like us on Facebook!