Buccaneer 550 Billfisher
---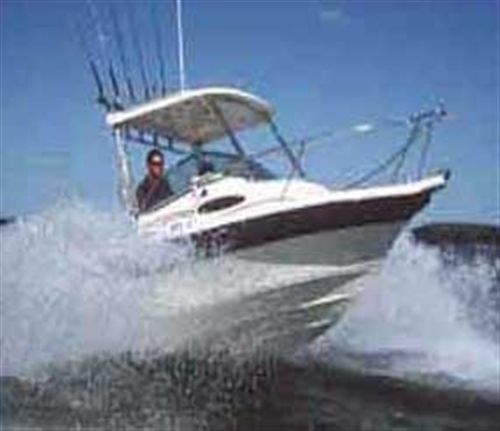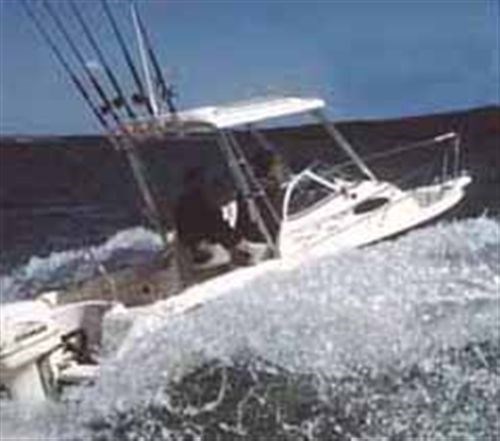 The Buccaneer 550 Billfisher is the smallest in Buccaneer's walk-around range. Geoff Green took one fishing on a brisk, blustery spring day.
This review grew out of an inquiry for a boat. I wanted a capable photographic boat for Trade-A-Boat magazine, a fishing boat that I could use it to support Bluewater Boats and Sportfishing magazine on a good day, and a boat I could entice my wife out in so I could enjoy her company during the many weekends that I work. And because all businesses need to contain their overheads, it had to be reasonably economical to buy, run and tow.
ROUGH WATER ENCOUNTER
I took the 550 Billfisher for a run immediately after the September weather bomb that demolished buildings in Turangi, inflicted central-North Island trampers with sub-zero hypothermia and blew boats from their Auckland moorings. As Kevin Sharp, service manager at OMC, wryly commented as we approached Motuihe Channel on the outward leg, "this is going-home weather."
It was a telling trip because much of the rough water we encountered was white-capped, stand-up-ish and steep. I have to be honest, on occasions we zigged and zagged to best advantage, but even when we did, we made great progress and in one instance covered more ground than the fast-cruising Deodar II (Auckland's Police launch) that was headed to the same destination.
The wind dropped away by mid afternoon but returned unexpectedly with a strong statement later in the day. Choppy white-capped waves were very much in evidence as we made our homeward approach to Music Point and I was taken at how easily we covered the ground at a relatively fast 22/24 knots. The boat rode well and the foam buoyancy that fills many of the underfloor cavities dampened the noise. Weight was also a factor in our rapid progress, for the 550 is not a light boat for its size. A lot of fibreglass goes into the walk-around deck and cockpit liner mouldings and the 550 Billfisher weighs around 150kg heavier than the cabin boat built on the identical hull (550 Classic). The weight is beneficial in that it settles the boat at rest and smoothes out progress in the rough. The downside is that a touch of speed is lost off the top end.
STYLE AND PRACTICALITY
The 550 is a relatively small boat to carry a hardtop, although it does it with style and practicality. Being a deep vee (23 degrees), and with the additional windage and weight of the hardtop, some buyers may consider fitting trim tabs. The review boat did not have them but the boat responded well to trimming with the passenger load.
The 550 Billfisher's walk-around decks pitch it directly at the fishing market but I value them for many reasons other than fishing. They make moving forward quick and easy and this leaves the cabin a cul-de-sac so you don't have to rearrange gear to get forward when anchoring. With no foredeck hatch, it also means the side decks are the only option to go forward when anchoring, but this is no hardship. The anchoring chores were allocated to me twice during our trip. The (optional) winch took the grunt work out of the job and it was easy to kneel with one knee on the deck-switch and feed the rope into the locker.
The walk-around also makes standing forward a viable proposition when exploring backwaters or shallow areas and they make transferring to wharves, jetties and other boats a breeze.
The helm area is comfortable and you don't miss the space allocated to the side decks, although clearly the helm area is not as wide as similar-sized cabin or runabout versions. There is comfortable space for two big men at the helm and I really appreciated the headroom under the hardtop. Despite the occasional aerial routine in the 550, my spine remained unchallenged from either end.
And while the walk-around concept targets fishermen, the 550's finish and layout is also conducive to family boating (although only three seats are provided). The side decks don't eat into the cabin space a great deal and it features a good-sized vee berth that will sleep two average-sized adults and it has provision for a portable or flush toilet under the centre squab. It has sufficient good quality upholstery and teak detailing to make it an attractive and comfortable boat and I know my wife would feel at ease in it.
ALL-ROUNDER
I think it's a capable and comfortable boat and after spending a long day in it, I'm comfortable with the summary I used in the opening paragraph. It is man-enough to go the coastal fishing distance and out wide on a good day, it presents nicely to wives and family and its relatively economical to run.
SPECIFICATIONS
Buccaneer 550 Billfisher
Length (overall): 5.91m
Hull length: 5.49m
Beam: 2.3m
Deadrise: 23°
Rec/max hp: 115-150hp
Fuel: 165lt
Keep up to date with news from Trade-A-boat or like us on Facebook!