Buccaneer 735 Exess
---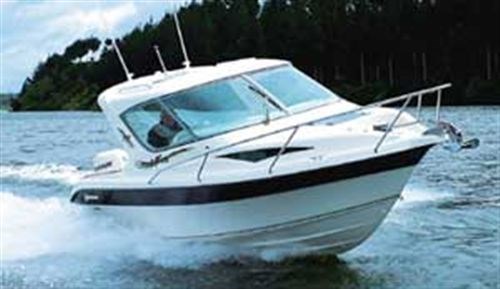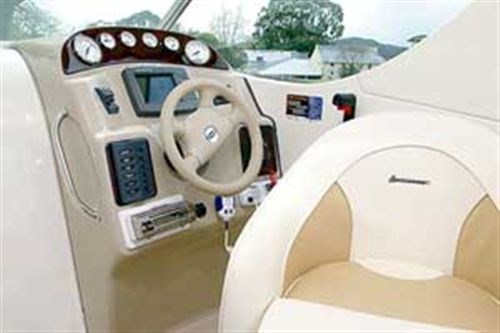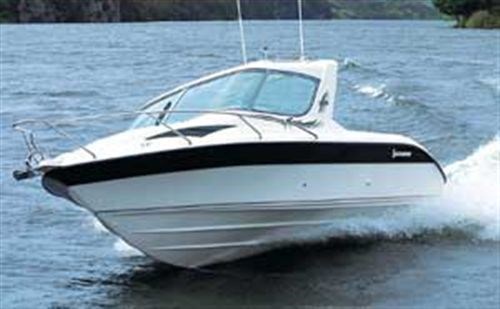 The new Buccaneer 735 Exess presents a seamless blend of comfort, function and performance, writes Steve Raea.
An inland lake is no place to test a boat bred for the sea, but September's spring equinox gales being what they are, we were lucky to get out at all. On three occasions we were forced to abandon plans to test the new Buccaneer 735 Exess out of Tauranga, eventually settling for an afternoon on Lake Karapiro. Those that boat this will know that it is quite capable of chopping up in a strong northerly. As luck would have it, that is what we got - a squally and gusty 25-knot breeze that whipped across the surface, building a sizeable chop. Despite this, the look on designer/builder Gerry Gerrands' face said it all: the new 735 Exess is a sea boat and it was tantamount to sacrilege to put her to work in sheltered waters, even if it was blowing.
The new 735 Exess was released at this year's Hutchwilco New Zealand Boat Show and is loosely based around the Buccaneer 720 Elite - a mainstay in Buccaneer's 7m plus line-up since it was released in 1996. While the new 735 shares similarities with the Elite, it is essentially a new design with a new hull. Significant changes include an increase in transom deadrise to 22.5 degrees, a steeper stem profile and a reduced transom pod - design changes to give the boat greater internal volume.
The overriding ethos behind the new design was to build a stylish and curvy boat that retained the 720's proven sea-keeping ability, yet raised the bar in terms of passenger comfort and cruising amenities. And the result speaks for itself. Less than six months after its initial showing, Gerrand has well over 20 orders which, at one boat a week, will keep his factory staff busy for months to come. Much of the new 735's interior styling and deck layout can be traced to the smaller 635 Exess, which introduced a number of firsts to locally built trailer boats, notably a cabin door that slides into a recess in the main cabin bulkhead. Gerrand says of all its features, the new 735's Taylormade cross-curved windscreen - a first in New Zealand - best sums up the boat's 21st-century appeal.
While that might be true, the boat is a fashion statement from bow to stern with trimmings like a synthetic teak cockpit sole, plush two-tone vinyl upholstery, burr dash, electric head and fridge and built-in cabin galley. The moulded hardtop redefines style and incorporates twin overhead Weaver deck hatches. The boat has all the feel of a modern sports cruiser, but with the sort of performance that only a trailer boat can deliver. Gerrand has taken an unusually pragmatic approach with the 735 insomuch as he has whittled down the options list to a bare minimum. This does not mean the boat is not well optioned, because it is. What it does mean is that buyers don't have to factor into their budget items that many buyers might consider essential yet are often left off the bottom line in sales brochures. But Gerrand's pragmatism goes further. The 735 is only available with a single outboard option, whereas other designs in the seven-metre range could be fitted with twin outboards or sterndrive options. Gerrand says the performance of modern two and four-stroke outboards means twin installations or inboard options are not required. It also makes repowering a simple task. Furthermore, it ensures resale values between boats will be very similar five and even 10 years down the track. Gerrand has also limited the 735 to a hard top only. This was a decision based on poor customer demand for anything other than a hard top in the 720 model range.
Comfort zone
If it is comfort you are looking for then the new 735 Exess will not disappoint. It is a boat that will sell itself to buyers looking for something more than an offshore-capable fishing platform. It will appeal to those looking for genuine overnight capabilities. And this does not stop with the provision of a comfortable berth, but extends to the ability to cook a meal; have a shower and even - heaven forbid - enjoy some privacy while answering the call of nature. It is these details that are too often overlooked by manufacturers in family-orientated boats. And it is to their peril. Women have a big say in boat purchasing decisions and the more builders can cater to their comfort and needs the easier they will find it to sell boats. This is one reason why the small sports cruiser market is doing so well in Australia and why, I suspect, the new 735 will find a ready market in New Zealand.
The 735 cabin is spacious and well laid out with a small galley tucked in against the port cabin bulkhead and features pressure water and a two-burner hob with generous cupboard storage beneath. Gerrand suggests the hob is suitable for heating food only, but for those of us who spent our formative years in trailer sailors with single camp stove, the two-burner hob presents unlimited options.
A nice family touch is the small galley table that forms the base for the infill squab used to create a large double berth. Opposite the galley is the electric toilet. This is concealed under the starboard squab and has a hinged GRP lid that lifts back and locks into place. The toilet can be plumped into an optional holding tank and sits in a moulded base for easy cleaning. The sliding cabin door means instant privacy without the need to rearrange the cabin interior or dispatch the crew in the inflatable. The standard of interior fittings and upholstery is first rate, with sumptuous squabs and richly upholstered parcel shelves giving ample storage for personal items.
Ventilation and light are important when staying onboard overnight and this is taken care of by an overhead Weaver hatch. The hard top overhang also allows the cabin door to be left open or ajar when swinging at anchor. The entertainment hub of the new 735 is the cockpit and this has been fitted out and finished to a very high standard. Gerrand has almost entirely eliminated hard edges, creating a series of large-radius mouldings to create a shapely and stylish environment that will have your neighbours banging on the topsides for a happy hour invite. But make sure they remove their shoes, the 735 is fitted with a Flexiteek cockpit sole, a synthetic teak and holly product that is more common to superyachts than trailer boats.
The same product has been used on the cockpit combings to good effect. Attention to detail is a feature of the 735 right down to the recessed rod holders on each side of the cockpit and the GRP fish bin liner hidden under the aft end of the cockpit. Gerrand has used nothing but the very best fittings available from BEP tinned wiring looms and switch panels to chromed bronze and 316 stainless bollards.
The Exess has several seating options depending on owner requirements. The test boat was fitted with a king and queen combo set on fibreglass bases with hinged lids giving easy access to dry storage beneath. It also had a removable bench seat set across the transom providing further dry storage options. While the 735 will fish four anglers with ease, fishers will have to take care not to catch the upholstery that adorns the inside edge of the cockpit combings. The combings are relatively high - certainly too high to sit on and dangle a line - but there is no danger of falling out. The reduced transom pod won't help either when it comes to pulling onboard a trophy marlin, but the 12-volt fridge set into the passenger seat will keep the champers on ice to celebrate a successful fight. 
Drive time
The first thing to hit you when you get behind the wheel is the size of the dashboard and helm station - it's huge. The next thing to strike you is the visibility. The cross-curve screen (curved out as well as round) provides a crystal-clear view through 180 degrees and is further enhanced by slimline alloy frames. And while not fitted with side-opening windows, quarterlights are an option. The hard top provides more than 2m of headroom and this contributes to the boat's all-round volume. The driver and passenger seats are both adjustable, and it is a simple task to set up the perfect driving position. The dash and facia units have been specifically moulded to accept a range of electronics and equipment. This includes a Lowrance X19 GPS/sounder, Uniden VHF, Clarion CD stereo, BEP switch panels and remotes for the Maxwell Freedom 500 windlass, wiper and trim tabs controls.
Fitted out by Hamilton's Rollos Marine, the test 735 had a brand new Bombardier-built Evinrude 225hp V6 outboard and this fell comfortably within the manufacturers recommended 175 to 250hp range. At 2530kg on trailer, the new Exess is something of a heavyweight, but the boat is nothing short of nimble in terms of its performance and handling, clocking up 49.6mph at 6200rpm with three passengers and a belly full of fuel. Most notable performance-wise was the controlled manner in which the 735 pushed through displacement to planing speed and again when coming off the throttle. Very often heavier planing hulls tend to lift their bows skyward when the power comes on forcing drivers out of their seat to see where they're going. There was none of this with the new Exess and it was difficult to determine just where the boat broke free.
While our test was in sheltered waters, it is hard to imagine how you could get into trouble with this boat. There are no obvious traits to my mind - it is simply a case of point and go. Being relatively high sided the 735 tends to lean into the turns at speed but the keelson and planing strakes do a magnificent job of keeping the boat on track and passengers will do well to hold on when the helm is thrown over. Having foam-filled underfloor cavities in line with CPC requirements, the new 735 is, like her seven-series sisters, a quiet sea boat which will be appreciated by those planning extended offshore fishing sojourns.
In summary, the new 735 Exess retains all the sea keeping qualities inherent in Gerry Gerrand's larger boats, but a greater emphasis on family cruising amenities. The attention to manufacturing detail is obvious and the standard of fittings and features are first class.
The boat further bridges the gap between a performance trailer boat and a sports cruiser and presents owners with a true all-rounder.
Words and pictures: Steve Raea
SPECIFICATIONS
Designer: Gerry Gerrand
Type: Deep Vee Hard Top
LOA: 7.71m
LOH: 7.34m
Max beam: 2.48m
Deadrise: 22.5 deg at transom
Weight on trailer: 2530kg
Fuel cap: 285 litres
Rec HP: 175-250 (outboard only)
Trailer: DMW twin axle (sensabrake)
Price as tested: $137,000 (Evinrude 225hp Ficht)
Priced from: $120,345 (Evinrude 200hp Ficht)
Boat supplied by: Rollos Marine, 554 Te Rapa Rd, Hamilton. (07) 849 4809. E-mail rollos@rollosmarine.co.nz. www.rollosmarine.co.nz
Keep up to date with news from Trade-A-boat or like us on Facebook!