Challenger 618 Platinum
---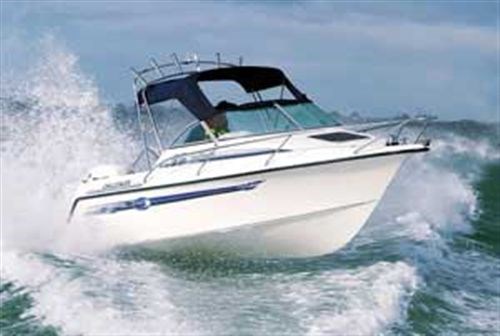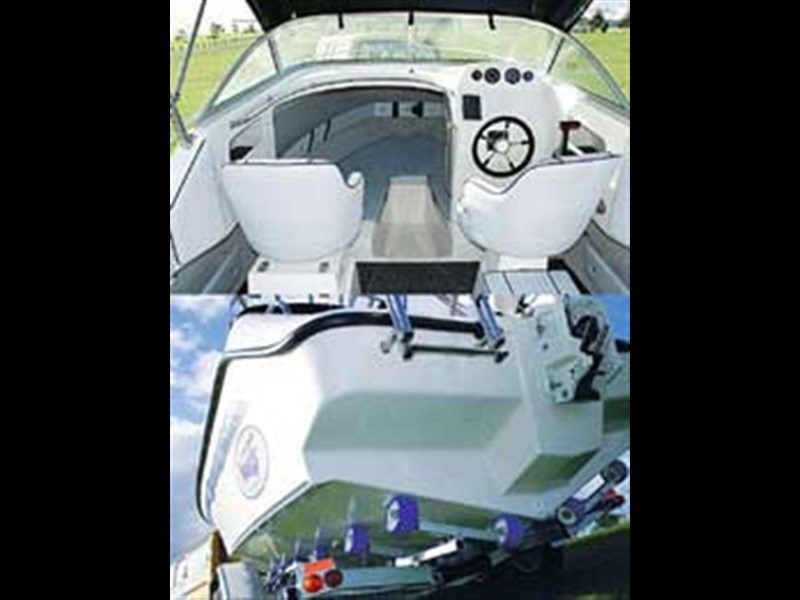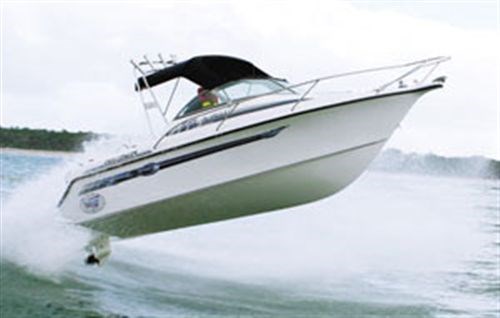 Occasionally a trailer boat will stand out as being exceptional. The Challenger 618 Platinum is just that. Steve Raea reports.
In this world you get what you pay for. And what you get with the Challenger range of trailer boats is pedigree design. Too often, boat builders, particularly small boat builders, assume the mantle of designer, drawing their own hull shapes, relying on the adage that what looks right probably is right. That's fine and in most cases the end product serves its purpose well. But it is not until you experience the ride and handling of a professionally designed hull that you begin to realise that hull design is a critical part of the boating equation.
Tauranga naval architect Terry Reid has been drawing boats for a long time and for a lot of different manufacturers. Successful sea-kindly brands such as AMF Boats of Wanganui and Gisborne's White Pointer Boats can trace their heritage back to Reid, who drew early hull shapes from which both brands have evolved.
When Challenger Boats founder and builder Alan McNearney decided to build boats for a living seven years ago, he went straight to Reid and laid his cards on the table. McNearney wanted a strong hull that would slice through waves rather than pound across the top of them. The result was the now-popular Challenger 520 cuddy, the model that put Challenger Boats on the boating map and secured McNearney a future in the fiercely competitive trailer boat market.
From his factory in Te Puke, McNearney and his staff of seven full time workers are on target to produce 65 boats this year across a range of five models that include a 680 Walk-around, 680 Hard Top and the new 618 Generation 3 cuddy. While a build of 65 boats puts Challenger Boats in the small manufacturer category, the company's growth has been exponential with year-on-year growth. And that growth has been built almost entirely on word of mouth. McNearney is not one to blow his own trumpet and would rather reinvest in his product than spend hard won profits marketing his boats to the masses in areas already well served by boat manufacturers. It is the same reason he can't be bothered entering boat awards, which he says, "appear" to be the sole domain of a handful of manufacturers. Instead, he relies on word of mouth. And the word is spreading. Challenger Boats has a particularly loyal following in the Bay of Plenty and is beginning to get noticed in other North Island centres as Challenger Boats widens its dealer network.
To look at, the Challenger 618 presents very much like any other production-built fibreglass trailer boat of similar size. It is well built and finished and features a simple, uncluttered cockpit and deck layout suited to coastal fishing.
The hull, however, is different from many insomuch as it has a relatively shallow vee with just 18.5 degrees of deadrise at the stern. It has no planning strakes and a super fine entry at the bow. The turn of the hull is well rounded and there are no flat surfaces to speak of. The 618 has a single chine, turned down five degrees and measures 80mm at the stern, tapering away to nothing at the bow. Although the Challenger 618 is a new design, the hull form is not. In fact, the 618 mould was designed by Reid about 12 years ago and put into production by the Mount Boat Centre. It is unknown how many boats came off the mould, but the company disappeared off the radar a number of years ago. According to Reid, the mould kicked around for years before Challenger Boats secured it. He says the mould was tidied up before being put into production. Like all Challenger boats, the 618 is massively built of solid GRP with a polyester resin lay-up engineered by High Modulous. McNearney says the single-mould hull measures 12mm in places and the deck a substantial 7mm.
"It makes for an over-built product and a heavy boat, but it also means the boats can take a hiding. The weight is not an issue. In fact, the more weight you put in the boat the better it seems to go.
"When we [he and Reid] first designed the Challenger 520 we engineered the boat to a theoretical hull speed of 50mph. The result is a very strong and rigid hull that will cope with the worst east coast conditions."
McNearney says he has only had one boat returned to the factory - a 565 that went down the road after coming off its trailer.
"We re-did the gel coat, but the boat itself was structurally undamaged."
Challenger construction is fairly typical, with solid glass bearers and four full-length stringers glassed in each side of the keel line. The cockpit sole is hardwood ply resined both sides and glassed into the hull with a laminated hardwood ply transom glassed both sides. The 618 has what might be described as a low-wooded portafino stern with a boarding platform each side of the outboard well. The test boat was fitted with a new Bombardier-built Evinrude 150hp Ficht outboard fitted by Tauranga dealer Master Tech Marine.
Being a Platinum model, the 618 carried a number of after-market goodies, including a stainless steel rocket launcher and bimini top, upgraded upholstery and graphics package and an electric capstan.
The 618 is first and foremost a fishing boat and this is reflected in the large open cockpit layout and wide side decks. The cuddy cabin entrance is well forward and open with no port side bulkhead. There is a pronounced step down into the cuddy floor well that ensures generous sitting headroom. The overall cabin dimensions are deceiving with two full-length berths. The entire bow section is sealed, giving the 618 oodles of positive buoyancy inline with CPC requirements. While there is little cabin stowage, there is a full wraparound upholstered parcel shelf for personals, which, on the test boat, was also fitted with the pressure pad for the electric capstan. The cabin is fully lined with easy access to helm station wiring looms on the starboard bulkhead. An overhead Weaver hatch gives easy access to the anchor locker. The 618 features a Sandbrook wrap around safety glass windscreen set into an aluminium extrusion. The screen is positioned well forward of the helmsman and the cuddy entrance, providing room for larger electronics.
The helm station is fairly basic, with a white moulded facia for flush-mount engine management instruments. The test boat was fitted with standard Evinrude analogue instruments monitoring speed, fuel, revs and trim. A flush-mounted BEP switch panel takes care of nav lights, bilge pump, VHF and stereo - when fitted. Seating arrangements vary according to owner requirements, with a number of options including king/queen combos, transom seat or single pedestals. The test boat had the standard king/queen combination, which is a good compromise, providing seating for four while maximising space in the cockpit for fishing. Both seats have storage underneath for lifejackets and the like. A nice touch, to my mind, is the glove compartments set into the cabinside beside the helm and passenger seats. These are big enough to be useful and will stay dry in the roughest weather. The cockpit has a single storage well/fish bin set in the sole behind the 200-litre aluminium fuel tank. The well is large enough for dive tanks and belts and being set aft will not unduly affect trim or performance. The 618's batteries and fuel mix are set high off the sole in the transom and sealed off with twin Sopac plastic hatches. The sole itself is fitted with synthetic carpet that domes down for easy removal when fishing.
A smart feature of the Platinum model is the vinyl upholstery sides that help break up the glass look and softens the overall appearance. There is ample rod storage with rod holders each side and full-length cockpit side pockets. The optional stainless steel rocket launcher also provides the mounting base for the bimini top. And while the bimini is optional, it is worth its weight in gold, particularly the front panel that domes down to the windscreen - a must for winter boating.
The 618 has surprisingly wide decks for a trailer boat of its size and it is quite feasible to walk around the cabin to the bow with the aid of the full-length stainless bow rail. The cabin hatch, however, is the only sensible anchoring option in any sort of weather. All up, the 618 presents very well. It has a simple yet practical layout that lends itself to a variety of boating activities, which is a large part of the boat's family appeal.
Given that Challenger Boats are built for Bay of Plenty conditions, it was only right to test it in Tauranga. Tauranga Harbour can present a formidable challenge when an ebbing tide collides with a strong northeast wind and a heavy swell. Test day was one of these days - grey, windswept and cold. In fact, such were conditions that the local harbour master's patrol boat eased alongside as we motored toward the harbour entrance and cautioned us about heading out. We acknowledged the advice and proceeded gingerly. He was right - a large swell was rolling in and the tide was boiling but we carried on, teeth clenched in anticipation. We soon picked up the rhythm and eased our way out beyond the mount and into less disturbed water. The 618 relished the low swell and performed like a seal for the camera, leaping clear and landing with an assuring stern first and controlled attitude. The boat showed no slip or hesitation when thrown into tight beam-on manoeuvres and proved agile and predictable when running before. It is difficult to avoid using cliches such as "soft" when describing handling characteristics, but that is exactly what the 618 was - soft as a pillow. And quiet. McNearney says customers regularly ask how a boat can be so quiet.
"I don't really know," he says. "I suspect it is because the boat is so heavy. It also has a lot to do with the buoyancy built into the forward cabin."
While perhaps not the driest boat on the market, I have no hesitation describing it as the most comfortable and quiet boat I have driven in a seaway. And that, I suspect, is what comes with hull lines drawn by a qualified and experienced naval architect. The 150 Ficht was at the bottom of the recommended horsepower range, but still provided a spirited performance and a top speed approaching 40 knots. The test boat was not fitted with trim tabs but did not appear to suffer, leaning only slightly into the breeze but tracking true. While my time in the 618 was limited, it was exhilarating and inspired me with total confidence despite less than ideal conditions. The combination of strength, agility, layout and performance makes the Challenger 618 an obvious choice for both novice and experienced boaties looking for a dependable all-seasons boating package.
Challenger 618
Construction: GRP
Length overall: 6.5m
Beam: 2.38m
Draft: 0.38m
Deadrise: 18.5 degrees (at transom)
Weight on trailer: 1850kg
Fuel capacity: 200L
Rec horsepower: 140 - 180 (outboard)
Trailer: Prescott twin axle (braked)
Price as tested: $65,995
Priced from: $52,995 (standard 618)
Manufactured by Challenger Boats, 52 Quarry Rd, Te Puke. Tel/fax (07) 573 5956. E-mail challengerboats@xtra.co.nz
Boat supplied by Master Tech Marine, Tauranga. 6/50 Crossroad, Sulphur Pt, Tauranga. Tel (07) 579 4240. E-mail: mastertechmarine2000@yahoo.co.nz
Keep up to date with news from Trade-A-boat or like us on Facebook!