Dixon Performance Cruiser
---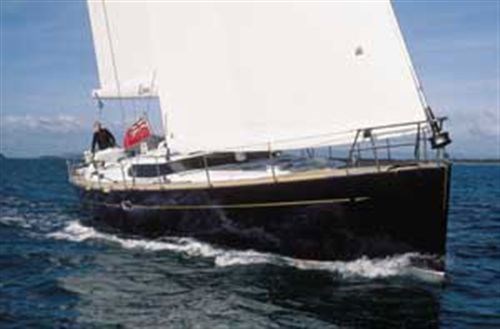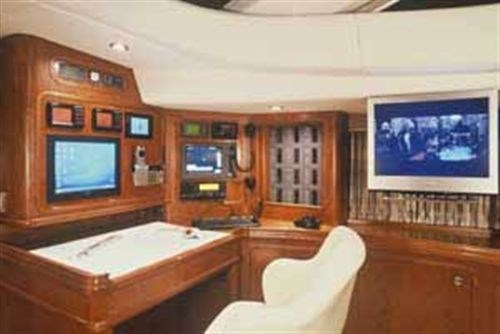 Liara is a beautiful example of a comfortable performance cruiser endowed with spark and speed through moderate displacement, lightweight composites, modern appendages and efficient sailing systems. Geoff Green provided the text and sailing photographs and Michael Ng the interior photography.

Liara was designed by Dixon Yacht Design in England and built by Southern Ocean Marine in Tauranga for Tony Todd who is returning to yachting after a seven-year sailing sabbatical taken to concentrate on his family and business.

It is not surprising the 19.8m Liara is an amalgam of proven cruising design and performance features for Todd has owned a Light-Weight Oyster 48 centre cockpit cruiser and a 50-foot Ed Dubois racing yacht. While full-on racing has lost its appeal, the ability to cruise comfortably, achieve 280-mile days and be competitive at club level has not.

"I was looking for a low profile cruising yacht with stimulating performance, twin steering positions and a comfortable cockpit in the middle of the boat where our five year old twins Liam and Lara can participate safely."

In response to his brief Dixon Yacht Design drew a moderate displacement hull (23.5 tonnes) with a narrower beam and less rocker than the studio's previous cruising forms. Such is the level of development, Bill Dixon considers Liara the forerunner of a new generation of cruising yachts he is designing.

He carried the beam aft to ensure good performance down wind and develop space for the helm stations that merge with the centre cockpit. Although a raised section that generates headroom in the aft cabin below separates the centre and aft cockpits, the step up and down is comfortable and both cockpits flow together in an easy-to-sail, almost walk-through design.

The slippery hull form is matched with a fin keel and bulb to reduce draft and wetted surface, and a powerful Southern Spars carbon fibre masthead rig supported by three spreaders swept at 20 degrees. No running backstays are required and the single backstay divides into a bridle to span the steps descending to the in-built boarding platform.

Liara is sloop rigged with the mandrel line for the furling headsail running aft to a Lewmar winch, one of seven powerful electric/manual winches aboard the yacht. The headsail does not overlap and consequently the jib sheets are relatively short and the sail easy to handle.

Provision is made to fit a removable Kevlar inner forestay for cruising and deliveries and Todd has a set of carbon/Kevlar racing sails for when he competes around the buoys.

The fully battened mainsail reefs via an in-boom roller furling system, and although Todd has sailed with a fully battened main and lazy-jacks, in-boom furling is new to him.

"I can't think why it is taking so long to be adopted in Europe because it makes the more accepted in-mast furling systems look absolutely ludicrous."

Although Liara has an enjoyable turn of speed and is easy to handle, the yacht has everything to make life comfortable, including four private cabins, two ensuites and a day head, air conditioning, plenty of fuel and water and a washer/drier. Todd opted for an interior layout he says some would describe as conservative, but it's a functional design proven to work well at sea and in port.

Southern Ocean Marine constructed Liara's hull using foam, E-glass and epoxy with an exterior laminate of woven E-glass/Kevlar for impact and abrasion resistance, and carbon fibre was utilised in the moulded chain-plates and some areas of the deck and cabin structure. High Modulus engineered the hull and deck to comply with Germanischer Lloyd Structures, assisted with on-site technical advice and supplied all the composite materials. Overall, the yacht was built to European Recreational Craft Directive (RCD).

The interior joinery is principally 4mm ply-foam-ply composite finished with Sappelle mahogany veneer complemented

by burr, white oak and ebony timber detailing. The mahogany is finished with a light stain to impart a honey glow and Southern Ocean Marine's high standards are demonstrated by the fine detailing in the saloon table which makes the de rigueur statement regarding fine craftsmanship and finish.

The timber flooring is V-groove mahogany on ply-foam-ply and all carpets are inset in mahogany margin boards highlighted with an oak inlay.

Maritime Interiors - who assisted Todd finalise the interior decor and Esme McDonald consulted with him during his first visit to New Zealand. Because Liara will be raced, the interior had to be practical without compromising the overall look, and this was achieved by using easy-care products - such as the off-white deck-head and bulkhead linings - that can be cleaned without altering their finish. All fabrics were treated with Scotch Guard and protective lightweight canvas covers were made for race days.

Liara is Southern Ocean Marine's biggest and most complex vessel to date and its construction and finish have led Dixon to recommend placing further work with them.

He says the target displacement of 23.5 tonnes was ambitious and achieving it required a yard experienced in composite construction, one that could apply a weight control philosophy while meeting high quality aesthetic requirements.

Greg McNabb and Greg Prescott, co directors of Southern Ocean Marine, provided this capability and mindset. McNabb founded the company six years ago and Prescott joined him three years later. Prescott, a professional sailor, built and sailed the maxi yacht Nicorette prior to immigrating to New Zealand, and McNabb, a boatbuilder, constructed the 18.5m Warwick motoryacht Providence during Southern Ocean's early years. Together they built Graham Dalton's Open 60, Hexagon, which he will campaign in the next Around Alone race.

Prescott says Liara's relatively shallow bilge, straight run and fin keel made it a challenge to fit the systems and engineering in a discrete but practical manner.

"The yacht is a pocket mega-yacht and it carries all the conveniences found in a larger vessel. It took some effort to place the systems."

MD Marine, an Auckland-based project management company headed by Mike Relling and Dave Lewis, both experienced maxi yacht sailors and construction managers - provided the link between Southern Ocean Marine and the designer and owner half a world away. They represented Jim and Ann Omand when they built the 19.2m Dixon-designed Dulcinea at Vaudrey Miller Yachts in Auckland and Relling sailed competitively with Todd, so both designer and owner were comfortable with their services.

Todd says even though New Zealand yards offered an overall cost and quality advantage he wouldn't have considered building in New Zealand without MD Marine's input.

"I had no knowledge of New Zealand capabilities and it would have been too risky without a representative on site, however, building at Southern Ocean Marine has proven to be a stress-free exercise and all the decisions came easily through consultation."

"Mike and the yard were proactive and they suggested improvements that significantly improved the boat. The cabin top was stiffened, the engine air intake and filtration system improved, a counter-balanced recessed washboard installed and the foldaway anchor system designed and built."

Although Todd had firm ideas regarding layout, deck equipment and support systems, Southern Ocean Marine and MD Marine provided guidance and helped with equipment decisions to ensure the latest technology was installed. Furuno's Navnet software was selected because it integrates with the yacht's PC and B&G instruments, and an Iridium phone was installed because all believed it's the way of the future.

"There is so much going on in New Zealand the industry is totally up to date with technology and I don't think I could have achieved the same level of overall expertise elsewhere," says Todd.

Relling says the project benefited from a knowledgeable owner prepared to make quick decisions and an experienced yard willing to implement them, and the time difference between England and New Zealand helped keep the build process on track.

"If there was an issue, I phoned Tony at the end of the New Zealand working day and he had twelve hours to consider a response before the yard sought clarification the next morning. There were few hold-ups and many gains and I'd say we eliminated two weeks worth of down-time."

Todd visited New Zealand three times - including coming out to inspect the yard and sign the contract - and didn't miss the hands on involvement he had with the Oyster. He was kept up to date with digital email images and phone calls.

He says building Liara in New Zealand was financially attractive, even with management and shipping costs included in the total price.

"I also made savings on the sails so even with the New Zealand dollar strengthening the overall package was a good deal compared to the prices we sourced from Europe."

Even if the exchange rate appreciates and the price advantage is lost, Relling thinks knowledgeable overseas clients will continue to build in New Zealand because they can expect a better quality yacht.

"New Zealand yards have an appreciation of performance and comfort. Their yachts are better built and engineered."

Liara was shipped to Europe in mid-July where it will be prepared for the ARC Cruising Rally starting in Gibraltor and finishing in the Caribbean where the Todd family will spend the next northern winter, before returning to coastal cruise and club race in the UK.

Now that Liara is finished, Southern Ocean Marine is fitting out a Chuck Paine 20.3m trawler-style motoryacht for an American client, and will begin construction of a 16m Farr designed carbon and Nomex Transpac sled later this year.

 

Specifications
Dixon Performance Cruiser, Design 569
LOA: 19.8m
DWL: 17.37m
Beam: 5.34m
Draft: 2.89m
I: 24.97m
P: 22.55m
J: 7.09m
Light ship displacement: 23,500kg
Ballast: 8500kg
Fuel: 1200 litres
Water: 750 litres
Engine: Yanmar, 190hp
Genset: Fisher Panda, 12kW
Notable Equipment: Southern Spars carbon fibre mast and carbon fibre/E-glass boom, Doyle sails, Lewmar winches, blocks and hatches, Ocean Yacht Systems rigging and Navtec hydraulics, Yanmar 190hp diesel, 15hp Maxpower retractable bow thruster, Fisher Panda genset, Cruisair air-conditioning, SeaFresh watermaker, Eumenia washer/dryer, Smeg microwave and Force Ten gas oven, Corian surfaces, Furuno electronics, B&G instrumentation, Sharp flat screen TV and DVD with speakers in all cabins. Awl Grip paint systems.
Designer: Dixon Yacht Design, bill@dixonyachtdesign.com
Builder: Southern Ocean Marine, info@southernoceanmarine.com
Project management: MD Marine, relling@ww.co.nz




Keep up to date with news from Trade-A-boat or like us on Facebook!